At a recent trade show, I stopped by the Youngblood Cosmetics booth with no intention to purchase anything and I walked away with 2 artist palettes. This has since proven to be one of the best makeup purchases I have made in quite some time and I have used the palettes on the vast majority of the commercial jobs I've done since purchasing them. Needless to say then, when I found out about Youngblood Cosmetics Endless Beauty Event I was excited to attend and learn more about the line. The event took place this past Friday, July 22, at Siren studios in Hollywood, a well known location for LA media makeup artists. I was curious to see how Youngblood was going to transform the space into something suitable for a cosmetics education and networking event. It turned out the upstairs studio was perfect, with two "salon" rooms – one where the Youngblood artists could do makeovers, and one where all the Youngblood Cosmetics products could be displayed so attendees could see, touch and play with the products – and then the main area was set up for demonstrations and education.
This was a very unique event. Anyone who has been to a Powder Group/Metropolitan Events The Makeup Show trade show would immediately recognize that the format was very much like a The Makeup Show setup and that almost all of the presenters were Powder Group alumni. Basically this event was like a mini The Makeup Show only focusing on learning one line. I have to say – it was brilliant. Every trade show I walk away wishing I had more time to really sit with a line and learn about it. This gave me the opportunity to play around with the products myself, and also to see them in action in live demonstrations.
The artists/presenters for this event were James Vincent, Orlando Santiago, Valerie Hernandez, Victoria Stiles, Philip Luque and Kathy Barker. I was working that morning, so I missed the early sessions, which included Victoria's killer social media workshop. A former student of mine was there for her workshop and said it was fantastic. I arrived around 3pm which was just in time for Orlando Santiago's demonstration with Philip Luque (Philip is Director of Artistry and Education for Youngblood) on using Youngblood Cosmetics for High-Definition.(click on images to see larger)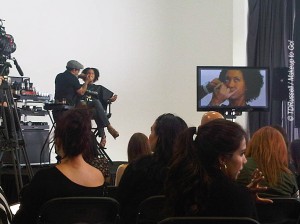 This alone made me very happy. Entirely too often at the trade shows it is assumed that all the attendees do are bridal and we're all "trying" to get into media makeup which is totally fine if that is actually the case. It is a mistake, however, to assume that's the case for EVERYONE. I was SO HAPPY to attend a demonstration that I can DIRECTLY apply to my career and the work that I do. Particularly since I have historically avoided mineral makeup foundation like the plague because of the horrid white cast created by the mineral makeup foundations I have previously tried. Orlando's demonstration was done on camera, the same way an artist would be looking at a monitor while working a job, so we were all able to see that the Youngblood mineral foundation gives no white cast/ghost-like effect. It looked even and flawless yet natural. The finish was perfect for HD which means it would also be excellent for print. Another aspect of the demo that made me happy was that it was done on two models: one fairer complexion, and one darker complexion (african american – I'd say about Gabrielle Union's complexion). This was important because the other big knock against mineral makeup in general and the foundations in particular is that there is a limited color range for darker skins and the colors they do have go gray and look crazy. Based on what I saw in the demonstration, the darker colors of Youngblood mineral foundations do not. Yay.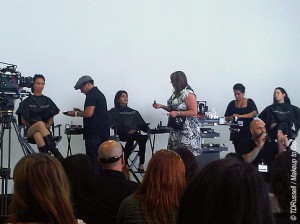 The 2nd presentation I saw (which was the last of the day) was lead by James Vincent and demonstrated makeup for Runway, Everyday and Red Carpet. On stage doing the makeup demonstrations were Orlando Santiago (Runway), Victoria Stiles (Everyday) and Valerie Hernandez (Red Carpet). The point of this demonstration was to show the versatility and range of the Youngblood brand. The artists did an excellent job as each look was quite different from one another in terms of color choices, finishes, textures, etc. so we in the audience were really able to see what these products can do. Orlando Santiago recreated a sultry smokey eye look he did at Miami Fashion Week for Diesel (James Vincent was the Key Artist who created that look), Victoria Stiles did a clean but polished and pretty everyday look with matte skin, polished brows and a pop of colors on the lips and Valerie Hernandez did a gorgeous modernized "classic glamour" look with precise red lips and glowing skin and sculpted cheeks for the red carpet look. Once again, all three of the models used were of varying complexions/skin tones so we in the audience were really able to see what Youngblood can do.
After the final workshop, it was time to network and party which I did for a minute (drinks and munchies! 🙂 ) but really I needed to go because I had another engagement that evening. Upon exiting all attendants were given a generous gift bag of product. I received (click any of these images to see larger);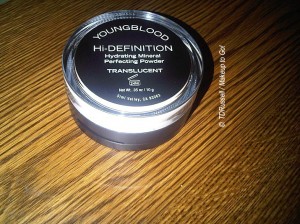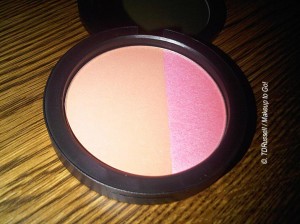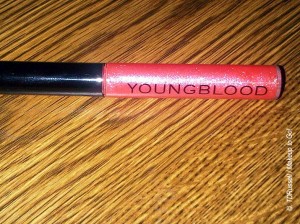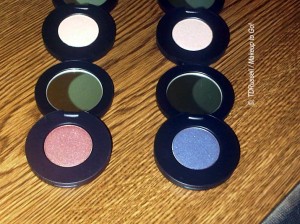 I look forward to trying these products on jobs in the near future.
Thanks to Youngblood Cosmetics and all involved with organizing the Endless Beauty event. 🙂

© 2011 – 2016, Tania. All rights reserved.