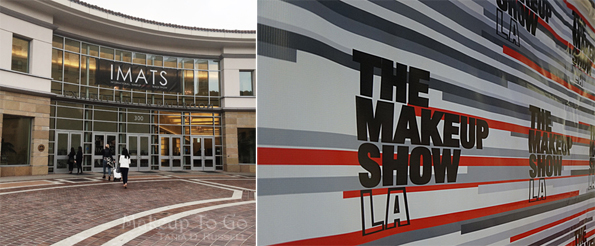 I love the makeup tradeshows…
I try to hit as many as I can, and I've done so for quite some time now. In fact my original "A Tale of Two Trade Shows" posted back in 2009(!!!). For A Tale of Two Trade Shows 2016 Edition, it's been fun to reflect on what has keeps me coming back for more. Ultimately, I love the community building, I love seeing my artist friends whom I normally do not get to see, nowadays I love seeing my students as this is a whole new and exciting world for them (like it was for me back in 1812 at the very first IMATS), and I LOVE LOVE LOVE all of the education that is available. The shopping is cool, too, but more on that in a minute. With IMATS being more Film/TV/FX oriented and The Makeup Show being more Beauty Biz oriented, I have liked IMATS and loved The Makeup Show.
Not this year.
Make no mistake: I enjoyed both shows for sure. And definitely both shows are well organized and thoughtfully produced. I just felt that IMATS made some changes that took the show up to an Eleven this year. Here's what was working, and what might need to be worked on, IMO for each show…
IMATS LA
20 years in, IMATS has had its share of ups and downs. Through it all the organizers have always listened to the artists community that attends the shows, and been willing to try to change to meet the needs of said community.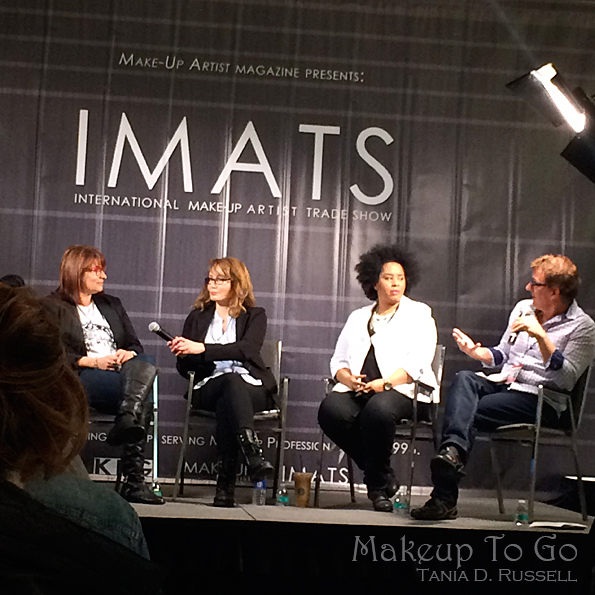 Pros
– PRO CARDS: First and foremost I must thank the organizers of IMATS for the Pro Cards. The Pro Cards offer student and professional artists various benefits including discounted entry into IMATS and discounts on subscriptions to Makeup Artist Magazine, etc. I am a Gold card member, and I have to say; it's a little thing but it's a big thing. It's a little thing in that it is no problem to pay for the Show, I have before and I would do so again. BUT it's a big thing to be appreciated for my career. No, I'm not a "star" artist like those who do the Keynotes, but I am a established, working artist and have been for a while and it is nice for the many of us who fall into that category to be recognized as such. Thank you!
– PRO NIGHT: I couldn't make Pro Night IMATS 2015 and trying to get anything during the show once it was open to the public was a nightmare. This year I took FULL advantage of having time and space to talk to vendors and shop. Yay Pro Night!
– INFLUENCERS HALL: This was the best change of the show, full stop. For folks who are into the social media influencers, artists, and brands they had their own hall with their own stage. This meant that the education out on the main exhibit hall stage (and breakout rooms) stayed more on-topic for pro/aspiring pro makeup artists, AND the main exhibit floor never became over-the-top crowded unlike past years (although the line for Kat Von D. Cosmetics – which was in the Main exhibit hall – was no joke all weekend).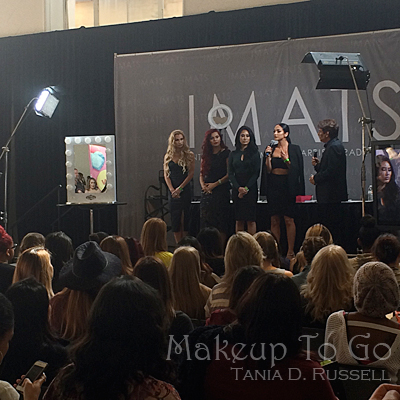 – ONSITE BOOKSTORE: The makeup shopping was fine and pretty much consisted of the usual suspects. This was fine with me as I had specific stuff I needed and I did some shopping damage. However the Bookstore did me in. Did. Me. In. If you're a fan of makeup books – as I am – it was nearly impossible to get away.
Cons
– NOT MANY: I wish it was a Peet's Coffee instead of a Starbucks inside the Pasadena Convention Center. As far as show improvements; some vendors offered pro pricing with the proper credentials throughout the weekend, but most did not once the doors were open to the public. I'd like to see that change because it's not always possible for working pros to attend Pro Night. Other than that, I went to the show for a little bit all three days, and I thoroughly enjoyed all of it.
The Makeup Show
This was the Makeup Show's eighth year in Los Angeles. When IMATS was around 10 years old, I remember feeling like it might be time for some changes, and this is how I felt at The Makeup Show this year. The Makeup Show 2015 was stellar, but this year I felt like The Makeup Show could use some freshening.
Pros
– KEYNOTE SPEAKERS: The Makeup Show never fails to get incredible leaders from the beauty world to come speak and demo at the shows, and I always walk away educated and inspired. This year I saw Charlie Green whom a lot of younger makeup artists may not know but who was hugely influential in, say, the early 2000s. Hearing the "come up" stories of top artists is always inspiring to me. I also saw Scott Barnes, whom I've seen many times before, but I still managed to learn some new techniques to try. I love it when that happens.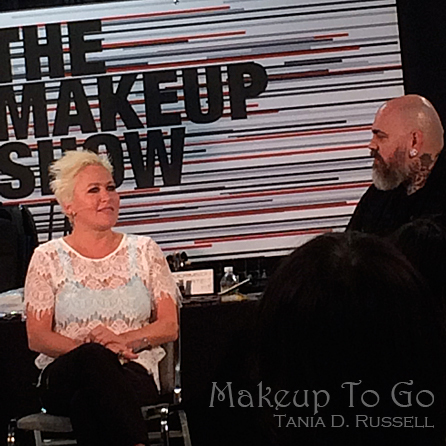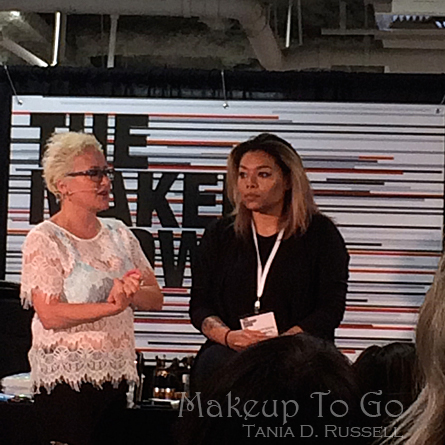 – PRO ONLY: Not sure about other cites, but in Los Angeles, The Makeup Show is a trade show open only to people involved with the profession of makeup. While the requirements are not necessarily stringent, it makes enough of a difference in both the numbers and the energy of attendees that the vibe is much more chill. Also vendors honor Pro Discount rates all weekend so there's no mad dash to buy everything during one night for the Pros.
Neutral
– VERY SHOPPING CENTRIC: Obviously IMATS features a full-on shopping experience as well. That's why a lot of people attend, in fact I'd say it's why most people attend. What was interesting, and why I bring this up as a "Neutral" is that I attended two different Lectures the topics of which did not suggest that product was going to be a center of discussion, but then product did end up being a main talking point. Hmmmm…
Cons
– ACKNOWLEDGE YOUR PROS: I have to be honest that my disappointment with the show started before the show. I had been on hold for a job out of town over the dates of the show. Once I knew for sure that wasn't happening, I bought my ticket and made a professional inquiry by email regarding the show. My email was not answered. Contrast that to my feeling fully acknowledged by IMATS – including I had to make a lame, totally my fault, last minute rush request and they both answered my email and fulfilled the request – and… yeah. Not good. I almost didn't go to The Makeup Show because of it. I understand folks are busy and a "no" is fine, but not responding at all – which as of me proofreading this post at 11:115pm, 3/31/16 I STILL have not received a response – is just plain rude. And unprofessional.
– ACKNOWLEDGE YOUR PROS pt DEUX: Obviously a show like this is going to primarily skew towards newer artists. I think if The Makeup Show wants to keep more established artists engaged it may be time to change up the content a bit. The Keynotes, as stated before, were fantastic. In my opinion, however, a lot of the Breakout sessions were pretty much like previous year's breakouts. There's only so many times one can really talk about brows, or contouring or the like. Myself and most of my peers either already have an agent or we've had one before, or we're in the Union, etc. I think it might be time to change things up a bit with fresh content in the breakout sessions that would appeal to artists of all levels.
Again, The Makeup Show is a well curated, well executed event that people work very hard to produce. Do I think it could use some changing up? Yep. Will I attend again in the future? Yep (unless I'm booked).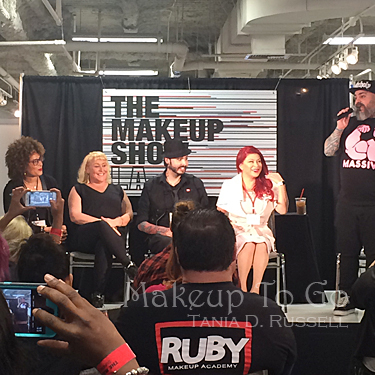 What'd Ya Get?!?
I did buy some things, particularly at IMATS. I swore I wasn't going to get anything at The Makeup Show but I still ended up buying a lil sumthin' sumthin' 😉 Details to come in the form of product reviews in upcoming posts…
Next up; PHAME Expo in June. Unless I'm booked 😉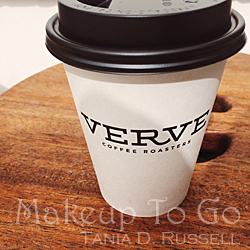 —-
Have you signed up for the Makeup to Go Blog newsletter yet? Join the fun for exclusive content, giveaways, and other assorted fabulosity! Makeup to Go Blog Newsletter – "Speaking of Makeup"
© 2016, Tania. All rights reserved.