The "So You Wanna Be A Pro Artist" series is original content conceived and written by Tania D. Russell, all Copyrights reserved.
This article contains affiliate links which help keep Makeup to Go, going. Thanks in advance for your support…

The "So You Wanna Be A Pro Artist" (SYWBAPA) article series was started when I first started the Makeup to Go! blog and had no readership whatsoever. It is hard to believe it has already been 2 years since I started the series! The "So You Wanna Be A Pro Artist" series was written both in response to the numerous inquiries I had received about embarking on a professional career and because I was leading up to a LFAA™ Workshop and I wanted to establish some groundwork.
As "So You Wanna Be A Pro Artist" is an informative and well-written series – if I do say so myself 😉 – so I am revisiting it for those who may not have seen it when it first ran. Also I want to bring some of the information and Resources up-to-date as a lot can change in two years.
So You Wanna Be a Pro Artist – Preview
Pretty self-explanatory, this is just an overview of what I had in mind with the series.
So You Wanna Be a Pro Artist 1 – Getting Started
So You Wanna Be a Pro Artist 2 – Now Why
So You Wanna Be a Pro Artist 3 – How
These three articles – Getting Started, Now Why, and How are overviews designed to get readers to think about their approach to their careers. Students often kind of buck me on this or they just ignore it but then invariably a year later of freelancing under their belts they come back and tell me I was right. I know I was right LOL! I know because the people who told this to me were right. When I find myself at a career plateau I often go back and re-visit these steps in order to make a plan of what I should do next.
So You Wanna Be a Pro Artist 4 – Good Instruction
I am not as anti-school as I used to be (I mean, I do teach at a makeup school, after-all) but I am still adamant that you cannot trust your career to the first school with a fly website (some schools do not even have that). IF you decide that makeup school is the best way for you to learn this craft, you must must must vet a makeup school thoroughly.
So You Wanna Be A Pro Artist 5 – Going it Alone
Many makeup artists never go to makeup school, including some of the best to have ever worked in the profession. It is entirely possible to be a self-made makeup artist and eventually work at the top of the field.
In this installment I listed a lot of books because I am a fan of makeup books. Many of the books were old and hard to get then, so they are older and harder to get now. Here is one alternate book, as well as two newer books that were not out when I first wrote my article (note – these are Affiliate links);
Making Faces

– Kevyn Aucoin
In the original article I listed Art of Makeup by Kevyn Aucoin. That is my favorite and in my opinion the most instructional of his books, however it is long out of print and if you do find it, it is expensive. Making Faces was Kevyn Aucoin's second book and I would also probably say his most popular book. It, too, features many great break-downs, photographs and instruction.

Bobbi Brown Makeup Manual: For Everyone from Beginner to Pro

– Bobbi Brown
Of all of her books this is by far her best, in my opinion. It is well photographed, has clear explanations, and covers a gamut of looks on a wide array of faces and complexions.

Makeup Your Mind: Express Yourself

– François Nars
This is a visually stunning book using a really innovative overlay technique to demonstrate how to achieve the looks. François Nars is a true master so there is a lot to be learned in this book. This book may be a bit advanced for the average consumer but it is perfect for aspiring Artists.
So You Wanna Be A Pro Artist 6 – Kit Building
A newly updated version of my Preferred Products list is available on the FREEBIES page (click to go there). My own actual working kits have actually changed quite a bit since this post was first created, so I will likely do a new story on that altogether.
So You Wanna Be A Pro Artist 7 – Portfolio Building
So You Wanna Be A Pro Artist 7.5 – The Actual Portfolio
The two articles concerning Portfolios illustrate how much the world has changed in two years. Back then I stated: "Many predict that the newly released Apple iPad will become popular as presentation tools for in-person meetings, but that will remain to be seen." HA! I cannot live without my iPad. I do still advocate, however, for artists having print portfolios. Many agencies still require them and I still run into people who aren't into the iPad presentation and would rather see a printed book. My print portfolio book nowadays;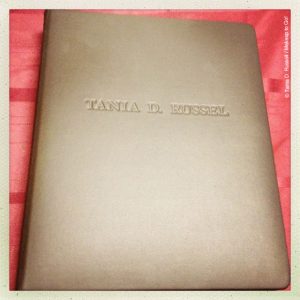 …as done by House of Portfolios. They actually got the spelling of my last name incorrect as you can see (it's Russell with two "L"s), but they immediately shipped me a corrected book at no extra charge.
So You Wanna Be A Pro Artist 8 – Testing
So You Wanna Be A Pro Artist 9 – Marketing Basics
The final two installments of the original series focused on the nuts and bolts of building a book and promoting yourself for work. Needless to say these two topics are intertwined: you gotta meet people to develop a portfolio and then you gotta go show your portfolio in order to meet people to get hired for work.
Most of the resources listed are still valid. If you do read the article, you will see that I have crossed Wix off as one of my resources, they just are not adequately reliable and professional looking in my opinion. Resources I would add:
Weebly
Even on the free end, these are very good looking and easy to navigate Flash websites with a mobile "back" to work on iPhones, iPads, etc.

Moo.com offers high-quality yet affordably priced printing of business cards and postcard (promo cards). They also allow you to order in "packs" where you can have multiple card designs in one order. To try a free sample pack click here. (offer good as of the time I wrote this article. Moo may end the offer at any time…)
I hope some of my newer readers, or folks who may happen to just be drifting by on the internet, take a moment, make some tea or coffee and read through this series. I tried to really make the series both engaging and and chock-a-block with information. If you are interested in working as a makeup artist this series of articles is designed to help! Now that we have revisited the original series, look for future installments coming soon…
Previous Installment: Basics of Marketing
Next Installment: Avoiding Bad Makeup Classes
The "So You Wanna Be A Pro Artist" series is original content conceived and written by Tania D. Russell, all Copyrights reserved.
© 2012 – 2016, Tania. All rights reserved.