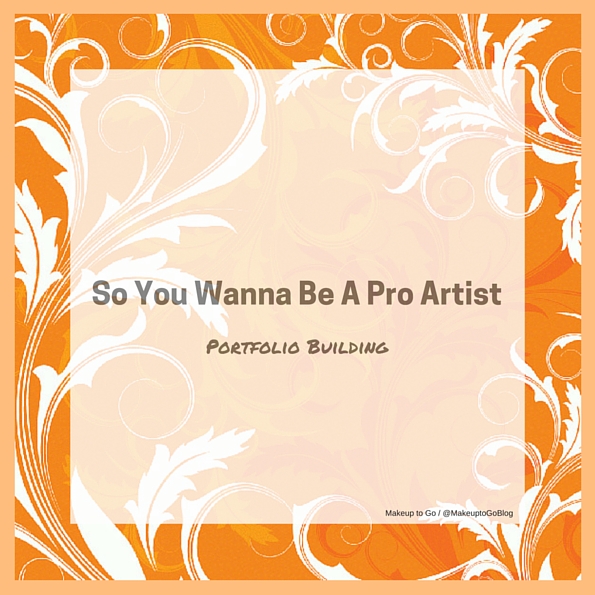 The "So You Wanna Be A Pro Artist" series is original content conceived and written by Tania D. Russell, all Copyrights reserved.
The next most important step – and challenge – in your progression towards becoming a professional artist is to show people your work. Portfolio building is an ever evolving process. At no point in your career will you ever stop working on your portfolio. HOW you develop portfolio will change, but rest assured, you will always be looking for new work to put in your portfolio.
What is a Portfolio, exactly? Well, good question because in recent years that answer has changed. Back in the day, a Portfolio was a physical book generally 9×12 or 11×14 in size, with printed photos of your work, comme ça;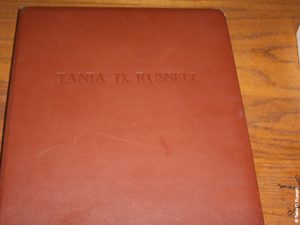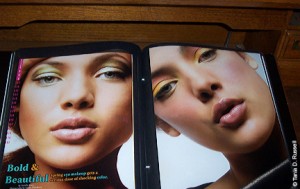 Thus you will often hear a Portfolio referred to as 'your Book'. Pre-internet, when a photographer or client would consider an artist for a job, they would call in that artist's 'Book' to review the artists' most current work. Now days, of course, most artists have a website to act as an online Portfolio. The Book, however, is still part of the equation and most artists still maintain one. My Book is a 9X12 Custom Book which I chose to make in Brown instead of the traditional Black, and I had my name embossed onto it. Most agencies require their artists to have Custom books. For those first starting out, good quality off-the-shelf books – which are much less expensive than Custom – are fine. Potential photographers or clients might use either a book or a website or both to review your work. In my experience, for example say I'm going to meet with a photographer for the first time, they will decide whether or not they want to meet with me based on my website ( Makeupwerks.com ), but then when we meet in person they'll want me to bring my physical Portfolio Book. Therefore while it is vital to maintain strong web presence, do not make the mistake of letting your Book slide. It is important that you maintain both.
Now that we know what a Portfolio is, what goes in it? This is an extremely broad topic. The kind of Portfolio you will need to develop depends on the type of work you hope to pursue, and most artists actually have multiple Portfolios to showcase different types of work. Regardless of the type of work you want to showcase, be it Beauty, Fashion, Commercial, FX or what-have-you, as an artist you need a variety of the high quality photos showing your best work. That in a nutshell is your Portfolio. When you're first starting out and have not yet started to book jobs, you obtain these photos by doing what are called "Tests" which is where you, a photographer and most often a hair stylist and a wardrobe stylist will collaborate along with a model in order to get photos for each of your books. Again, the operative word is COLLABORATION. The test needs to work for everyone involved. A bunch of photographs of the model with hair in their face doesn't work for you as a makeup artist, hence you need to communicate your needs in advance to make sure you get what you need. You can't just use any old picture where you happened to do the makeup. There are a lot of variables involved as to what makes a good, Portfolio Caliber photograph. For a photograph to be truly Portfolio caliber, all elements – photography, makeup, hair, wardrobe and the model – need to work. Good makeup in an otherwise bad photograph is just a bad photograph. You can save yourself a lot of time and heartache by doing some solid advance planning before starting to test for your Book.
Here now, are my suggestions for getting started on building and developing your Portfolio. Those of you who choose to go to a Makeup School will have a slight head start as most schools offer some form of Portfolio Development as part of the course. The following will still apply, however, as you go forward from school.
1 ) Use The Internet Carefully
As I stated in the previous article, I'm not a huge fan of the Model Mayhem, One Model Place, etc. type sites because there's a lot of questionable talent on those sites. There are industry directory sites such as Workbook, Alternative Pick, etc. but those are **completely** different. IF you choose to participate on the Model Mayhem type sites be very discerning and more importantly discuss all the concepts in advance as well as how you are going to receive your images after the shoot. Again – Discuss All Of These Elements In Advance. This is a collaboration and you need to make sure that you are on the same page with the photographer with whom you plan to work and you also need to make sure you get what you need from the test.
2 ) Community Colleges and Art Schools Are Better Resources
Almost any city in America (and around the Globe) will have a local college with a Photography department. If you're in a city like Los Angeles, New York, San Francisco, Chicago, etc. you are lucky to be living in cities with some of the finest Art Schools in the US. Here you will find the best and brightest emerging photographers who are also working on their craft and who are required to produce a Portfolio in order to graduate. Hence any photography student shooting any kind of beauty or fashion needs to collaborate with makeup, hair and wardrobe. Call the schools, ask for the photography department and start networking with these emerging photographers.
3 ) Use the 6 & 6 Rule™
The 6 & 6 Rule™ was something I developed in my Workshops in order for artists to be realistic in charting their progress. When you first start testing – particularly if you did not go to any kind of formal instruction – your early shoots will be very hit or miss. This is fine, and in fact it's important because you need to learn how your work photographs versus how it looks to the naked eye. I find that it takes most emerging artists about a year to get their first working Portfolio. The first six months will be spent in the hit or miss learning phase, and in the second six months you should start honing in on what works and start getting consistently good photos. Obviously, this is not set in stone and some people may get a working Portfolio faster and some may take a bit longer, but this is a general guideline that most of my students have found useful.
4 ) Models Are At Modeling Agencies
Not every pretty girl is a model. For a working Portfolio, you need to have real models in your photographs. Yes, there are some very good models online, but again, the whole online scene is extremely hit or miss. You can cut down on excess steps and taking the long route by simply doing things correctly the first time, and that includes working with real models as quickly as possible. Will you be working with Gisele Bundchen right off the bat? Of course not, but just as you as an emerging artist need to develop a book and an emerging photographer needs to develop a book, most modeling agencies have what is known as a "Development Board". The Development Board consists of the newly signed, emerging models who also need photographs for their book. When you have a few good, clean pictures to show, introduce yourself to the booker in charge of the Development Board and inquire about testing with their models. Different agencies will have different procedures as to where to go from there, but trust me this is a MUCH more efficient way to find models to work with than placing a Craigs List ad.
5 ) Headshots Do Not Count
Actors headshots are not generally used in a pro makeup artists' portfolio. You want your face shots to be Beauty shots, not headshots. Think of the difference between a cosmetics ad and an actors headshot. You want your photos to look like they come from the pages of a magazine.
Edit: I heard your cries and I have added a chapter on purchasing an actual Portfolio.
Next Installment: Marketing Basics Now Added: The Actual Portfolio
Previous Installment: Kit Building
The "So You Wanna Be A Pro Artist" series is original content conceived and written by Tania D. Russell, all Copyrights reserved.
© 2010 – 2016, Tania. All rights reserved.