The "So You Wanna Be A Pro Artist" series is original content conceived and written by Tania D. Russell, all Copyrights reserved.
This article contains Affiliate Links which help Makeup to Go keep going. Thanks in advance for your support! 🙂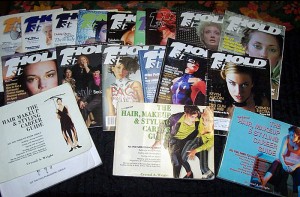 At this point you've studied – either via school or DIY, you've built your kit, and you have the beginnings of a portfolio. You have now reached the point of the big NOW WHAT?
Well, young Grasshopper, Now What is marketing and promoting yourself to get work. Welcome to the Rest Of Your Life as a freelance makeup artist. This article is on Pro Makeup Artist Marketing Basics and this is the point where the rubber really hits the road. There are a sad number of really great makeup artists who do not work, and there are a lot of good not great makeup artists who work all the time. The difference is that whether you're amazing or good or even not that great; those who are smart and who work hard at their careers will persevere. Whether or not one will make it to the lofty heights of the Pat McGraths or Joanna Schlips of the world is unknown (and to get to that level you really do have to be a great artist), but you can certainly be a working artist if you put your mind to doing so. For too long I, personally, fell into Group A: Everyone thought I was really good and really talented yet I didn't work. This was because I am a naturally shy person and putting myself "out there" is not one of my favorite activities. Well, let me qualify, I'm actually a singer and I have no problem getting up and singing in front of people. Put a phone in my hand and tell me to call someone, however, and to this day I still have to psyche myself up to it. The difference is, of course, rejection. Yes. You will be rejected. Be it for meetings, jobs or tests you will not always get what you want when you want it. But as the Rolling Stones said "…you can't always get what you want but if you try, sometimes, you'll get what you need". Eventually you have to eat and pay bills so you'll have to decide – as I did – to either pursue your career with gusto, or go back to the office grind. With that said, here are my suggestions for getting yourself going…
1 ) Get "The Hair Makeup and Fashion Styling Career Guide" by Crystal Wright
In life, somethings are purchases and some are investments. The Hair Makeup and Fashion Styling Career Guide is an investment. Pictured at the top of this article is my collection of Ms. Wright's publications (including the sadly no longer in print, 1st Hold magazine, which was the one and only true trade magazine of the print side of the hair/makeup/wardrobe industry). I still have all of her publications to this day and while some of the information has changed over time the principals have not. Crystal Wright is the former owner of the Crystal Agency (agency is closed, the site is just up as a shell to show the students of her marketing classes). As a former agent she built the career of many a new artist taking many of them to Star Artist category. I was never represented by her agency, but she has been a mentor to me over many years and her advice has rarely failed me.
Didn't I mention this book in my previous So You Wanna Be A Pro Artist installment? Why Yes. Yes I did! It's that crucial so pony up for $50 and go get this book, folks.
While I'm at it: If you can afford to do so, I'd also suggest taking one of Crystal's "Packaging Your Portfolio" workshop. For the DIY-ers in the house, this is an interactive workshop – with Crystal Wright herself – that goes further in depth with the principals of the book. I took her very first class back in the day and you can see how that worked out for me 🙂 . If you went to school you might be thinking "why do I need to pay for another course" to which I'd respond thus: You just spent $10K plus to become a makeup artist. Don't you want to actually work as a makeup artist now? I thought so. Take the class.
2 ) Plan Your Line Of Attack
Trying to plunge Gun-Ho into marketing without a thought out course of action is just folly. If you bought the Career Guide like I told you to, there is a whole section devoted to creating your initial marketing plan AND budgeting for it. This is an important exercise. If you have not yet purchased Career Guide, you can do this yourself with a bit of thought. Basically you need to think about the type of work you want to do and then plan a realistic course towards getting there. Say, for example, you love music and you would love to do music videos for someone like a Gwen Stefani. Chances are low at this point in your career that you would be hired to actually do Gwen's makeup. How can you be down? Perhaps you can work as an assistant under her makeup artist. If you cannot assist her artist specifically, perhaps you can assist some other artist on the same agency roster as her artist. If that is your goal this is a way to break it down into realistic steps upon which you can take action. Do not give me the excuse of "how do I find out" about these artists, this isn't the Stone Age. Get on the internet and research which artists are doing the types of work you want to be doing and which agencies they are represented by and get on that assistants roster. If you really want something you'll do the work necessary to get it. Get organized and go get it! (To my knowledge Gwen's makeup artist is Matthew Vanleeuwen)
3 ) Get Your Marketing Materials Together
I touched upon this a bit in the Portfolios installment of this series, but now I'm going to break it all the way down. There are four key items that are essential to your marketing "kit". These are; your Website, your Business Cards and your Promo Cards, and your Portfolio.
– Website
This is the most important of your marketing tools. Your website needs to be clean, efficient, easy to navigate and aesthetically pleasing. Websites with too many whistles and bells and dancing screens and loud music and this and that are a TURN OFF and that is literally what visitors will do. Back in the day your only option was to get a custom built site, which can be costly. Now days you can either get your site custom or you can take advantage of the many template sites that exist. These sites allow you to customize the look of the site, but the template provides the programming (the hard part) and you can get a clean, professional website up in a day. The price for these sites range from free (although the free ones have serious limitations) to expensive (my site first template website cost $79/mo !!) and all points in between so there is no reason why you cannot have a professional site within your budget. Important Note: While Flash websites have been the norm for a while now and they do offer significant advantages, it is important to get a non-flash 'back" to your website that can be read on mobile devices. This is a reality in today's market and you don not want to lose a job because the photographer could not see your site on his iPhone. All of the templates I recommend at the end of this section – with the exception of the Wix site – offer built-in mobile versions of the site.
Likewise, your website name – aka your URL – needs to be clean and straightforward. Ideally it should be your name. Names like Pretty In Pink Makeup.com or Tra La La She She makeup.com are not only silly and non-professional sounding, but they are difficult to remember. And frankly they aren't hiring Tra La La, they are hiring you so you want them to remember your name. If you have a difficult to spell / super long name that can either work for or against you. Unique names can be great because they are memorable. Super long names or ones that are easily misspelled can work against you as you don't want people to have a hard time getting to your site. In those instances you may want to go with a shortened version of your name or another (professional sounding) URL title.**
– Business Cards
All your cards need to have is your name, what you do (i.e. – makeup artist), phone number, email address and website on it. PLEASE do not put any artificial titles on it like "Celebrity Makeup Artist" or "Professional Makeup Artist" or the like. Those title scream amateur, even people at top agencies who work on top celebs do not refer to themselves as such. The fact that you may have done one C celeb once does **not** make you a "celebrity makeup artist". And Professional Makeup Artist is just redundant. Of course if you are trying to get paid work as a makeup artist you are a professional makeup artist. Duh! lol . Here is my current business card (The moire effect is on the scan only due to the coating on the card. There is no moire on the card when you see it in person);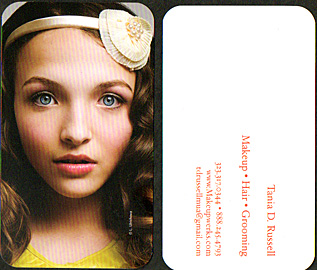 I would wait a bit before getting a photo business card, reason being is you cannot take back a first impression. You want a photograph to clearly tell someone the type and caliber of work they can expect from you. I suggest not adding a photo to your business cards until you have a GREAT photo to add.
– Promo Card
A promo card is a visual leave behind and/or marketing piece featuring a few samples of your work along with your contact information. Here is my first (good) promo card: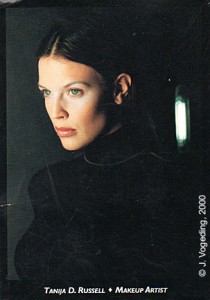 and here is a more recent: (Again, the moire effect is on the scan only due to the coating on the card. There is no moire on the card when you see it in person)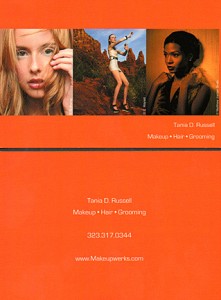 While the progression is clear, what makes my first good card my first good card is that it is clean, professionally offset printed (laser zed cards are not good enough quality for an artists promotional peice), with one really good photograph that really showcased my style of makeup well (this is a postcard promo, so the back just has my return address/contact information as well as the photographer's credit). I got a lot of mileage from that first card in terms of meeting more photographers and building my book further as well as my first little paid gigs. The second card was actually the card that landed me with my first agency.
So again, when making your promo card it is all about a clean, straight-forward design and great images that showcase your best work to date. In the resources section at the end of this article, I list a few places to get your promos printed.
– Your Portfolio
I have already discussed building a portfolio and putting one together at length. Check out my previous articles on Portfolio Building and The Actual Portfolio. While much is done via the web, as I discuss in those articles it behooves you to also maintain a physical portfolio book.
Once you have done these steps, there is nothing left to it but to do it. Let your friends and family know you're in business (word of mouth is still one of the best marketing tools), and start sending those emails and making those phone calls. The more you do it, the more you'll become used to doing it and the easier it becomes to do. If this is truly your dream job, you and you alone have the power to make it become a reality. Get started.
RESOURCES For This Section:
(UPDATE: A Lot Has Changed – See SO YOU WANNA BE A PRO ARTIST REVISED 2016)
Learn the Biz
– Crystal Wright's The Hair Makeup & Fashion Styling Career Guide
– Packaging Your Portfolio Workshop by Crystal Wright Live
Template Website Services
– Dripbooks
– Swiftfolios – No Longer in Operation
– Web Photo Master No longer owned by who I thought owned it and I've heard of users having LOTS of EXTREME problems with their websites using this service.
– Livebooks (a standard among photographers. these sites are more expensive, but fully featured.)
– Wix (Wix has a free version and a paid version. neither support mobile devices. The paid version has mobile device support. Still not the greatest option.)
Promo Card Printers
– Modern Postcard
– 4 by 6 . com
– Paper Chase Printing
**Why is my URL name Makeupwerks? Well at the time I wanted something that sounded like an agency. Fortunately I picked something that sounded professional and actually I do get inquires from people who think it is an agency, but in retrospect if I had it to do over again I would have just gone with my name.
Next Installment: Revisited
Previous Installment: Testing
The "So You Wanna Be A Pro Artist" series is original content conceived and written by Tania D. Russell, all Copyrights reserved.
© 2010 – 2016, Tania. All rights reserved.