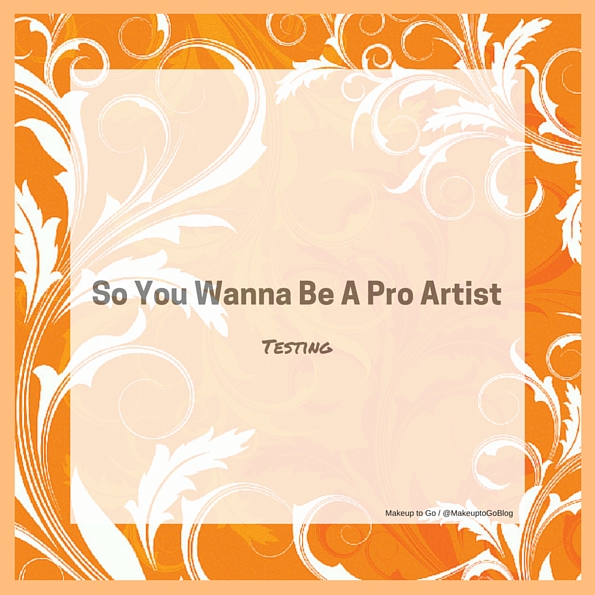 The "So You Wanna Be A Pro Artist" series is original content conceived and written by Tania D. Russell, all Copyrights reserved.
Continuing on in the mission of becoming a professional makeup artist, in this the 8th installment I was going to go into the basics of marketing yourself as a media makeup artist (which was going to be my last installment). However, a lot of you wanted me to go back and pick up on what I wrote about Testing.
OK, so here's what I wrote previously;
"When you're first starting out and have not yet started to book jobs, you obtain these photos by doing what are called "Tests" which is where you, a photographer and most often a hair stylist and a wardrobe stylist will collaborate along with a model in order to get photos for each of your books. "
That's it. That's all a test is. In theory.
The difficulty testing is the practical reality of what makes a GOOD test. Seasoned artists already know most of what I'm going to say so I'm going to assume that most of the fine people reading this are newer artists to the game. Here then are my suggestions for putting together portfolio worthy test shoots.
1) Start Building a LookBook
Also known as a "Morgue" (I have NO idea why), a Lookbook is a collection of tears of inspiration photographs. This is an internal process for you to begin studying and dissecting styles of makeup, styles of photography, how hair and wardrobe fits in, what artists are doing what work, etc. I believe this is a really really crucial tool. You cannot even pretend to want to be a part of this industry if you do not know anything about it. Building a Lookbook will arm you with knowledge and inspire your own creativity and help guide you in my next testing suggestion.
2) Your Tests Should Resemble Work
I can always tell when artists don't Lookbook. I think the A-#1 thing I see wrong about a lot of tests I see of young artists is that they do not in any way resemble any work that you would ever see anywhere. Remember: The point of your portfolio is to show what you can do so that decision-makers can hire you. If they look at your work and cannot envision your work fitting in with what they are planning to do, they won't hire you simple as that. This applies to anything from a headshot shoot to catalog to high-end editorial, clean or edgy.
3 ) Begin with the end in mind.
This comes from the landmark book "Seven Habits of Highly Successful People", written by Steven Covey. The idea is that in order to reach a goal, you have to know what your goal is. A lot of folks feel somehow that "winging it" makes them more of an artist. While creativity and spontaneity are important for an artist, very few jobs are just thrown together. Things may change as you begin working but you really should have a gameplan on what you're going to do before you get started. Remember – a test is a coming together of a group of people to achieve a singular goal. Everyone cannot be fixated on his or her own individual fabulousness. Everyone's vision Has To come together as one. It is worth the time to plan things out and make sure everyone is on the same page before the shoot begins.
4 ) Stay Focused.
This goes hand in hand with good planning; in order for you to have a successful shoot which yields multiple images to add to your book, you need to stay focused. If you are shooting – say – a hippy themed editorial and the shoot starts out outdoors with flow-y hair and makeup and bohemian clothing, it cannot end up inside in a studio shoot with slicked-back hair and smokey eyes a la Tom Ford Gucci. At that point it is no longer the same shoot and they won't look good together. At all. You can't shoot an entire portfolio in one day so do not try. Take your time and execute well thought-out and focused shoots.
5 ) You Will Be Better Served With Clean, Pretty Images.
This goes for makeup and hair and there are a few reasons for this. First of all, there is FAR more work doing clean makeup than there is edgy. Secondly, clean makeup actually takes a lot of skill and decision makers want to see beyond whistles and bells and really know you can do professional-level makeup. Thirdly, and this is real, edgy is either right or it is Totally And Completely Wrong. The line between a really striking, innovative image and some tacky amateurish looking schlock is a fine one. Better to have beautiful, simple images rather than sloppy "edgy" ones.
6 ) Don't Pay to Play.
A lot of young artists, desperate to get good images, are tempted to pay a photographer to test with them. I cannot emphasize enough what a bad idea I think this is. A photographer that will only shoot with you if you pay them does not want to work with you. Therefore, not only is any hope at a true collaboration out the window, but so is the possibility of developing a longer-term relationship with someone who may someday hire you. Really, it is Mission Difficult to get a test together, but not Mission Impossible. Take the time to contact and meet photographers who will want to collaborate with you.
7 ) Forget This "Testing Fee" Madness.
Likewise, this neo-trend on various online "networking" sources of artists charging Testing Fees is ridiculous. Do you want great images to develop your portfolio or not? Your "payment" on a test shoot are the beautiful images you are going to obtain. Images which, if you work on a good shoot with a good team, will translate into your being able to market yourself for full rate jobs. And I am going to be real right now; None of these "testing fee" artists I see online ever have portfolios strong enough to get real jobs. Presumably that is why they have to waste time with this Testing Fee silliness. Don't fall for the madness. Develop a solid portfolio and the money will follow.
Now I will add this addendum; There is such a thing as a Paid Test – but that's different than what we are discussing now and I'll get to that later. For right now, focusing on developing a working portfolio should be your priority.
8 ) Test Up Not Down™
I actually coined this now internet-popular phrase (although a lot of other people have been given/have taken credit for it :-|), What I mean by this is that EVERY time you test you should be striving to improve upon what you already have. Improvement can take a lot of forms and what constitutes and improvement will obviously change throughout your career, however, EVERY time you test should be an improvement. And remember; great makeup in an otherwise mediocre shot is just a mediocre shot. The entire photograph has to work from top to bottom for it to truly be Portfolio Caliber.
9 ) Focus More on Beauty Than On Fashion
This is obviously specific for makeup artists, but I'm a makeup artist and makeup is what this blog is all about. The main thing about a book is that it should show a range of styles of both photography and makeup. HOWEVER when you're first starting out, the most important thing you can show is your potential. You can't dazzle anyone with your amazing tears yet, but you can impress someone with your creativity and talent. Therefore you need photographs that really showcase your makeup. Fashion shoots are fun and edgy and amazing, etc., but the focus of a fashion shoot is the clothes so they may not show what you need to show of your work. Also, fashion shoots are much more difficult to put together as you absolutely need a good stylist with access to great clothes to make it work. A beauty shoot just needs a good photographer, a strong model and you.
10 ) To Re-iterate: Avoid Internet Dependency
New models and new photographers all need photos for their books just like you do. You will be much better served working through agencies for your models and photography/art schools for young photographers. The internet is the wild west; people are not necessarily who they say they are nor are their intentions necessarily what they say they are. There is a lot of game-playing online. You want to align yourself with people who are serious and on the same page as you as soon as you can. You may meet people via online sources, but relationships are forged in real life.
Note: People are crazy. Be careful when you set up meetings via the internet. I always try to steer such meetings to public places rather than people's homes, and I let friends/family know where I'm going, etc.
Some of My Own Testing Hits and Misses
(click to see larger images)
• This is a very very early test and it looks like it. Nothing is "wrong" with it, per se, but there is nothing great about it either. I was lucky that I worked with good photographers pretty much off the bat so the photograph is technically good (crisp, well lit, etc.). This particular photographer did have an affinity for shooting in front of the same red brick wall for EVERY shot so I suppose this is one of the lucky exceptions to that rule. LOL. Makeup-wise, the makeup is OK but the brows need work. In my early tests I didn't pay enough attention to the hair. This particular shot of the model was not flattering (although others in this same shoot were better). It's just an "eh" image overall.


• Early "fashion" test. The problem is the fashion. Those clothes were dated 5 minutes after the shoot was finished. Also I once again did not pay enough attention to hair. Makeup is pretty good, at least from a distance. As this is a long shot you can't really see the detail of the makeup work…


• Presumably this was supposed to be edgy, but who knows WHAT I was thinking. The makeup actually is not bad at all, but that shirt is RiDICULOUS. Had I just pulled her hair back with bare shoulders this could have been a nice beauty shot. Instead it is ridiculous…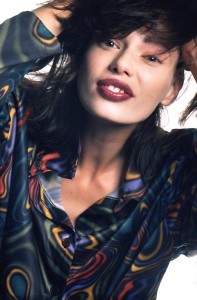 • This was probably my first really good test. All elements – photography, makeup, hair, model and styling – came together and produced an image that served my portfolio for years…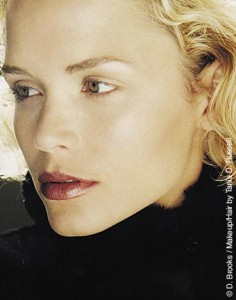 • A test I did last year. Quite a difference, no? My tests nowdays blend seemlessly into my book and no one can tell if it's a test/editorial/catalog or advertising or what unless I tell them. This is what you ultimately want from your tests…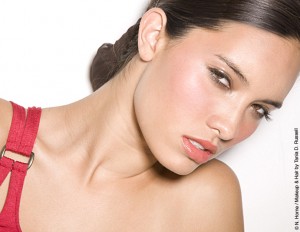 Resources for this Section:
Both of the following really cover the A – Z of becoming a professional, working makeup artist and include strong chapters on testing and building a portfolio.
• Crystal Wright's Hair Makeup & Fashion Styling Career Guide, 5th Edition

Please go buy the Hair, Makeup and Wardrobe Career Guide written by Crystal A. Wright. There have been complaints in the past about slowness in sending out the books. She's a micro-publisher and sometimes the timeline depends on her production schedule. If you have to wait, Wait. It WILL be worth it (and apparently her shipping problems ended in 2010 and she now has plenty of books in stock). Crystal has been a personal mentor to me and to a lot of us out here, and back when she published the first edition of The Guide there was almost NO information on how to go about becoming a makeup/hair/wardrobe artist on the print/agency side of the business. Almost all the info there was pertained more to the film/tv/union aspect, which is completely different. As a former agency owner (the Crystal Agency) her book gives great insight on becoming a Working Makeup Artist, Hair Stylist or Wardrobe Stylist from the viewpoint of a person whose job it was to get folks like us hired.
• Shortcuts to a Successful Career As a Hairstylist or Make up Artist in the Fashion and Entertainment
On the other side of the coin, Shortcuts is written by successful men's groomer Diana Schmidtke. Her book is from the view point of a successful working artist and is filled with anecdotes of what it took to get where she is now. I have not personally read this book (I need to order it) but all the reviews I've read have been highly positive.
Next Installment: Basics of Marketing
Previous Installment: The Actual Portfolio
The "So You Wanna Be A Pro Artist" series is original content conceived and written by Tania D. Russell, all Copyrights reserved.
© 2010 – 2016, Tania. All rights reserved.