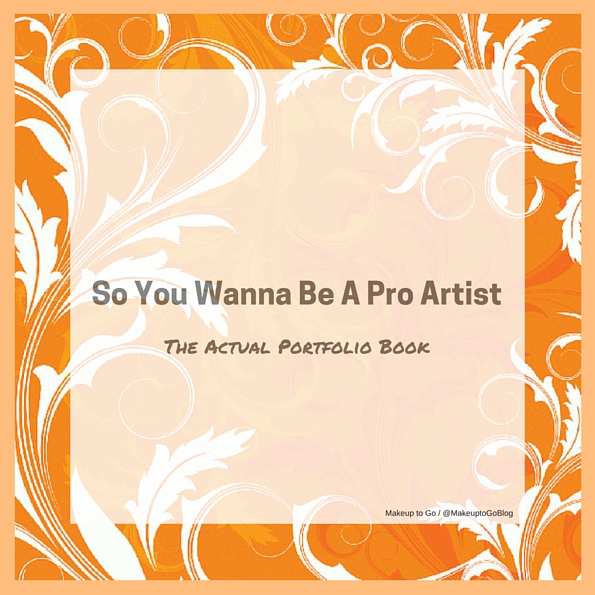 The "So You Wanna Be A Pro Artist" series is original content conceived and written by Tania D. Russell, all Copyrights reserved.
In the previous installment of STWBAPA I talked about building a portfolio as part of becoming a professional makeup artist and I made mention of the difference between an "off the shelf (or off the rack)" portfolio book and a custom portfolio book, However I didn't really go into it really and several folks wrote in asking for clarification. Here you go;
Off The Shelf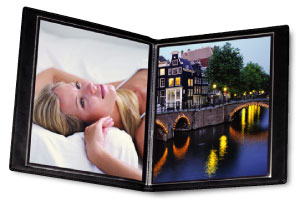 Off the Shelf books are pre-made portfolio. They cannot be customized in any way; what you see is what you get. These are the kinds of books that you can get in your local art supply store. They generally come in Black and they are usually either permanently bound (like the pages of a book the pages are inset into the spine so they cannot be removed) or wire bound. Common brands of these kinds of portfolios are Itoya and Prat
The only real plus to the off the shelf books are the price. They are significantly less expensive than their custom counterparts, hence they are where many new artists start. IF you are going to go the off the shelf route, I would suggest getting a ring bound book as pictured below. The reason being that it is extremely important to keep your portfolio pages clean and when they get scuffed up, to replace them. You can't do that on the permanently inset books. Also not every type of client needs to see every photo you've done. It's important to tailor your presentation to who you are showing it to. Again, you can't remove pages from the inset books so it's more difficult to change the order of photos or to take photos out. Lastly, you never want to show someone a book filled with blank pages, which when you're starting out you obviously aren't going to have a lot of portfolio caliber photos. With the ring-bound books you can take out the empty pages, but with the inset books you cannot.

Custom Books
Here again is my book.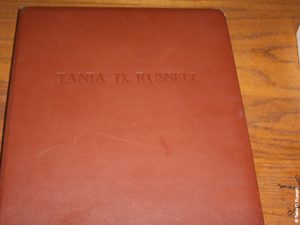 This is a custom, faux-leather, 9×12 book that I ordered from JC Presentations (the book itself is actually 9.5 x 12.5 so as to accomodate 9×12 size prints. 9×12 is a standard Professional sized print). As you can see, there is a price difference. However ordering custom allows you – for a price – to tailor the book to your needs. Custom books are Post Bound meaning that the pages are set on posts in the binding. Therefore you can take out, change, remove pages as needed or desired, but when the book is closed it lays flat like an inset bound book. It looks much better as it doesn't have visible binding like a wire-bound book. You can dictate size, the number of pages, the type of pages, what type of material your book will be (leather, faux leather, fabric, etc.), the color of your book etc. The representative can help you sort through all these options when you place your order. Whether you decide to get a Custom book now or later, eventually you will get a custom book. Customs are the Industry Standard and they are what agents expect their artists to have and what working professionals (photographers, art directors and others who may hire you) will expect to see.
There are 3 basic businesses from which most artist order their books. As I mentioned, I get my books from JC Presenations. I've been ordering from them since they were in operation under a different name and I can personally attest to the quality of their product and the excellence of their service. Also their prices are very good as custom books go. The other two main portfolio businesses are House of Portfolios and Brewer-Cantelmo. As you'll note, they are all comperable in terms of product. House of Portfolio and JC Presentations are comperable in price, with Brewer-Cantelmo being a bit higher. I've hear various things about dealing with each company, and I've also heard that Brewer-Cantelmo's books are amazing. I do not personally know, that is something you'll have to research for yourself. Of the three I would say that House of Portfolios is probably the best known.
What size book do I get?
The standard sizes for makeup artists are 9×12 or 11×14, with 11×14 becoming the most popular. 8×10 books are completely passé, do not get an 8×10.
Do I Still Really Need A Book?
I say yes. Even though much of what happens these days happens digitally, I find that when I go to meet people the do expect for me to bring a book for them to look at. Printed photographs have much more detail than digital images on a screen. People like to really look closely at your work and study the details so right now I still say an artist should maintain a physical portfolio book in addition to their online presentation. Many predict that the newly released Apple iPad will become popular as presentation tools for in-person meetings, but that will remain to be seen. Even so, however, if the client asks you to leave your book behind for a few days so they can show it to other people in the company (which is common) would you really want to leave your expensive iPad? I would not.
What Color Book Should I Get?
You can get whatever color book you want when you order a custom book. The issue is the content. I agree with Crystal Wright (former agency owner and author of the 'Hair, Makeup and Wardrobe Career Guide' that newer artists would be best served to stick to Black or Brown. If you are going to have some wildly colored book that stands out, you'd better be sure that the work inside stands out as well. Save the Hot Pink book for when you have Vogue and Harper's Bazaar covers inside.
How Many Photos Should I Have?
This really varies depending on who you ask. Some folks say you should have at least 10 great images to start approaching people for work and add 10 more tears (published work) when you start approaching agencies. Some say your should have less than 30 images, some say less than 40. 40 is a lot of pictures and those pictures better really be killing it if you are going to have that many in your book because otherwise folks will just be flipping through without really reading. One absolute rule of thumb that everyone agrees on: A portfolio book should be All Killer No Filler. Decision makers will ABSOLUTELY judge you on your WEAKEST image. That's the one they are scared you are going to do if they hire you for a job. If you cannot stand 100% behind an image and say you love it, leave it out. More is NOT better when putting together your portfolio.
What's The Difference Between Waxskin vs. Leather books or Acetate vs. Polyester Pages?
That's all the technical stuff that you need to know before you order your book. House of Portfolios has an excellent FAQ that answers all of these questions. Scroll past the part about their ordering policies, etc. and you'll see answers to questions about supplying materials, getting your name imprinted as well as the differences between the kinds of pages, etc. These types of questions are basics of how Custom books are made and the answers will apply regardless of where you decide to order your book.
Next Installment: Testing
Previous Installment: Portfolio Building
The "So You Wanna Be A Pro Artist" series is original content conceived and written by Tania D. Russell, all Copyrights reserved.
© 2010 – 2016, Tania. All rights reserved.