The "So You Wanna Be A Pro Artist" series is original content conceived and written by Tania D. Russell, all Copyrights reserved.
Now we're starting to get to one of the fun parts about being a makeup artist and that's makeup kit building. Needless to say, the major investment of and throughout your career will be your kit. By a "kit" we mean the tools and products necessary to do your job as a makeup artist. What type of kit you need will ultimately be determined by what kind of artist you hope to be. Everyone needs a basic beauty kit, and that's what most schools will require so you can go through the basic makeup program. If you plan to do Character and FX makeup, then you will need to add an entirely other array of products to your kit in addition to your beauty kit. If you plan to start airbrushing, that's a whole other set of product and tools you need to add. And finally, in most markets you should be prepared to do some basic hair and that's even more tools and products to add to your kit. Again – makeup kit building is the major investment of your career. Therefore doing so thoughtfully will serve you better as an artist in the long run.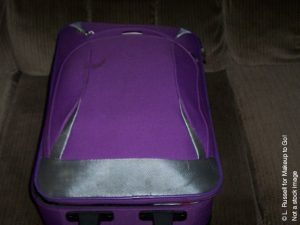 The above is a version of my makeup kit. Yep, that's it. And within that small 20* suitcase I have the tools and product necessary to do both makeup and hair (my tools and a power-cord are underneath what you can see here). The major mistake that young artists make is at a time when they can most likely least afford to do so, they want to buy every single item of everything. Tempting though this may be – and trust me it's still a temptation even at my stage in the game – it's really important to control your costs because in your first few years of being an artist you'll have a lot of them. If you blow all your money on your kit, you won't have any left for promotion so then you won't be able to get any work. That's no good. As a freelance makeup artist you are your own small business so like any successful business you need to know where to spend money and where you can save.
1 ) Start Using Professional Products
Yes, there are instances where drugstore brands are the thing to use (I'm a Great Lash mascara girl all the way!) but you won't want to build an entire kit of those products. Firstly, it just looks tacky to show up to a job with an entire kit of cheap product. Secondly products that are made for end user, everyday wear may or may not translate well to photography so you need to build your kit with that in mind. For this reason not all department store brands necessarily work, either. At the department store level, however, there are brands that are Professional brands in consumer packaging (Nars, Make Up For Ever, most Bobbi Brown, most Laura Mercier, Smashbox, Stila, etc.). The brands most young artists don't know and should become aware of are the old-school theatrical brands like RCMA, Kryolan, Ben Nye, Mehron, etc. If you don't know any of those names go hit Google. They will be very useful in building your kit. Lastly, if you've only ever used consumer product, professional products feel and work quite differently so you'll need to get used to working with 'the real thing'.
2 ) Consider A Pre-Assembled Kit
A good way to hit the ground running is to get a pre-assembled kit, much like what they have at makeup schools. The downside to a pre-fab kit is that no one can include everything, there's always something else to buy. The upside to a pre-assembled kit is that a well done kit has all the basics necessary to get started so there is no guess work on your part as to what to buy. Also a good pre-assembled kit has professional grade products. I've seen a lot on-line kits of questionable levels of quality so here I am going to make a specific recommendation; Camera Ready Cosmetics Deluxe Kit (follow the link and then Search for DeLuxe Kit) . If you're a regular Makeup to Go reader, you'll know that Mary Erickson is a trusted colleague of mine and a long-time respected working artist. She actually has two kits, the Basic and the DeLuxe, but I vote for the DeLuxe because it's not that much more expensive and it adds professional grade liquid foundations which you would need to buy eventually anyway. Many of the products included in the Kits are items I personally use, and the quality of products included are professional level. You can order in a case or just the product alone if you already have a case. Also, my Workshop students get a discount code upon registration for one of my classes. 🙂
3 ) Know Where To Shop and What To Buy
If you're going to go out and purchase your own kits, it's really essential that you know what a professional kit is comprised of and where to get said products, particularly if you are outside of Los Angeles or New York. In my Workshop I provide students with a list of my specific preferred products as well as resources of where to buy. If you're not in California to take my class (or you are thinking about taking my Workshop and would like the list before hand) you can purchase the list for $10 including shipping. The list is organized by Product Type (followed by my specific brand recommendations), and in Order of Priority so you know what you need to get right away and what can wait for later. I've designed it to be a great resource for DIY Kit Building, and you can order it by hitting the Buy It Now button below. (Note – if you order the list and then decide to take a Makeup to Go! Workshop, we will deduct the $10 from the price of your class.)
4 ) Tools Are Part Of Your Kit
Included on my list and also in Mary's kit are Tools. Some artists – myself included – believe your tools are actually more important than your product. There are times when you're working for a client and you may have to use a specific brand or product and not your pet items. However with proper technique and tools you should be able to get any look you want with any brand you may have to work with. Buying tools can be very very expensive, but there are ways to get the quality of brushes that you need at more reasonable prices.
5 ) Hair Too?
Yep, you'll need to do some basic hair in most markets. By "most markets" I mean, anywhere in the United States not called New York City and even in New York more and more artists are being called upon to do both makeup and hair for commercial clients. Reason being that budgets are just getting smaller and its obviously less expensive for a client to hire one artist who can do both than to have to hire two separate artists at full rate. You don't have to be Orlando Pita, you just need to be competent. When you're ready to start marketing yourself for work, you won't want to lose good paying jobs because you refused to learn hair so just go ahead and learn some basic hairstyling and keep a basic hair kit.
6 ) What About Airbrush Makeup
I'm actually going to talk a bit about airbrushing in a later installment, but if you are going to include airbrush in your skill set and services that you offer, bear in mind it costs about $1000-$1500 to get into it (that's including tools, product and education). Some artists swear by it, some (myself included) barely use it. Again, we'll get into the pros and cons later and I'm actually going to pull in the advice of some of my artist friends who do use Airbrush for that section. In the meantime I'm just bringing it up so you can be aware of the initial investment associate with it.
RESOURCES For This Section:
– Camera Ready Pre-Fab Makeup Kits
– Makeup to Go Preferred Kit Items List
Next Installment: Porfolio Building
Previous Installment: Going It Alone
The "So You Wanna Be A Pro Artist" series is original content conceived and written by Tania D. Russell, all Copyrights reserved.
© 2010 – 2016, Tania. All rights reserved.