The "So You Wanna Be A Pro Artist" series is original content conceived and written by Tania D. Russell, all Copyrights reserved.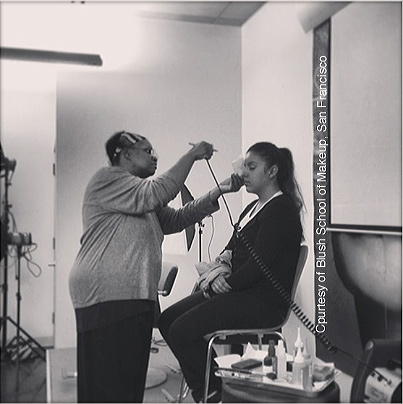 As you may know, in addition to being a working artist, I am a makeup educator.
I started with my own private lessons which grew into workshops and then I began teaching in schools, first at a school in Los Angeles and now at a school in San Francisco. I actually very much want to resume teaching my own lessons and workshops but there is one thing hindering me: the rise of the bad makeup classes. It seems to be a cyclical phenomenon where sometimes there are lots of classes and sometimes there are hardly any. Right now the class/workshop/school situation is at Full Tilt. Some of them are by all accounts excellent, and I am interested in attending myself. But some… ????? Seeing some of these workshops and schools makes me wonder WHAT exactly people are looking for in education and HOW are they vetting those to whom they are giving their hard earned money. Here are my suggestions for avoiding bad makeup classes and upping your chances of finding quality education.
– Do Not Shop Price
Do not be dazzled by an over-the-top high price thinking "oh it must be good", and don't shop the discount bin hoping for a bargain. Do your research and find out what you are getting for your money. Good classes will not come cheap. In fact I have a #BizTalk Friday MTG post coming entitled "Why I Can't Teach You Makeup for Free". NO good instructor will. Classes are expensive to produce, our knowledge is valuable and we deserve to be compensated fairly for our time and skill. Save up your hard earned $$$ for quality instruction. Good instruction will pay for itself quickly. If a class is too cheap or crazy expensive, keep looking.
– Find All About Out Who Is Teaching The Class
Real Talk: credits are very easy to find. A simple Search should pull up all types of credits and references for any actually working artist. Frankly one of the first things that should come up in a Search is a professional website with current work as any working artist would readily have (or an agent's site if the artist works exclusively through an agent, or an IMDB profile if they work primarily in Production).
Even more frank, this info should be detailed prominently on the website for the school or workshop.
A working artist who does the work they say they do has nothing to hide. If you have to hunt, peck and squint to find out anything about the who is teaching the class or who is running the school, let that be a Red Flag.
– For Real Though – WHO Is Teaching???
There is an online advert I saw recently listing a workshop from a "celebrity makeup artist". Not only is there no link to an artist's portfolio of any kind, there is NO NAME listed. Yeah, no. I see this a lot, actually, particularly with a lot of these fakey schools. A potential student cannot possibly make an informed decision about a school or a class without knowing who is teaching and what is that teacher's professional background. This information should be readily available. You shouldn't have to search for it, you should not even have to ask for it.
– Do The Pictures Look Like Work You Want To Do?
No? Keep walking. Just as a client shouldn't hire a makeup artist whose portfolio looks like mine expecting that they are going to do Alexis Vogel-style makeup, if a school or workshop is not posting images of the kinds of work you hope to do, keep looking. And if all they have are amateur/snapshots/Instagram photos, definitely keep looking. OH and make sure the photos are really theirs as well. Photo theft is rampant in the industry nowadays. If they have a bunch of bridal photos and then all of a sudden a photo of Beyoncé, one of these things is not like the others…
– Not All Credits Are The Right Credits
As great as my classes are 🙂 I focus on media makeup because that is what I do. Hence if you are looking for a great Bridal course, my classes would not be for you. Particularly if you want to learn the ins and outs of building a Bridal business. I don't know the first thing about it, I don't do Bridal. THAT SAID do not look to a Bridal artist to learn about being a freelance media artist. Unless they do both – which some artists do – someone who does Bridal exclusively or primarily does not know the ins and outs of my world. Likewise; do not take an editorial makeup class from an artist that primarily does TV, do not take a theatrical class from someone who primarily does clean beauty, do not take an FX class from someone who does not have a strong FX portfolio and background, etc. These things are all different and you should find someone whose work reflects what it is they teach. AND let me add this – anyone claiming to teach celebrity makeup should be a celebrity artist themselves. This is where the trade shows are great because they afford one access to that top tier artist whose schedule often does not permit too much time for teaching (The Makeup Show NYC*, for example, just had Troy Surratt and Nick Barose as Keynote speakers). Being a "celebrity makeup artist" does NOT mean an artist who did one random reality show person one time.
– Beware of False and/or Unsubstantiated Claims
Anyone who actually works will tell you that becoming a working makeup artist is NOT easy. It takes time and a LOT of work. I believe it was Forbes magazine who recently ranked Makeup Artistry #6 most difficult profession to enter versus how many people want to do it. It is not Mission Impossible, but it is mission difficult (to paraphrase Sir Anthony Hopkins character in MI:2). Therefore any place that talks about how you'll be working in a week or this or that is just a scam straight up. Also I was reading an ad for a class that claimed all students would receive a Certificate that would allow them to get cosmetics for 60% off. :-|. First of all, a sheet of paper from a one day workshop is meaningless. Here in California, for example, Schools must be Accredited. Becoming Accredited itself is not easy, a course outline must be defined and approved by the appropriate governing body, courses must be a certain number of hours, etc. Therefore most Workshops are not even eligible for Accreditation. Secondly, no cosmetics company gives a Pro Discount of 60%, cosmetics companies are in business to make money. Most companies set their Top Tier at 40% and to get said discount, you have to prove that you are a WORKING artist, not just that you took a class. Shenanigans like these are why more companies are starting to charge for the Pro Discount, but let me not digress right now. A good course does not need to make things up, the value of the course is in the instruction itself. When it sounds too good to be true, it is. Run don't walk in another direction.
If a potential student does their research, there are a lot of very good schools and workshops out there. If your plan is to be a professional makeup artist, then you should be a professional from jump. Do not become starry eyed and fall for the first handsome suitor that looks your way. Research and make a potential school or class earn your business. You owe it to yourself and your career.
And if you're wondering, yes, I learned all of this first hand the hard way. A zillion years ago I paid a good sum of money (I want to say maybe $1500) for a class that promised I'd be working once I completed the course. I took the class without researching the instructors or the owners (who it turned out were sued several times for similar scams) or doing any kind of vetting whatsoever. Of course I never got any work out of it, in fact I did not even receive what most people would consider a complete class. Lesson learned.
Previous Installment: So You Wanna Be A Pro Artist Revisited
You Might Also Want to Check Out: So You Wanna Be A Pro Artist – Good Instruction
*CORRECTION: I originally posted that Troy Surratt and Nick Barose were Keynote speakers at IMATS NYC. This was an error on my part, they were speakers at The Makeup Show NYC. My apologies for the error.
The "So You Wanna Be A Pro Artist" series is original content conceived and written by Tania D. Russell, all Copyrights reserved.
© 2014 – 2019, Tania. All rights reserved.