Please Note: I was given these items as Gratis for a job I was doing in my work as a makeup artist. This is not a sponsored review post, in fact Make Up For Ever does not know this post is happening (until I tell them about it). 🙂
For a beauty makeup artist, skin is everything…
so I'm starting a new series here on the blog called "Skinwerks". A play on both "skin work" – which is all the foundational elements of doing a makeup – and "Makeupwerks" which is my portfolio website for my work as a makeup artist. Clever, no? No? Well anyway…
I get asked a lot why I have so many different foundations. Well, for a beauty makeup artist I cannot imagine that there is anything more important than the skin work (which is why I also have a lot of different skincare). All the colorful eyes, sculpted cheeks and fierce lips won't pop against a bad complexion. And by bad complexion I do not mean skin that is broken out, etc. Those things can be fixed with proper skin work. By bad complexion I mean wrong foundation match, wrong product use for the skin that is being worked on, heavy-handed cakiness, etc. etc. This is PARTICULARLY true if any kind of photography is part of the equation! I previously did a post on Foundations and it was a popular post, so I want to go a bit more in-depth and talk about my old loves and new discoveries.
What Am I Looking For In A Foundation?
When I'm looking at a foundation, I'm evaluating;
– Color range: Does it have a wide range of colors and undertones for all skin tones?
– Coverage: Sheer, Medium (my favorite), or Full and is the coverage buildable?
– Finish: I'll explain more in-depth in a future post but basically the Finish refers to how the foundation looks once it's set.
– Wear: How long does it last?
To start this column, we're looking at Make Up For Ever Ultra HD Invisible Cover Foundation and the Ultra HD Invisible Cover Concealer (and as a bonus, the MUFE Pro Sculpting Palette for contour and highlight), which I've recently re-discovered.
Skinwerks Make Up For Ever Ultra HD
PROS
– Foundation: Medium coverage, easily buildable to Full coverage
– Foundation: Excellent color range
– Foundation: Lotion-weight liquid formula
– Concealer: Covers and corrects in one
– Concealer: lightweight texture
– Concealer: good coverage
– All Three: Readily available at Sephora
CONS
– Foundation: finishes a little matte, but is adjustable
– Concealer: Could offer a few more shades on the very fair and very deep end
– Sculpting Palette: Seems to run a bit warm
Both the MUFE HD liquid foundation and concealer were reformulated in 2015 due to the advancements in HD camera technology. The Make Up For Ever Ultra HD Foundation was reformulated into a lighter "lotion" weight liquid that still maintains the level of pigmentation necessary for HD photography. However, it is also an excellent – and popular – option for personal use as the HD formulation is water based, and has illuminating properties so it doesn't look "flat".
As much as I like the new formula foundation, the new formula Ultra HD concealer is phenomenal. Phenomenal. It's super lightweight and at first glance it looks like it would do absolutely nothing. YET when applied it both covers and corrects while still leaving the area looking like SKIN.
Lastly, my preference is to also do any contouring that I plan to do during my initial skin work so that it looks like skin and less heavy than some of the contouring you might see online. Therefore, as I've had the Make Up For Ever Pro Sculpting Face Palette for a little while, I decided to throw it into this demo as well.
My friend Erin was so kind as to be my model for this trial so let's take a look…

So here's our before. Erin is about my age and we've been friends for about 572 years. She's a former private chef, now starting a counseling practice, wife and mom, and all around badass chick. As you can see Erin has pretty, clear skin without a lot of skin issues. Just the standard redness between the brows, over the cheeks, around the nose and on the chin. As I started working on her I also remembered that her skin tends to run a bit on the dry side. ALSO as I started working on her I realized that she has almost NO discoloration under her eyes?!?! So instead of going for a lot of correction, I went for a more brightening effect to make her eyes pop.

COLOR(S) USED: Y245 (with a drop of R250 added)
Honestly, I did not care for the original HD foundation formulation at all. It was too opaque and too matte, in my opinion. I certainly would not have used it on anyone with drier skin or who has any texture in their skin as – in my experiences with it – the original formula settled and created more texture.
Erin doesn't have discoloration, breakouts, etc. to deal with but like I mentioned her skin runs a tad dry and she does have a few fine lines. Therefore it's important that any foundation she might use doesn't settle and increase skin texture. As you can see, this new formula MUFE Ultra HD does not do that. When initially applied, it gives a Medium coverage that evens out skin without looking cakey, which is what we want. I'd call this kind of finish "skin realistic". It just looks like you/your model/your talent has really great skin but without looking overly matte or overly sheeny. This type of finish is perfect for film and TV and it's also what (I find) most women want to look like in their everyday lives.
PRO TIP / TECH TALK: I've used this foundation on a few jobs now and it is also quite malleable. For my commercial/lifestyle/fashion I tend to actually want a more sheeny finish, and I have been able to easily make that happen with the right skin prep. And in the event I want it to go more Full coverage, I just let the initial layer set and go back over it with another layer.


COLOR(S) USED: Y21
It was hard to photograph the addition of the concealer since Erin does not have the courtesy of having visible discoloration under the eyes. 😉 On her I used a slightly lighter-than-normal color to brighten which is a trick I do a lot both for private clients and for photography. What I really wanted to illustrate was how it does NOT look like concealer AT ALL. Nor did it settle into under-eye lines and create unwanted texture. This is a truly excellent formulation.
PRO TIP: If I were trying to just correct and conceal instead of brighten I probably would have used Y31 or Y33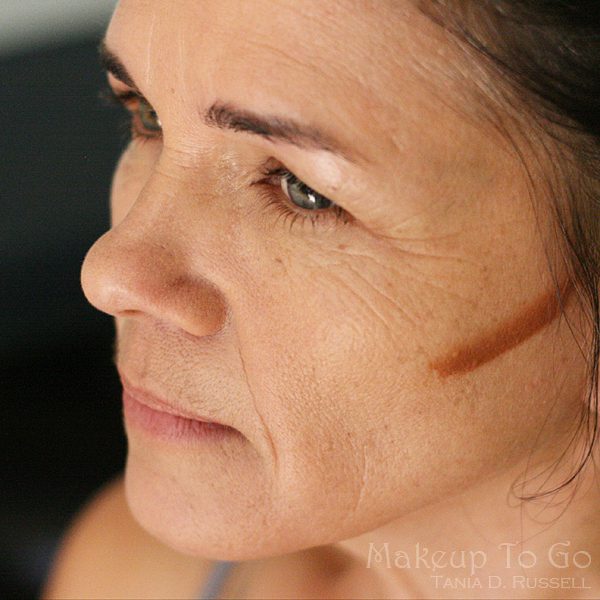 COLOR(S) USED: Contour color only
If I'm going to do any contouring, which for photography I usually do, now is the time. So here I've introduced the contour color from the sculpting palette. See how red it looks? That's n'good. Shadows are not red, and when you are adding contour and highlight you're basically adjusting shadow and light on the face to accentuate the bone structure.
The whole palette looks really red to me


In fairness, they do make different palettes for different skin tones, so it may just be this Tan Skin (#40) palette that looks super red. I'll have to go take a look at the others.
Here is miss Erin once everything is blended and buffed. Super pretty, right? I did not use any powder on her so it's worth nothing that once totally set the Make Up For Ever HD Foundation goes a bit more matte. This makes sense for HD and it also increases its length of wear for both professional and personal use. And if you're wondering if this product works for all skin tones, the answer is a resounding YES. Make Up For Ever has always been one of the best in terms of including foundations and concealers for ALL (I used to use their Modeling Fluide foundation on myself back in 1812). The HD foundation comes in a whopping 40 shades broken down by undertone – R is for red based, Y is for yellow based – and depth of shade with 1 being the lighter shades and 5 being the deepest shades. 180/R530, for example, is a red-based brown that's fabulous on folks in my complexion range. The HD concealers come in 11 shades – including an orange corrector shade. Like I mentioned they could stand to add a very fair shade and a couple of deeper shades.
Since being given these products for a recent job, I've used the Ultra HD Invisible Cover Foundation and Concealer pretty often and on a wide variety of jobs from commercial, to fashion (I made the finish more sheeny), to private clientele. They've definitely made the rotation! (NOTE: There is also a recently introduced Ultra HD Stick foundation, but I haven't tried that one yet so I'll get to it in an upcoming post.)
Have you tried the Ultra HD Invisible Cover Liquid Foundation or Concealer? Whatd Ya Think? Let me know in comments. And if you have Foundation/Concealer questions, let me know in Comments and I'll hit it in a future Skinwerks. 🙂
—-
Have you signed up for the Makeup to Go Blog newsletter yet? Join the fun for exclusive content, giveaways, and other assorted fabulosity! Makeup to Go Blog Newsletter – "Speaking of Makeup"
© 2016 – 2018, Tania. All rights reserved.