The second installment of our Road Testin' series; tales from the front lines of what makeup products do once they're out of their pretty pretty packaging, and in the real world.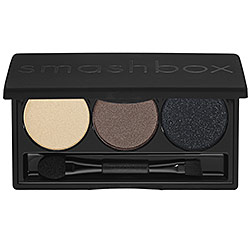 The Fab – Smashbox Eyelights in "Smokebox" – If you've been waiting for a sure fire smokey eye kit, this is it. There are others on the market, this is the best I've found. The Smokebox is not too dark or too light in color, it's evenly pigmented and goes on smoothly, it isn't too shimmery, but it has enough shimmer to be more wearable and not look too 80's matte, it wears well and it works with a variety of skin tones (and there are also 3 other Eyelight palettes if the Smokebox doesn't suit you). Makeup artist heaven! It has not left my kit since it was first sent to me and I will be buying a couple of more to have on standby for when the one I'm using runs out.
The Fair – OCC Lip Tars – Yes I know I raved on and on about these when I first got them and when the new colors came out. That's the point of the Road Testing series is to talk about what a product is like once it gets some real use. 😉 OCC Lip Tars are wonderfully pigmented, in gorgeous colors and I love how they dry to a semi-matte finish. That's all great and true. Where they fell into the "Fair" column is that their wear is erratic. Both when I used it for a photo-shoot, and when a friend tried to wear a tube that I'd given her, the product slid. Sliding isn't the same as wearing off… sliding is it visibly slid off the lips. In my friend's case she was wearing "Melange" which is a neutral pink color and I was working with a combo of "NSFW" and "Traffic" to make a super potent orange color. So it wasn't just one color acting up. The one constant in both of our experiences, however, is that we were both using the products in the height of Los Angeles summer heat. And we did have some serious heatwaves this summer. None-the-less, a lip product that slides off is non-idyllic so I've slowed down my usage, particularly since – as the Lip Tars are so heavily pigmented – as it slid it left behind a stain so it was hard to completely clean off of the model's lips and reapply cleanly. Alas, it just didn't perform to my expectations. I'd still recommend them if you are not in a hot climate area. I know artists all over the country who are absolutely fanatical about the Lip Tars and use them religiously. I am also open to the possibility that I used the product incorrectly so if anyone has any usage tips – particularly for hot weather – by all means let me know.
The Faulty – NYX Cosmetics Eyeshadows – NYX is a drugstore brand that aims to bring fashion forward makeup to the mass market. The packaging and product are clearly reminiscent of the populist pro makeup brand that most consumers know and love (you should know what brand I'm referring to, here). However, there's more to those high-pigment eyeshadows than colors and packaging. The Name brand I'm referring to is already well known for having eyeshadows that aren't creamy and aren't easy to blend (gotta work 'em a little). I'm afraid the NYX Cosmetics eyeshadows are much worse. First of all, they really aren't pigmented well… they colors look like they'll go on potent and bright but they don't, even when applied damp. Secondly, they smear, cake, grip and do not blend. No good. The eyeshadow palettes are $8-$9 and the individual colors are $5-$6.50. Single shadows from the name brand is $11, and if you're eligible you can get a healthy discount via the Pro Artists program. Make Up For Ever – another pro brand who I will mention by name, and who is also known for making bright, vibrant colors – sells their eyeshadows for $19 retail and qualified artists can also get a discount on that line as well. Basically as the saying goes "You Get What You Pay For". (I will say, however, that I do like NYX's blushes – both powder and cream. So just because one item in a line doesn't work, it doesn't necessarily mean the whole line is bad…).
© 2009 – 2014, Tania. All rights reserved.