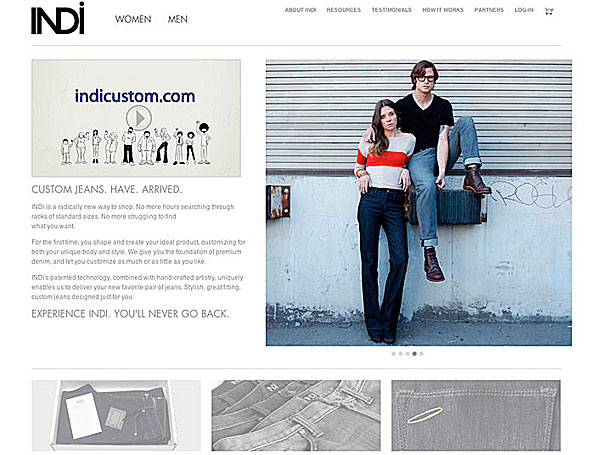 Much of the feedback I've received recently is that Makeup to Go! readers wished I would incorporate more of my working life in this blog. I hadn't done so because I've usually kept that on my blog for my media clients, but if that's what y'all want to read your wish is my command! 🙂 Thus I bring you a new feature "On The Set" where I will highlight a particularly cool job on which I have recently worked. Things you will note about this column are: 1 ) I am vague about who the client is and 2 ) I do not clearly show the product or models in the shoots. This is out of respect for the client as it is poor social media etiquette to put things on complete blast before the final product is out. All you aspiring makeup artists bear that in mind when posting about projects you are working on.
For this inaugural post, I am featuring a clothing company shoot SF Bay I was on for the past 4 days. I did makeup only for this job and its ultimate destination will be for e-commerce and e-advertising. The shoot was 2 days in studio and 2 days on location (one of which involved walking around the streets of San Francisco on the single hottest day SF has had so far this year! :-O ). This job is a perfect one to start with not only because it was a great client and a great crew with great photographers but it is a perfect example of the types of jobs I love most. Everyone has something that lights them up as an artist and for me it is commercial fashion/beauty/lifestyle, shot on location.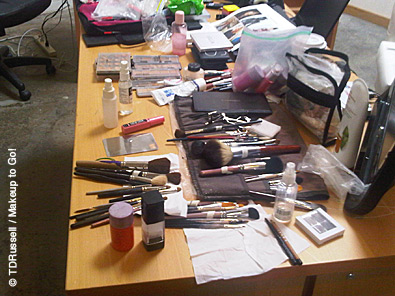 We were shooting in first two days in a studio set-up the clients have in their offices. This is my makeup setup AFTER I had already done work on several models. I try not to let my work area get too far out of hand, and I stop frequently to clean while I'm working. Additionally I had a more cramped then usual workspace. This job proved once again why it is best to pack light as a makeup artist…
This is the look board for the shoot detailing all of the looks we were to shoot over the course of the four days. Most looks had a change in hair and makeup as well…
This is hairstylist extraordinare Shannon Dean working his magic on one of the models. Yep, she is that tall. Sorry she's blurred out… you will be able to see her in all her glory once the site is up…
On the first day of shooting on location our first set was a downtown loft location jam-packed with an incredible assortment of musical instruments, musical hardware, and assorted accessories. Between that, the gorgeous daylight streaming through the windows, and the cutest dog yapping at us all while we were there, this was an amazing location.
We spent the rest of the afternoon walking around on the single hottest day San Francisco has had this year. The last shot of the day took place on the rooftop of the loft location. Of course the elevator went out and we had to walk up – with our equipment – the 5 flights up to the top. As you can see the view was worth it…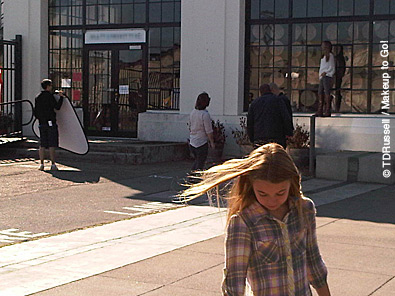 The final day of the shoot started off in the famous Embarcadero area of San Francisco….one of my favorite parts of the City…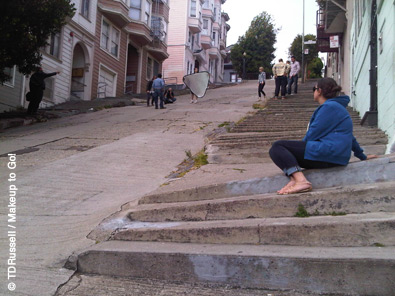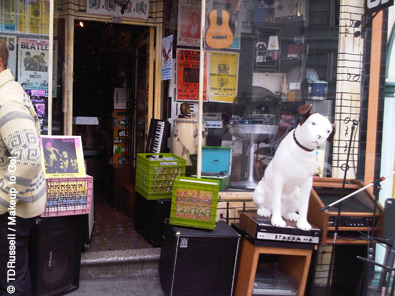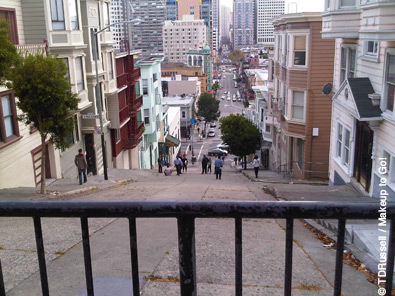 …we ended the shoot in the Washington Square area first at an ecclectic record store finishing up at one of San Francisco's famous staircase blocks. I shot from the bottom and the top so you can see how incredibly steep it is. Imagine having to walk that everyday to get home… (yes, people do – thankfully I am not one of them!)
Thanks much to this client for hiring me and thanks to the amazing crew of people I got to work with. This was a great job!
UPDATE: See the finished result at their new website – indicustom.com (ALAS – Indi went out of business about 2 years after this shoot. That URL now leads to something entirely different and unrelated. RIP Indi Custom! – tdr, 6/16/14)
I hope you enjoyed this post and look for more "On The Set" posts soon!
© 2011 – 2016, Tania. All rights reserved.