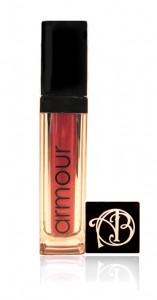 At this year's IMATS in Los Angeles I discovered the line Armour Beauty, and it's 'Rock n' Roll culture' inspired lip glosses. Normally, saying something is "inspired by rock n' roll" is a pretty meaningless, however these glosses walk the talk. One of the two lip glosses I picked up is named 'Gazarri's', which is a super duper full-on hot pink. If you don't know what Gazzarri's is you're like most folks, but if you DO know then you know that's a hot name for a gloss. That name doesn't merely state a color it invokes an entire attitude and state of mind. I seriously had to buy it just based on the name alone ('Gazzarri's' was a seminal hard rock club on the Sunset Strip where the Doors played before they blew up, and which went on to become Ground Zero for the Hair Metal movement). Armour Beauty was founded by makeup artist/handbag designer Allison Burns, and rock musician and model Theo Kogan; two women who have lived the lifestyle. As for the actual product – these glosses deliver everything I want from a great lip gloss. The glosses are long wearing, the finish is not overly gummy, and they are shine-rific even without a top coat of clear gloss. They come in two formulations – opaque and shimmer – both of which are nicely pigmented, and the shades range from the subtle to the outrageous. The gals of Armour Beauty also state that the glosses are cruelty free and environmentally friendly, so that's always a Big Plus. The other color I picked up – 'Femme Fatale' (name that music reference!) is a jet, jet, jet Black that finishes like Black Vinyl (or should I say, "shiny, shiny leather"? 😉 ). Gorgeous.
I will be picking up more colors from this line.
post title taken from Lil Mamma "Lip Gloss"
© 2009 – 2015, Tania. All rights reserved.