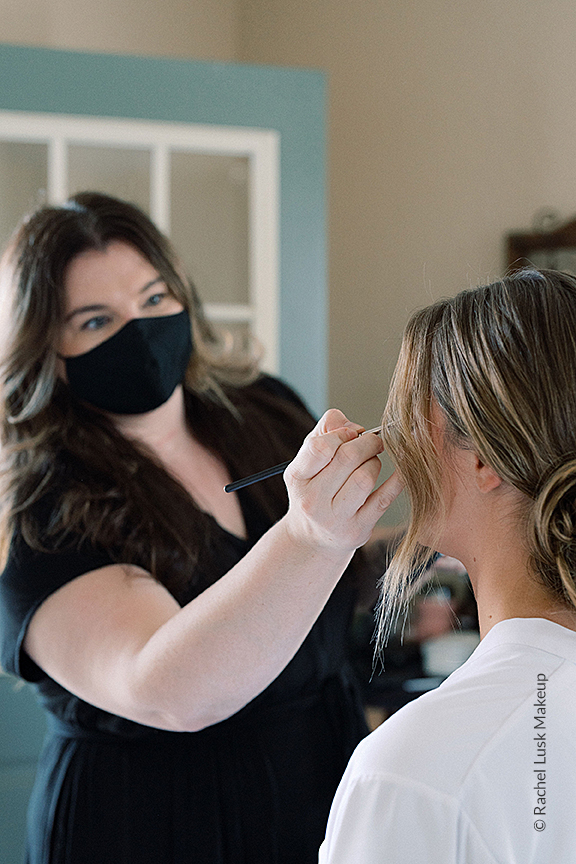 One of the many
great things that happens over the course of a career are the connections we make with other artists. One of the very few great things to come out of the pandemic shutdown phase was connecting with folks of all kinds – from DJs to Authors to Chefs to our fellow Makeup Artists – whom we may not have otherwise met. Being thrown from our "normal lives" forced us all to find new ways to live and find community in a world of "unprecedented times".
One of the artists who made – and continues to make – a real impression on me is Rachel Lusk. Rachel is an artist based in Northern California and… I think what really attracted me to her posts and overall social media presence is A ) she is clearly a genuine article professional working artist, and quite knowledgeable in her craft. B ) Her social media presence lacks any level of pretentiousness. Her warm and genuine nature shines through even in the morass of silly-sauce that is Instagram, as does her talent.
I am also very impressed with how she seemingly seamlessly (say that three times fast) balances a career as both a commercial/media artist and a quite in demand Bridal hair and makeup artist. When I was teaching in schools, this would have been the dream career for many of my students. She even gave this old gal (me) some things to think about! So let's dive in and talk about how she does it.
Hello hello! So first why don't you tell us a bit about your background and how you got into makeup as a career.
Hi! My name is Rachel Lusk, and I'm a California based hair stylist and makeup artist specializing in bridal and commercial hair and makeup. I started my career in 2006 when I dropped out of college and enrolled full time in Cosmetology School.
Did you know this was something you wanted to do as a career from jump or did you fall into it?
I wish that I had some story about how I followed my dreams of becoming a makeup artist – but being a hairstylist or makeup artist wasn't my first choice. It was actually never even on my radar until I dropped out of college! I was the girl that went to college straight out of highschool in the hopes of becoming a nurse, but I quickly found that college and higher education just wasn't for me. My parents were expecting me to do something with my time and suggested a trade school, like beauty school.. and the rest is history!
How did you approach your career in the beginning? Did Bridal come first or?
During my time in beauty school I externed at a local salon assisting one of their master colorists, so I was convinced I wanted to become the next Paul Mitchell. After I graduated and became licensed I went to work in a full-service salon assisting with haircuts, colors and blowouts. I was 19 years old at the time, so I was just immersed in trying to find what called to me the most. The salon I worked at frequently did local fashion shows and small small magazine articles, so this is where I got my first taste of what the "Artistry" side of our industry would be like. This may sound like I just sort of walked into this dream career but to be fully transparent, I really struggled to stay afloat at the time, and for years after. When the recession hit in 2007/2008, no one was going to get their hair and makeup done and my hair and makeup work was so inconsistent that I had to keep multiple jobs to stay afloat. I was assisting established artists, working at salons, I worked at Blockbuster Video, waited tables.. I had to do it all in the hopes that eventually it'd all work out. The one aspect of the industry that stayed consistent was that people were still getting married, and as one of the only stylists that could do an updo – I was always the first person to get volunteered for them. Bridal makeup artistry sort of fell into my lap as a result of that!
At what point in your career did you branch into doing commercial/media? How did that come about?
I started doing solid, consistent commercial and fashion work about six years ago after moving to the Bay Area. One of my friends that I had made after moving here is a professional model, so she started hiring me to do her hair and makeup for her photo shoots and content shoots for the brands she worked with. Through that, I was able to network with other content creators and photographers. With my early career in Southern California, I had always wanted to reach out to agencies and seek out representation but it always felt so unattainable. It wasn't until my friend said "Girl..you've got a gift. You need to get on set." that I looked myself in the mirror and said "Let's do it." I did a complete overhaul of my portfolio and spent a whole year doing test after test, taking every job and assisting everyone I could to make sure I was getting consistent images for my book. I got a big fat "NO" from all of the agencies I e-mailed, but I continued to assist and learn as much as I could until an agency finally agreed to meet with me. With that meeting I got (what I like to call) my "big break" and was asked to assist on a test shoot that would be featured in the next print issue of Vogue Japan. I assumed that it would just be assisting, cleaning brushes, the usual.. until I showed up and was told "You'll actually be styling hair today!" That was such a pivotal moment of my career, and was brought on by one of my current agencies shortly after.
So how do you juggle the two? Does one aspect have priority over the other in your career? Any plans to switch up or is it working for you as it is?
Juggling is an amazing way to describe it! It's definitely a delicate balancing act and while I don't really prioritize one over the other, bridal bookings are a true commitment that can't be broken. I will typically keep Mondays-Thursdays open for commercial or corporate work because that tends to come in more at the last minute. There have been mid-week bridal commitments that I've had to prioritize over taking an awesome commercial job, so there definitely has to be some sacrifices made in that regard.
One of the reasons I never pursued doing Bridal is that it books so far in advance, I didn't know how I would be able to take my media bookings which are usually more in the moment. How do you balance that?
I think having a well organized calendar year has really helped me stay on-top of keeping the two avenues aligned. Like you said, commercial bookings and referrals tend to slide in at the last minute – and the good thing, for me, is that they tend to be during the week whereas most weddings are on the weekends. The only caveat with that is that if I take a multi-day commercial job during the week and have weddings on the weekend, my entire week is spent working and I typically end up exhausted. Something I've done recently is carve out what I like to call "NO WORK" days on my calendar. These are firm days off where I won't take any jobs, meetings or phone calls and ensure that I don't overload my schedule.. because it's really easy to do! Especially in those summer months when weddings pick up and seasonal commercial jobs are happening.
I will say that one of my agencies is a dual agency, meaning they offer both commercial and bridal representation. My agent, Sherrie, is an absolute angel on earth and she really helps filter jobs and keep me organized when it comes to all of my agency jobs. Agents really do not get enough credit for the work they do, so I really have to give it to her!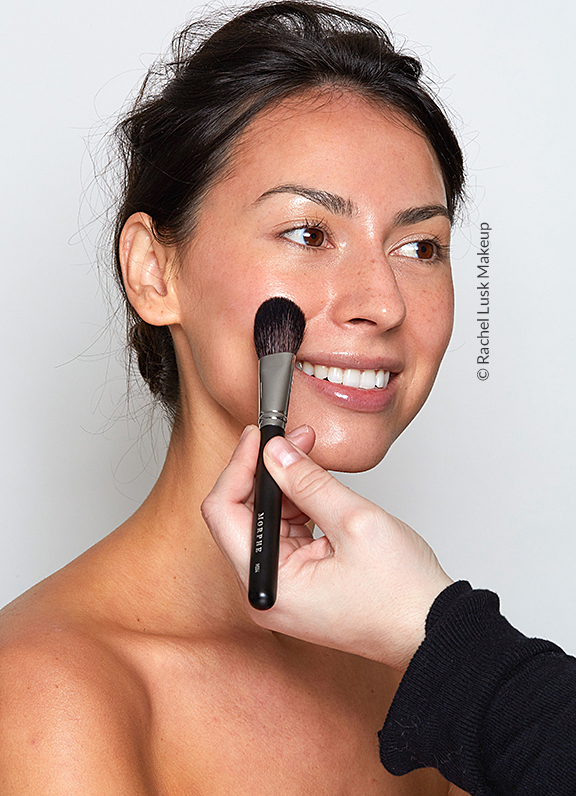 Let's back up a minute and talk about social media, which is how I became aware of you. How much of a role has SM played in the development of your career? How does your social media usage vary between your Bridal and Media aspects of your business? Does SM lead directly to bookings for you, etc.
I feel so silly because I've always rolled my eyes when it comes to social media. I always thought "There's no way putting that much effort into anything but my direct business will pay off." But being present on social media (specifically Instagram and TikTok) has completely changed the trajectory of my business and in turn, my bookings. In addition to production companies finding me, I've gotten a lot of paid content jobs from brands who have found me on social media. A few years ago I tagged a San Francisco based skincare brand in a post, and a week later they hired me for a product campaign. Social media gives you the opportunity to instantly connect with brands, which I think is super valuable. And while a majority of my bridal work comes from referrals, I'd say 75% of my website inquiries say they found me on Instagram. My audience is split into two categories: Professional makeup artists and potential/current bridal clients – so I try to toe the line when it comes to creating content that appeals to both audiences at the same time.
So what advice would you give a student deciding on a career path?
I know that YouTube and social media makes it look fun and glamorous, but as rewarding as it is – this is not an easy job. The days are incredibly long (even in retail and bridal) and there is a lot of work that goes into running your artistry as a business, so be sure to set yourself up for success by knowing that this will be highly demanding of your time and energy. Secondly, treat your business like a business, and not a hobby. I feel like our industry is finally starting to bounce back from the "Beauty Guru " craze that had everyone and their mom's thinking they were makeup artists. That really did some damage to the credibility of our industry, and it's important that you establish that business mindframe from the get-go.
And what advice would you give an artist who is working in Bridal and wants to expand into Media/Commercial work?
ASSIST, ASSIST, ASSIST. Become educated on what it's like before even trying to step on set. You can not expect to jump in feet first and just be offered all of these amazing jobs off the bat, and you need tangible experience to be successful in the commercial side of this business.
Any last thoughts? What else do you have going in the seemingly ever-expanding Rachel Lusk Makeup universe?
I'm so thankful to have had the opportunity to share a little bit of myself with all of you, and I'm really excited to be moving into the education and mentoring space! I feel like I have so much that I want to share with the amazing artists in our community and I really want to help newer artists grow in their artistry and professionalism. I'm currently offering one-on-one virtual mentorship as well as in person bridal makeup lessons, and I am also in the process of filming virtual tutorials for everything from bridal artistry, clean beauty for commercial photography, and grooming. It's going to be a great year!
Many thanks for sharing your time, talents, knowledge, and advice with us, Rachel!
To Get In Touch with Rachel
Instagram: @Rachel.luskhmua
Website: http://www.Rachellusk.com
—
LAST MINUTE EDITOR'S NOTE:
This interview was sent to Ms. Rachel and finished a while ago. Since that time, Rachel announced a series of live demonstration workshop classes taking place in various cities. Definitely get in contact with Rachel if you are interested in this fab educational opportunity!
—-
Have you signed up for the Makeup to Go Blog newsletter yet? Join the fun for exclusive content, giveaways, and other assorted fabulosity! Makeup to Go Blog Newsletter – "Speaking of Makeup"
Disclosure: Howdy folks! Instead of doing sponsored posts, Makeup to Go may contain affiliate links from Shop List, SkimLinks, or Amazon Affiliates. When you shop via these links Makeup to Go gets a lil sumthin sumthin to help keep things running (at no additional cost to you!). Sound good? Ok groovy. Thanks much!
© 2022, Tania. All rights reserved.