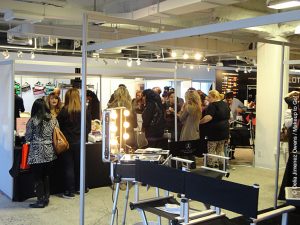 This year since I only got to attend the first day

…our Blogstress en Español – Delia Jimenez Owens – took over the reigns of covering day two. As this is the second of a two-part article I am posting the English version first. For all of Delia's spanish-language followers, simply scroll down to read the spanish version. (Para todos los seguidores de Delia, solo tienen que desplazarse hacia abajo para leer la version en espanol. 😉 )
~~~~~~~~~~
The Make-Up Show L.A. 2012
This year's Make-Up Show in Los Angeles was once again a great experience. I haven't missed a show yet so I was happy that I was able to attend a partial day Saturday and full day Sunday.
With each passing year, the education the show provides gets better. This year's list of guest speakers included some of the industry's best such as Sharon Gault, Mario Dedivanovic and of course, Mr. Maurice Stein. Between the Keynote Speaker Forums and the Main Floor Seminars, there was something to meet the needs of every type of artist from student to pro.
One of the areas I was impressed with this year was the Professional Resource Area hosted by Crystal Wright. Ms. Wright had "PRO Pods" set up on Saturday and Sunday where you could meet an agent, speak to a producer, meet a blogger and many other business and career opportunities. Sadly I was unable to make any of the resource areas on Saturday, which is the day time was set aside to meet an agent. One-on-one time with an agent to get feedback on your work is a tremendous opportunity! On Sunday, choices were limited and I was unable to attend the Pro Pods due to scheduling conflicts. This is one area I really hope they bring back next year.
Sunday, I attended Mario Dedivanovic's Keynote forum. Mario has worked on countless editorials and has created many of the stunning red carpet looks you see on TV, but creating Kim Kardashian's glamorous look is what most of the world knows him for. This turned out to be a very popular forum as there was standing room only and photos were strictly prohibited. After waiting more than 20 minutes after his scheduled time, Mario finally hit the stage. Mario talked about the industry and answered questions while he did a beautiful make-up application. Many questions were thrown around but Mario spent a good amount of time talking about assisting. He mentioned that he assisted for over 6 years before he started getting his own clients and even then it took him a while to build his own clientele. Making yourself "invisible" was another key factor in assisting. Let the key be visible. More importantly he said know your industry! Do your research in order to become successful. Overall, his presentation was great and the results of his make-up application were stunning.
I quickly rushed over to Maurice Stein's seminar on The Importance of Color Matching. Mr. Stein, the creator of Cinema Secrets, shared his technique for color matching, which consists of wiping the area from chin to nose clean then using that area to color match instead of the jaw line. Another tip he shared was to use a white cape around the client so that the light reflects off the face. Always entertaining, Mr. Stein kept us laughing from the beginning of his presentation until the end. And of course, The Make-Up Show is not complete for me until I take my annual picture with Mr. Stein!
Aside from the various educational opportunities, there was also time for shopping. Our favorites lines like Make-Up Forever, Inglot and Kevin Aucoin were present, as well Temptu, Stila and Smashbox. Sadly, not present and greatly missed were Yaby Cosmetics, Face Atelier and Yves Sant Laurent. I sure hope these lines decide to return next year because it wasn't the same without them.
I look forward to next year's show and am eager to see what new opportunities present themselves.
Delia Jimenez Owens is a makeup and hair artist available in both Los Angeles and Las Vegas. You can follow her on Twitter @DeliaJOwens.
++++++++++++++++++++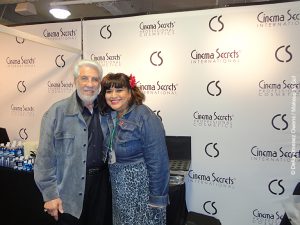 La Exposicíon de Maquillaje de Los Angeles del 2012
Este año, la Exposición de Maquillaje en Los Angeles fue una vez más una gran experiencia. No me he perdido una exposición, así que estaba feliz de haber podido asistir a una parte del día sábado y el día completo del domingo.
Con cada año que pasa, la educación que se ofrece se pone mejor. La lista de este año de los invitados fueron algunos de los mejores de la industria tales como Sharon Gault, Mario Dedivanovic y, por supuesto, el Sr. Maurice Stein. Entre los seminarios del piso principal y los foros, había algo para satisfacer las necesidades de cada tipo de artista de estudiante a profesional.
Una de las áreas que estaba impresionado con este año ha sido el Área de Recursos Profesionales organizado por Crystal Wright. La señora Wright organizo "Pro Pods" el sábado y domingo, donde podrías encontrar un agente, hablar con un productor, conocer a un blogger y muchos otros negocios y oportunidades de carrera. Lamentablemente no pude hacer ninguna de las áreas de recursos, el sábado, que es el tiempo del día fue designado para hablar con un agente. Uno-a-uno con un agente para obtener una opinion profesional sobre su trabajo es una gran oportunidad! El domingo, las opciones eran limitadas y no pude asistir los "Pro Pods" por conflictos de programación. Esta es un área que realmente espero que regrese el próximo año.
Domingo, asistí a Foro Mario Dedivanovic. Mario ha trabajado en innumerables editoriales y ha creado muchos de los maquillajes que se ve en la televisión, pero la mayor parte del mundo lo conocen por ver creado la mirada atractivo Kim Kardashian. Este resultó ser un foro muy popular y las fotos estaban estrictamente prohibidas. Después de esperar más de 20 minutos después de su hora programada, Mario, finalmente, subió al escenario. Mario habló acerca de la industria y responde a las preguntas al mismo tiempo que hizo una hermosa aplicación de maquillaje. Había muchas preguntas, pero Mario tomo una buena cantidad de tiempo hablando de ayudar. Mencionó que el ayudo de más de 6 años antes de que él comenzó a recibir a sus propios clientes e incluso entonces le tomó un tiempo para construir su propia clientela. Los ayudantes tiene que hacer se "invisibles", fue otro factor en la asistencia. Deje que el maquillista encargado sea visibles. Más importante aún, dijo que tienen que saber su industria! Haga su investigación con el fin de alcanzar el éxito. En general, su presentación fue excelente y los resultados de su aplicación de maquillaje eran impresionantes.
Rápidamente fui a el seminario de Maurice Stein sobre la importancia del color. El Sr. Stein, el creador de Cinema Secrets, compartió su técnica de combinación de colores, que consiste de limpiar la zona de la barbilla a la nariz limpia y luego usando esa zona para el color en lugar de la línea de la mandíbula. Otro consejo que compartía era utilizar una capa blanca en el cliente para que la luz se refleja en la cara. Siempre entretenido, el señor Stein nos mantuvieron riendo desde el inicio de su presentación hasta el final. Y, por supuesto, la demostración de maquillaje no es completa para mí hasta que me tome mi foto anual con el Sr. Stein!
Aparte de las oportunidades educativas diversas, también hubo tiempo para ir de compras. Nuestras líneas favoritos como Make-Up Forever, Inglot y Kevin Aucoin estuvieron presentes, además de Temptu, Stila y Smashbox. Por desgracia, no se presento y se perdió en gran medida eran cosméticos Yaby, Face Atelier y Yves Sant Laurent. Por supuesto, espero estas líneas decide regresar el próximo año, porque no era lo mismo sin ellos.
Espero la exposicíon del año que viene y estoy ansioso por ver qué nuevas oportunidades se presentan.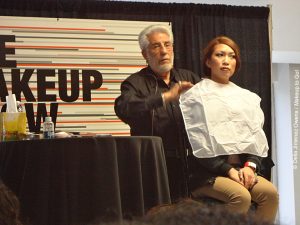 Delia Jiménez Owens es una artista de maquillaje y pelo disponible, en los angeles y las vegas. Puede seguidor en Twitter en @ DeliaJOwens
© 2012 – 2016, Delia Jimenez Owens. All rights reserved.