Back in Makeup to Go's infancy, I wrote an article on Non Makeup Kit Essentials. Now Delia brings the topic back with her choices some of the indispensable tools of the trade she carries in her kit. You may even notice some overlap in our choices 🙂 As always, English translation follows below…
Productos del Oficio
Aparte de la brocha y esponja, cada maquillista dispone productos específicas que se siente comodo utilizando cuando están creando sus "looks". Hoy voy a compartir algunas de los productos que me gusta usar cuando estoy trabajado.
Brocha Stila # 9 – He compartido mi amor por esta brocha antes, pero lo tengo que mencionar de nuevo! Este brocha es uno de los mejores para defumar/mezclar/ corrector. Sí, has leído bien, he dicho brocha de corrector. Con esta brocha se puede defumar el corrector para dejar su piel perfecto. Algo que no se puede conseguir con una brocha estándar sintético de corrector.

Shadow Shields – ¡Qué ahorro de tiempo! Protege el área debajo de los ojos de la sombra que caen de los ojos para un cambio rápido y fácil. Sin suciedad y la parte posterior adhesiva no quita la base de la cara. Mi producto preferido cuando necesito cambiar los ojos de día a la noche rapidamente.

Plantillas de Ceja – A veces se me olvida cómo éstos pueden ser útiles. Coloque la plantilla sobre las cejas y rellenar con lápiz o sombra. Tendra una ceja muy bien formada instantánea. Puede elegir diferentes formas de ceja para las necesidades de su cliente.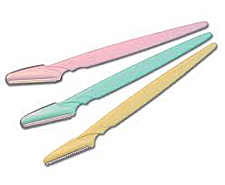 Navajas de Ceja – Cuando necesita eliminar el pelo de la ceja de manera rápida, estas navajas son la respuesta. Limpia el área de las cejas muy bien y no se corta la piel. Use la navaja para limpiar el área de la ceja antes de usar la plantilla de ceja y obtendrás una ceja perfecto cada vez!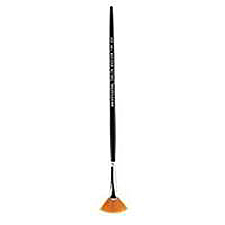 Brocha rígido – Perfecto para el uso del rimel. El uso de un brocha dura y rígido le permite llegar a la raíz de la pestaña sin problema. Se necesita practicar para poder utiizar la brocha. Una vez que usted se siente comodo con la brocha, verá que separa las pestañas y distribuirá el rimel equitativamente . Le encantará el resultado. Una cosa a tener en cuenta es que algunos brochas son más rígidos que otros y puede tomar tiempo para obtener la aplicación perfecta.
Delia Jiménez Owens es una artista de maquillaje y pelo disponible, en los angeles y las vegas. Puede seguidor en Twitter en @ DeliaJOwens
++++++++++++++++++++++++++++++++++++++++++
Tools of the Trade
Aside from the everyday sponge and foundation brush, every artist has specific tools they use and feel comfortable with when creating their looks. Today I will be sharing some of the tools of the trade I like to use when working.

Stila #9 Brush – I've shared my love for this brush before, but I have to mention it again! This brush is one of the best blending/crease/concealer brushes ever. Yes, you read correctly, I did say concealer brush. Buff out concealer with this brush to leave a beautiful finish you can't get with a standard flat synthetic concealer brush.

Shadow Shields – What a time saver! Protects the area under the eyes from shadow fall out for a quick and easy eye change. No mess and the adhesive back does not remove foundation from the face. My go-to tool when going from a day to night look.

Brow Stencils – I sometimes forget how handy these can be. Place stencil over eyebrow and fill in with pencil or powder. You have an instant nicely shaped brow. You can choose different brow shapes to suite the needs of your client.

Eyebrow Razors – When you need to remove unwanted hair quickly, these razors are the answer. Cleans up eyebrow area nicely and won't cut or knick the skin. Use the razor to clean up the eyebrow area prior to using the brow stencil and you will get a perfect brow each time!

Stiff Fan Brush – Perfect for mascara application. Using a fan brush lets you get to the root of the lash with out a problem. Once you get the hang of using a fan brush, you will see that it separates lashes and doesn't clump. You will love the results. One thing to note is that some fan brushes are stiffer than others so it may take some time to perfect application.
Delia Jimenez Owens is a makeup and hair artist available in both Los Angeles and Las Vegas. You can follow her on Twitter @DeliaJOwens.
© 2012 – 2016, Delia Jimenez Owens. All rights reserved.