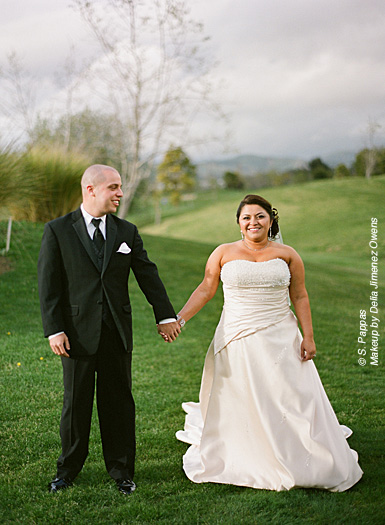 Time for our monthly (or so) spanish language blog contribution from artist Delia Jimenez Owens. With this being the last day of June, we thought it only fitting to highlight Bridal Beauty as the wedding season is in full swing. This month Delia shares her tips, techniques and product recommendations for all you beautiful summer Brides (and hard working Bridal makeup artists). For us non Spanish speakers, the English version follows below…
¡El verano ha llegado! El verano es tiempo popular para tomar vacaciones pero tambien es popular para bodas. Novios y novias deciden casarse durante el verano porque el tiempo es hermoso. Con este tiempo heromso tambien viene el calor y humedad. Si no puede emplear a un maquillista profesional en su día especial, he hecho una lista de algunos productos que puenden ayudar contra el calor y humedad en el día de su boda.

1. Utilice un primer – Utilizando un primer, como Laura Mercier o el primer de Stila, para preparar su piel, ayudara a mantener su base todo el día.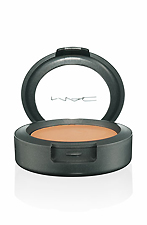 2. Utilice productos de crema – Utilice un producto de crema antes que aplique su sombra or rubor para que el maquillaje se quede durante el día. Cream Color Base de MAC en tono Virgin Isle y Shell son perfecto para crear un brillo del verano.

3. Utilice productos resistente al agua – ¡Utilizando un rímel y delineador resistente al agua ayudará prevenir manchar! Muchos rímeles, como el rímel de Benefit Badgal Lash, tienen formulas que son hechos para durar mucho tiempo y son prueba de lágrimas y prueba de manchar también.


4. Atomizador para maquillaje – Ya que su maquillaje este completo, asegúrese de utilizar un atomizador para el maquillaje. ¡Este producto asegura que su maquillaje se quede intacta! Un poco del producto Model in a Bottle o el atomizador de Graftobian es todo que se necesita para terminar su maquillaje.
Si va para un maquillaje natural o encantadora, utilizando parte de los productos ya mencionados ayudará que su maquillaje dure todo el día. ¡Diviértase en su día muy especial!
Delia Jiménez Owens es una artista de maquillaje y pelo disponible, en los angeles y las vegas. Puede seguidor en Twitter en @ DeliaJOwens
++++++++++++++++++++++++++++++++++++++
The summer months are here! Not only is summer a popular time for vacationing, but it is also a very popular time for weddings. Many brides and grooms choose to get married during the summer months due to the beautiful weather. With this beautiful weather comes heat and humidity. If you can't hire a professional make-up artist for your special day, I've made a list of a few products to use to help beat the heat and humid weather on your wedding day.

1. Use a primer – Using a primer, such as Laura Mercier or Stila Hydrating Primer, to prep your skin will help keep foundation on all day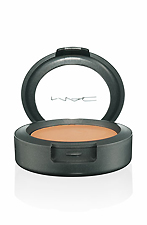 2. Use cream products as a base – Use a cream based product before you apply powder blush or shadows to give make up the staying power it needs to make it through the day. MAC's Cream Color Base in Virgin Isle* and Shell are perfect for creating that summer glow.

3. Use waterproof products – Using a waterproof mascara and eyeliner will help prevent smudging and melting! Many mascaras, such as Benefit's BadGal Waterproof Mascara, have formulas that are long wearing and made to be not only tear proof, but smudge proof as well.


4. Use a setting spray – Once your look is complete, make sure to set your make up with a setting spray. This will ensure that your make up stays put! A spritz of Model in a Bottle or Graftobian's Setting Spray will be all you need to finish off your look.
Whether you are going for a natural or glamorous look, using some of the above mentioned products will certainly help your make-up stay on all day. Have fun on your very special day!!
*Editor's Note: The color Virgin Isle was no longer listed on the MAC Cosmetics website. No information on whether the color is available any longer.
Delia Jimenez Owens is a makeup and hair artist available in both Los Angeles and Las Vegas. You can follow her on Twitter @DeliaJOwens.
© 2011 – 2016, Delia Jimenez Owens. All rights reserved.