You speak, I listen. Amongst the requests I get most often for the blog is to see more of my work. As most freelancers I am all about shameless self promotion so I am happy to oblige! ;). Let's start with a breakdown of my Bisous Magazine Metallics Editorial, currently in the Spring 2014 edition.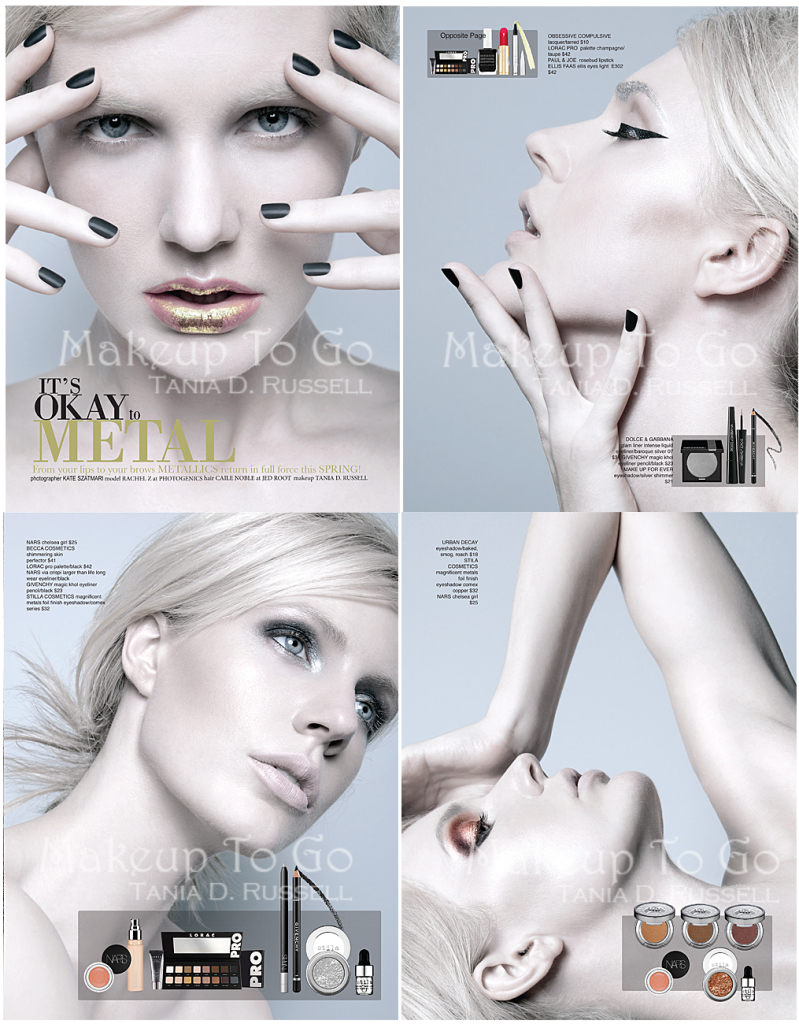 This editorial is in the current (Spring 2014) edition of Bisous Magazine (click to go to the magazine). Clearly the theme for this shoot was metallics makeup. I wanted to keep the makeup looking like metal rather than going in a glittery direction so I used a lot of product in non-traditional ways. You can click around the photos for some examples of what I used and where. For the skin, I also wanted to maintain a creamy, "molten" texture. I worked primarily with liquids/creams to maintain the texture and not let the skin get matte but I also did not want the skin to fly into a shiny direction. From there Kate worked her magic by desaturating the skin/hair tones so that the focus stayed on the makeup. Hair was done by the amazing Caile Noble (represented by Jed Root). Funny Side Note: We could not book a manicurist for this shoot so guess who whipped out her trusty Black nail polish. This Girl! LOL!
Many thanks to all of the fabulous cosmetics lines I used for this shoot:
– KOH GEN DO Maifanshi Moisture Foundation
– KOH GEN DO Maifanshi Liquid Treatment Concealer
– KOH GEN DO Maifanshi Face Powder
– BECCA COSMETICS Shimmering Skin Perfector
– LORAC Pro Eyeshadow Palette
– ELLIS FAAS Ellis Eyes Lights
– STILA COSMETICS Magnificent Metals Foil Finish Eyeshadow
– URBAN DECAY Eyeshadows
– NARS Eyeliner and Lipcolor
– GIVENCHY Magic Kohl Eyeliner
– DOLCE GABBANA Glam Liner Intense Liquid Eyeliner
– PAUL AND JOE Lipstick
– OBSESSIVE COMPULSIVE COSMETICS Nail Lacquer
– A few other "secret products" I didn't list in the magazine. LOL
– and good ol' MAYBELLINE GREAT LASH Mascara cos that's my favorite!
Tania D. Russell is a career media makeup artist based in Los Angeles and working throughout the West Coast. Her clients include WalMart, BCBGeneration, Toyota and Pottery Barn Teen and her work has been seen in publications such as Elle Sweden, Marie Claire UK, InStyle Magazine, TeenProm and Runner's World. You can see her media makeup website at Makeupwerks.com , which she promises to update at some point this Millennia…
© 2014 – 2016, Tania. All rights reserved.