Because it's my blog and I can do a general makeup post whenever I want to…
That's right folks, it's MakeupThursday. The plan was to do this write-up on Monday, the day after my return home to Los Angeles after 3 weeks of work in the Bay. LOL! Yeah, that was a joke.
Anyway, while up in the Bay I went on a shopping frenzy. A lot of my shopping was a well needed wardrobe revamp as I really hadn't bought any new clothes since losing weight. However being the makeup artist that I am, I had to squeeze some makeup shopping in there as well. Here's what I bought;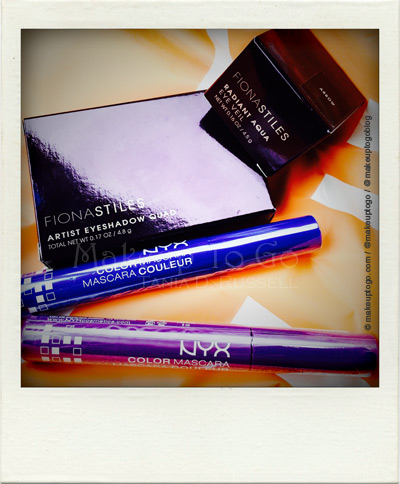 1) Fiona Stiles Beauty – Cream and Powder Eyeshadows and NYX Cosmetics – Color Mascara
You may have seen this image on my personal Instagram the day I bought these. Like I mentioned in a previous Makeup Short Notes I'm loving everything I've tried so far from the Fiona Stiles Beauty collection (available at Ulta). I purchased a couple of more items along with a couple of the NYX Cosmetics color mascaras in preparation for some editorial work I had going. The Fiona Stiles performed beautifully, but alas the NYX did not. Colored mascara that really registers COLOR is difficult to find. Suffice to say that whenever I have found one that really works, it has tended to cost more than $6.99. Oh well. Be on the lookout for a full story on Fiona Stiles Beauty in a coming post.
2) Dante Disposables – Dante Brush Cleaner
Not the most exciting purchase but I do love this cleaner. This is a quick cleaner so it does NOT substitute for shampooing your brushes. What I like about this cleaner versus my beloved Parian Spirit or some of the other quick cleaners is Dante has no scent. I find that makeup artists are divided pretty much right down the line between loving Parian Spirit (citrus) or Cinema Secrets (vanilla). That's great, but let me tell ya; Not everyone likes your scent. They could, in fact, be allergic to your scent. It is important to bear this in mind when putting a brush on someone's face.
I've talked about Glam Kitti before, but its always a good time to bring them up again. Designed by celebrity artist Monifa Mortis, Glam Kittis are reusable, recyclable travel palettes. The Kittis contain 6 wells for cream cosmetics, one well for powder (includes a cute little powder puff), a little spatula, a little lip brush, a little funnel, a little cosmetics applicator and 6 oil blotting sheets. Oh and did I mention the compact is mirrored too?! Yeah. Glam Kitti's are the bomb. I love giving them to my private clients as a touch up kit AND I've used it for myself as a quick travel kit.
4) MUSE Beauty Pro – Esum Makeup Kit Bag
Esum – Muse spelled backwards – is the house brand of MUSE Beauty Pro. MUSE is a small, artist-driven pro makeup supplier based in San Francisco (with a satellite outlet run by one of the co-owners in Chicago). These are exactly the types of business I LOVE to support; beauty brands that support artists. If you've seen some of the other "pro makeup" bags, then you've seen something very similar in appearance. However what tipped the scales that I actually purchased the Esum bag is the quality of the construction. This is actually the 2nd Generation of the Esum bag and it's a little bit wider and deeper, better cushioned, stronger velcro and zippers, etc. So while other bags may look good, this bag was made to work and last. It is a perfect size for when I need more than a little bit, but not my full kit.
5) NARS Cosmetics – NARS Pro Palette
A lot of folks have already purchased this and moved on so I won't spend a lot of time on this one. I WILL, however, say why I hesitated; it is a cardboard based palette and I'm not a fan of cardboard palettes. NARS is an artist driven brand that is also active in and supportive of the artist community, therefore I'm going to trust that NARS quality will come through and protect my product. The body is covered with a vinyl-ized fabric all over so it should not immediately die if it accidentally gets wet, and I like that the cover is solid. I know a lot of people like the window, but I'll be able to see the product just fine when I open the palette. When the palette is closed and more importantly when it's travelling I need my product protected.
6) NARS Cosmetics – Desire, Taj Mahal, Exhibit A, Seduction
I got the palette to house my "black girl" (or guy) blush colors. I've hit pan on these colors many a time over the years. Desire always surprises people, but pinks like Desire are gorgeous on fairer to medium toned brown complexions. What usually does not work about these colors is the white/pastel cast they often have which looks ashy on brown skin. "Desire" has no such issue, it doesn't even look ashy on me (it just doesn't particularly register on someone my complexion). Likewise, even though Taj Mahal has shimmer to it, there is no ashy. Red blush (Exhibit A) looks amaze on all humans because blood is red so it looks like a natural flush, and Seduction is the gorg burgundy color that everyone always reaches for on deeper complexions. And all of these colors have enough pigmentation to actually read on deeper skin tones. Yay.
7) NARS Cosmetics – NARS Best Blush Palette
Every year NARS collaborates with Nordstrom on some beauty exclusives – which always includes an amazing exclusive blush palette – and every year I miss it. But not this year! This palette includes Orgasm, Deep Throat (OK, wow), Luster, Desire, Albatross (a highlighter), and Laguna (NARS legendary bronzer) which are, in fact, some of NARS best blushes. Yes I went blush crazy, and no, it is not a problem for me to double up on Desire, this palette is going into a different kit. Since I prefer NARS traditional blushes over the Dual Intensity blushes this is a great pick up for me. I'll do a comparison between the two soon!
8) NARS Cosmetics – NARS Survival Kit 1
I went a little NARS crazy too, but this one was also chosen on purpose. For my inaugural giveaway to the folks on my mailing list I just wanted to give away something really good that I would want. I have mentioned before that NARS is one of my favorite brands overall, and I have always loved NARS gift sets. The Survival Kits 1 & 2 are another exclusive through Nordstrom. I had to refrain from ordering the Survival Kit 2 "for my kit" (i.e., it would never have made it anywhere near my kit).
9) LORAC Cosmetics – The Getaway Palette
I saved this one for last because I did not actually purchase this during my extravaganza of fabulosity. The Getaway Palette contains 6 eyeshadows, 2 blushes, a bronzer and a highlighter. LORAC – as my people know – is one of my favorites of the pro-to-consumer aka "prosumer" brands. While this could certainly work in a pro kit, when I see a neat little "does it all" palette like this I immediately think of all my #Bossbabe friends who could use something chic and compact while traveling for work and/or recreation. I've owed one such friend some fabulousness for quite some time now, so this is going out to her right about now!
—-
Have you signed up for the Makeup to Go Blog newsletter yet? Join the fun for exclusive content, giveaways, and other assorted fabulosity! Makeup to Go Blog Newsletter – "Speaking of Makeup"
© 2016 – 2018, Tania. All rights reserved.