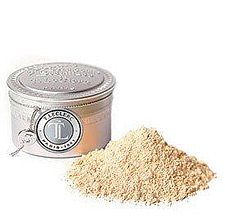 I have a confession: I LOVE face powder. Love Love Lovey Love Love. It softens colors, smooths the complexion, helps blending, erases mistakes, sets the makeup, on and on. It's a wonder product! Yet I find most women simply wonder "What am I supposed to do with this?" Let me assure you: Once you get the right formulation and learn to use it the right way, you too will be a convert. As I have stated before I am planning a series of video tutorials and probably one of my first ones will be using powder correctly but in the meantime in The Basics we will cover some of the best powders out there and what makes a powder one of the best. NOTE: I am really only talking about loose powders in this article. Yes, I know many of you are more used to pressed powders. Pressed powders are great for touching up, but they are not the wonder product that is loose powder. If you are really fixated on pressed powder, most of these brands make pressed powder versions of these loose powder products. I invite you, however, to allow loose powder to sweep you off of your feet…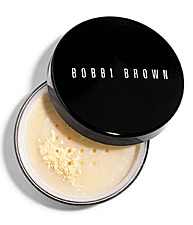 1) Bobbi Brown Sheer Finish Loose Powder – (personal or pro use)
This is my hands-down favorite for the "everyday woman", and I have also used it in my kit. Bobbi Brown's Sheer Finish Loose Powder is yet another of my beloved "pro product in department store disguise" products. It is very finely milled which is one of the main things to look for in a loose powder (thick powders are how you get that cakey look), it contains no sheen or mica so it gives a soft matte finish, and it comes in colors usually only available in professional powders. Pale Yellow (fairer skins) and Golden Yellow (darker skins) are used by Pro artists to give an "airbrushed" finish to makeup.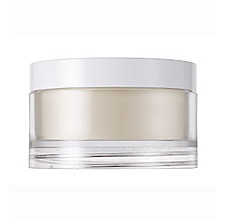 2) Shu Uemura Face Powder Matte – (personal or pro use)
As difficult as it can be to get Shu in the States these days, this powder is worth the effort. Just get the "Colorless" powder and you are all set. This powder is matte just as the name implies (they used to also have a version called "Sheen") and can be applied to be Very Matte depending on the finish you want. Shu Uemura's Face Powder gives a very long lasting smooth, matte appearance.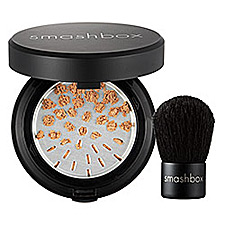 3) Smashbox Cosmetics Halo Hydrating Perfecting Powder – (personal or pro use)
Powder can be a tricky proposition on older and/or dry skin types. What makes powder smooth out some complexions can also settle into fine lines and wrinkles and make the skin look even more dry. Smashbox's Halo Hydrating series of products were made to address this very issue. Smashbox says that this powder will reduce the appearance of fine lines and wrinkles in ten minutes. While I cannot bare witness to that claim, I can say that when I have used this powder on older clients and/or clients with dry skin I get none of the cake-y, creep-y effect that powder can so often do on those skin types, and the skin is left with a hydrated "youthful glow". One word of caution for using this powder for photography: it does have some sheen to it.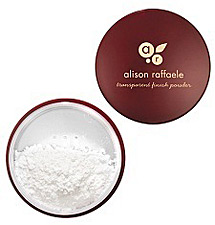 4) Alison Raffaele Transparant Finish Setting Powder – (personal – have not tried for pro use)
If you would prefer to stick to more naturally derived products, the best powder I've encountered in this category is Alison Raffaele's Setting Powder. The Alison Raffaele line focuses on complexion products (vs. color products) and is a naturally derived, professional quality line. What I like about this product is that it is finely milled and it is truly colorless which means any shade of skin tone can use this. I have actually used this on myself and not only did I not turn ashey, but my breakout prone skin did not have a negative reaction to it. The setting powder also comes in a "Transparant to Go" dispensing brush, perfect for travel or to carry in your purse. As far as using it in a professional kit goes, it is probably fine but it does contain micas so you would need to test it for back-flash.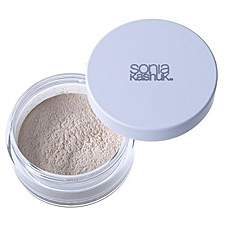 5) Sonia Kashuk Barely There Loose Powder – (personal use)
I know, I know; most of the powders I have recommended have been on the pricey side. Reason being like most makeup artists I feel that your complexion products are where you should spend your makeup dollars and then if you have to you can go more mid to lower priced on other cosmetics. Drugstore powders usually come in cake-y formulations with limited color palettes and often have added ingredients to give "sheen" which is undesirable for most women. Sonia Kashuk saves the day once again with a quality loose powder at an affordable price. The color palette is limited, but there is a colorless option that should work with nearly every skin tone. The powder is sheer, fine and soft matte and gives a nice polished finish to the skin.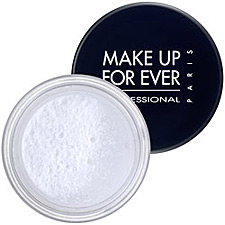 6) Make Up For Ever HD Microfinish Powder – (pro but people insist on using it for personal use anyway)
Let me make one thing clear: This is a very good product. However, this product is a victim of frequent incorrect usage. This product has been blamed for multiple high profile "makeup malfunctions". Whether or not it is true that those women were wearing this powder, what IS true is that if used incorrectly this powder will go very wrong on you very quickly. I recommend using this powder as a SETTING powder only, not a touch-up powder. This powder contains silica and the texture of the powder is quite dry. It needs the moisture of the makeup to hold onto. For the initial setting of makeup it is beautiful and leaves a flawless finish in most settings (it does not play nice with flash photography). Often times women find they do not need to touch-up after having used this powder. If you do, however, use a more traditional powder.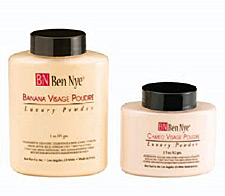 7) Ben Nye Professional Powders – (pro use but see notes below)
Ben Nye is a staple brand of professional artists worldwide. These are the powders I keep in my everyday Commercial makeup kit. They are versatile, long-lasting, and they come in a full range of colors – both to match skin tones and to counter-act skin tones. The Ben Nye powders come in two formulations – the Visage Poudre Luxury Powder which is finely milled and sheer and more resembles the powders above and the Classic Translucent face powders which are much more opaque. This, my friends, is the big difference; The traditional theatrical makeup powders are NOT sheer. This makes them more versatile for professional applications but you just would not want to wear them in real life. The Visage Poudre Luxury Powders, however, are quite wearable for everyday and in fact I make a custom blend for a few private clients using these powders. In the Visage Poudre Luxury Powder the colors to look for are Banana Yellow and Cameo (a soft pink color). In the Classic Translucent powders, the colors to look for are Neutral (colorless), Topaz (darker yellow), and Fair (soft pink). EXCEPTION TO THE RULE – I know I just said that you would not want to wear the Classic Translucent Powders on a daily basis because of their higher pigmentation but there is one notable exception: There are also four fabulous colors for darker skin tones which are great for professional use OR can be used as a powder foundation for the everyday woman.

8 ) T. LeClerc Poudre Libre – (personal or pro use)
The powder pictured at the top of this article, T. LeClerc is the one that started it all. Founded in 1881, T. LeClerc is a very old cosmetics line and one of the first to offer face powders and THE first to offer the now famous Banana Yellow powder. This powder is super sheer and super finely milled and leaves the skin with a most glorious finish. The one downside for me is that – as with many French cosmetics and skincare products – it is heavily scented. This concerns me as I never know when a client is going to possibly going to have an ingredient reaction, therefore while I own a jar of T. LeClerc I have never actually used it. If scent does not bother you, however, many a woman and many a makeup artist swear by this powder.
© 2011 – 2016, Tania. All rights reserved.