As we all know, if the skin does not look good the makeup will not look good.
The End. Good face moisturizers are everything. Everything. Well prepped skin — whether you are doing your own makeup or you are a makeup artist doing someone else's makeup — will make your application easier, look better and last longer.
What I look for in a moisturizer depends on the skin I am applying it to, BUT as a makeup artist I am also looking for moisturizers that will not disrupt the makeup I intend to put over it. Oftentimes when women complain of makeup wearing off and/or fading quickly, the moisturizer is actually the culprit. This means that heavy emollient creams are out. Oils are generally used to break down and remove makeup, so if you are wearing a heavy emollient face cream under your makeup, guess what will happen. Save the heavy creams for night. For daytime under makeup wear, look for some of the advanced ingredients and formulations available nowadays that pack powerful moisturizing punch with a lighter less oily texture. Fear not! Even the for the driest skin, there is a moisturizer out there that will soothe, heal and nourish the skin without disrupting your final makeup application.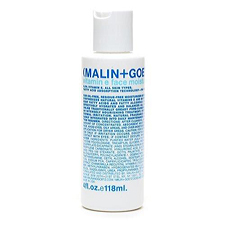 5 ) Malin and Goetz – Vitamin E Moisturizer – All Skin Types
This is a relatively new addition to my skincare arsenal. I received a sample of this when I placed an order for something else, and I immediately had to turn right around and order a full size of this moisturizer. While you would think a Vitamin E Oil moisturizer would be heavy and potentially greasy, this is light and hydrating and not oily at all. How is that possible? It's oil free. Yep, you read correctly. As I've mentioned before in my The Basics: Lip Moisturizers article, Malin and Goetz products are where nature meets science. Instead of just pouring some vitamin e oil into a lotion base, this moisturizer is a synthesis of vitamins E and B5, chamomile and fatty acids. I don't know how they do it, but it is fabulous.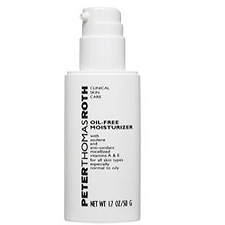 4 ) Peter Thomas Roth Oil Free Moisturizer – Oily Skin
This is just a solid oil-free moisturizer and I have used it in my kit for years. What I particularly like about this product is the gel-like consistency. This usually signals that a product is high in water content which is what oily skin needs. PTR's Oil Free Moisturizer contains various plant extracts in a Mucopolysaccharides base, it is an excellent lightweight moisturizer for oily skin.

3 ) Cetaphil Moisturizing Lotion – All Skin Types
If you were wondering if it was requisite to cost a minimum of $30 to be on this list, I assure you it is not. But I do look for products that deliver. Enter Cetaphil which has been a cult-classic for years. The formulation is a perfect blend of emollient and hydrating ingredients in a lightweight formula that works on every skin-type. What is great about Cetaphil is it is a completely basic moisturizer, meaning there are no whistles and bells ingredients (such as a-hydroxy acids) that can be irritating and cause reactions in sensitive skins. In all my years of using Cetaphil, I've not had one client have a sensitivity to it. Cetaphil Moisturizing Lotion has a permanent residence in my kit. SALE ALERT – Right now if you go to Cetaphil's Facebook Page you can get a $1 coupon.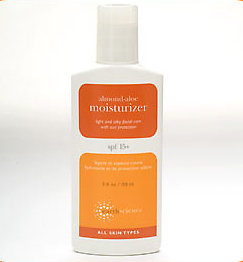 2 ) Earth Science Almond-Aloe Facial Moisturizer – Normal to Dry Skin
Earth Science is a natural brand which can be found in stores like Whole Foods Market and the like (or if you do not have access to a natural foods store, it can be ordered on-line). This naturally derived formula uses Vitamin E, Beta-Carotene, Aloe, Soya Sterols to nourish and protect the skin keeping your face plump and hydrated. While the formula is light in texture, it is actually a pretty rich formulation. I find it a bit heavy for my oiler skin, but for normal to dry and/or combination skin you may find this to be the perfect fit for you. The lotion is available with or without sunscreen, and I am 99% certain it is a Vegan formulation. You'll also be happy to know that this one is less than $10 at most retail outlets. 🙂
1 ) TIE
Embryolisse Lait-Crème Concentrè (24-Hour Miracle Cream) – Normal to Dry
and Dermalogica Active Moist Moisturizer – All Skin Types
Let me start with Dermalogica's Active Moist moisturizer. How many times have I made mention of this moisturizer? When it stops being one of the best skincare products ever I'll stop mentioning it. Until then, this really is as close to a perfect product as you can get. It has replaced Peter Thomas Roth as my oil-free go-to moisturizer of choice in my kit because it is highly effective and hydrating, yet it is almost weightless and completely non-disruptive to any makeup I put over it. Additionally, it is soothing and calming to even the most sensitive skins (I've discovered that some people – myself included – can be sensitive to saccharides in cosmetics products). This item has a 100% positive review rating on the Dermalogica site and with good reason.
Embryolisse Lait-Crème Concentrè is a cult-classic-staple product that nearly every makeup artist has in his/her kit. Nicknamed the 24-hour Miracle Creme, in addition to being a fabulous moisturizer for normal to dry skins, this product can actually be used as a primer, makeup remover, shaving cream and many other uses (I've used it for light hair grooming in a pinch). A little goes a long way and it works like a dream. I would never let my kit be without it. While it has become the go-to product for nearly every makeup artist on Earth, I have several private clients who use it daily as a moisturizer. Once you experience how it makes your skin feel like silk, you'll be addicted too! Pro Tip: the Lait-Crème Concentrè is a cream base and it is a bit too emollient for oily skin. For clients who need a lighter formulation I like Embryolisse Lait-Crème Fluide which has the same active ingredients as the in a lighter lotion base.
© 2011 – 2016, Tania. All rights reserved.