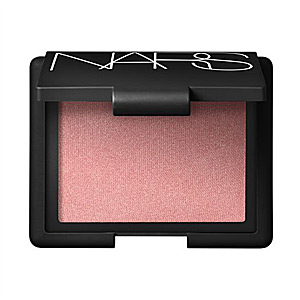 Needless to say, all of the products I've mentioned thus far in this "The Basics" series are my completely subjective recommendations. I recommend them based on my usage and generally long-term satisfaction with a product. If another makeup artist were writing these articles, they might recommend entirely different products. That said, things are about to become even more subjective as we move away from skin/foundation products and into the vastly huge world of color products. We begin our look with Cheek color.
I am starting with cheek color because I find that when it comes to makeup most women focus on their eyes, some of us focus on our lips and then cheeks are generally ignored. This is unfortunate because few things will make a woman look fresher and YOUNGER faster than a well applied cheek color. In no particular order, here are some cheek color products that I love and use on the regular… (for cheek colors specific to women of color, revisit my previous article "Beauty Noir: Best Blushes for Darker Toned Beauties")
1 ) Nars Powder Blush in Orgasm (Pictured Above) –
Nothing else need be said about this color therefore I'm listing it first. Unrivaled classic and with good reason. Note: On darker complexioned ladies, while it will not function as a blush it does make a very pretty cheek highlight. And for the record, as much as I love me some Nars I am not a big fan of the newer Super Orgasm color – it is too sparkly for my taste. Do not let that deter you from trying, however, as you might love Super Orgasm.
2 ) Tarte Cheekstains –
Again – I am just listing the obvious products first; This is an amazing product. The colors I use most often by far are Tipsy and for darker complexions, Flush. Although they may appear intense in the tube, these colors are sheer color washes but what really sets this product apart is the amazing texture. These cheek stains are as close to that smooth sheen-y glow of a child's skin as most of us grown folks will ever come.
3 ) La Femme Blush On Rouge in Golden Sunset –
Folks often complain that I only recommend higher-end/expensive products. Well, how's a product that generally costs between $3-$5 suit you? La Femme is an old-timey makeup line. Most of the products in the line are okay, but a few things are amazing and this blush is one of those amazing products. Golden Sunset is a rich pinky peachy color with just the right amount of shimmer (not sparkle). It is a truly beautiful color that works well on a wide array of skin tones. Truth be told I like a lot of the La Femme Blush On Rouge colors and the formulation is nicely pigmented and long lasting. It is a very good product overall, particularly at that price point. Note: For whatever reason, La Femme also has an eyeshadow by the name of "Golden Sunset" which is an entirely different color so make sure you are getting the Blush On Rouge "Golden Sunset".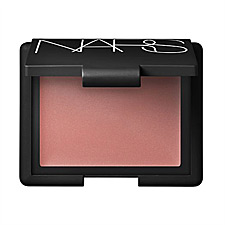 4 ) Nars Cream Blush in Penny Lane –
Back to the expensive brands ;). Penny Lane is the type of soft pink color when you want a soft wash of color to balance the face (say if you are wearing a dark eye and/or lip) but you don't want a lot of color color in the cheeks. I have successfully used this pretty pink shade on clients up to a J-Lo / Halle Berry complexion and the result is a subtle, pretty "there but not there" blush effect. And it is incredibly long lasting to boot. Note: On darker skin tones I have achieved a similar effect with Nars Creme Blush in "Constantinople".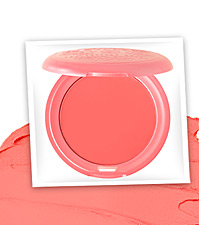 5 ) Stila Convertible Colors –
Stila bills these versatile colors as one stop shopping for cheeks and lips. I like them on lips, I lurve them on cheeks. The constant mainstay colors in my life are Petunia, Peony and Poppy. Soft, blend-able and buildable, the Convertibles are everything I want in a cream blush.

6 ) Becca Beach Tint Blushes –
Somewhere in between a creme blush and a cheekstain lies Becca cosmetics Beach Tint blushes. These have the creamy blend-ability of a cream with the "stick to it"-ness of a stain combined with the richness of color of a cream combined with the sheer texture of a stain. I LOVE this product. My favorite colors are Watermelon, Raspberry, Strawberry and Fig.

7 ) Youngblood Cosmetics Pressed Mineral Blush –
I have been a fan of Youngblood ever since I attended an event featuring their product line, and as I suspected I would, I have been using the artist palettes on jobs regularly. The blush colors in the palette are different from the colors sold separately. Of the individual blush colors my favorites are Tangier, Bashful, Sugar Plum and Cabernet. The colors are smooth and velvety in texture, sheer but nicely pigmented, and wear well.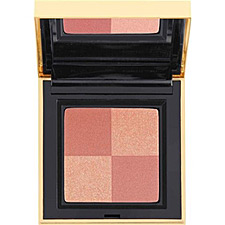 8 ) Yves St. Laurent Beaute Blush Radiance –
Like any of the very high end brands, YSL Beauty's products are exceptionally creamy and blendable and offer excellent wearability. I love the YSL quads because you can mix and match the colors to find your perfect shade. These are particularly great if you are the complexion type that can vary greatly between the sun and non-sun seasons. My quads of choice are No. 1, No. 2 and No. 5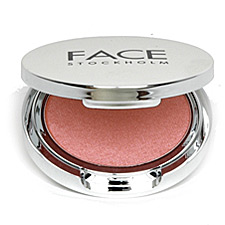 9 ) Face Stockholm Powder Blush –
Face Stockholm is a low-profile department store/professional brand who have been around for some time and who I realize I have not spoken enough about on Makeup to Go! Confession Time: I have more Face Stockholm brand blushes in my pro-kit blush palette than any other brand. Reason being that like all the good brands they have good pigment, blend-able, wear well, etc. but unlike more consumer oriented brands Face Stockholm has a lot of matte blushes in their collection. In photography you cannot always use shimmery products. I actually have too many favorites to list so I suggest hitting a Face Stockholm counter and familiarizing yourself with this fantastic line (I'll do a full article on Face Stockholm soon!).

10 ) Sonia Kashuk Super Sheer Liquid Tint Blush –
If you read the Makeup to Go! blog often, then you knew this one was coming. How can I not recommend a great product that costs less than $10?!? As the name suggests, these liquid blushes give a sheer wash of color on the cheek. I find these are particularly good for layering color – i.e. use these first and then use a powder blush over them – which is a makeup artist trick for getting color to last a long time. All three of the original colors are fantastic and there is also a recently added shimmery bronze color.
Gone but not forgotten:


MAC "Harmony" – Well this color is not gone gone, but last time I looked at it (which was admittedly a while ago) the color had changed. When MAC was bought out by Estee Lauder, several "old" MAC colors were either changed or dropped. I still have an original MAC Harmony in my blush palette and when it almost crumbled recently let me tell you I nearly flipped! What makes Harmony so special? It was (is?) a perfect pink-y brown-y, not too warm not too cool color that looked good on nearly every skin tone and it could actually be used as either a blush or as a contour. Original Harmony was a wonder color. It would be worth going to a MAC counter to check out the current formulation.
There are my picks. If I left out one of your favorites, please do not write to tell me I'm lame – haha! 😀 – but if you have colors to suggest by all means please share.

© 2011 – 2016, Tania. All rights reserved.