So strobing.

Yet another "makeup trend" for folks to follow. And of course, as with any makeup trend, there are certain products that are "must haves" in order to achieve the look and then once you get one set of "must have" products another set comes along telling you that you "must have" those too.
In all likelihood, if you have a complete makeup kit either for yourself or for your use as an artist, you already own a number of things that can be used to Strobe, so let's break down what it is, what it isn't, how it works best, and what you do need in order to accomplish the look.
What Is Strobing?
Basically Strobing is using highlight to sculpt and emphasize bone structure. It's the "softer side" of the (overworked) Contour craze that has been trending in makeup for a while now. What "Strobing" isn't is new, in any way, shape or form. As with Contouring, artists have been doing this since forever. And as with a good Contour job, Strobing takes a deft hand because it can quickly go awry when done incorrectly. The point is to create subtle highlights, not to look like you're oily or worse, covered in glitter. My favorite video demonstrating the technique doesn't even call it Strobing. Here makeup artist extraordinare Ellis Faas demonstrates the technique as she's introducing her Glow Up powder.
and obviously if you want a more extreme strobe, you can just apply more product. If you do that, however, you'll need to be VERY precise in your application lest you end up looking like you hit the chicken shack full force.
If we're using the term, I guess, I "strobed" this model. Again, I didn't call it "strobing" but I wanted to bring out her bone structure without the use of Contour. Truth be told, I'm far more into this look than I am the heavy contour look. I think this look is lighter, fresher and more modern.
What Products do I Need to Strobe?
So you like Strobing and want to add it to your technique arsenal? It's as simple as reaching for your nearest Illuminator/Highlighter. That's it. No special product required. Here are the illuminators/Highlighters I currently have in my rotation: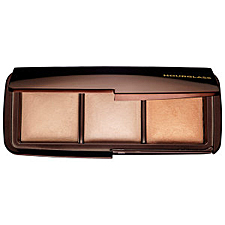 1 ) Hourglass – Ambient Lighting Palette
I professed my love for this palette in a previous post and I still love it. I can use this highly versatile palette of subtle sheen anywhere on the face to create a pretty glow that is never overly sparkly. And with three colors in a palette, I always have the right shade for whomever I may be working on.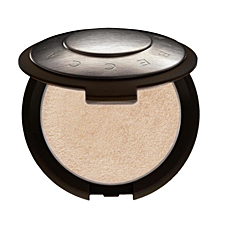 2 ) Becca Cosmetics – Shimmering Skin Perfector®
Like the Ambient Lighting powders, Becca Cosmetics Shimmering Skin Perfector® pressed powders are finely milled and apply like velvet. I would say these are a bit more shimmery than the Ambient Lights, particularly depending on what color you get. I tend to like Highlighters/Illuminators that are more nude-y so I can use them all over the face (and on a wider range of skintones). I have the Shimmering Skin Perfector® in Moonstone, which is a pale gold, and Topaz, which is a golden bronze. The latter I use on deeper complexions and the former I use on fairer complexions.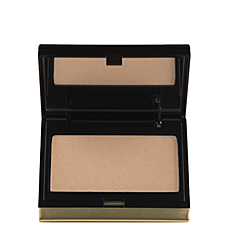 3 ) Kevyn Aucoin – The Celestial Powder
The Celestial Powder is almost difficult to describe. You remember in Old Hollywood how they allegedly used to put Vaseline™ on the lens in order to diffuse the image and give the actress a "glow". The Celestial Powder is that glow in a compact. It's a truly beautiful product. It is lightweight, almost suede-like in feel, and adds a subtle but present highlight to any area applied. If memory serves it only comes in one color – Candlelight – which as the name suggests gives the skin a beautiful candle lit glow.
Sadly I do not actually own Ellis Faas' Glow Up powder, so I cannot speak to it. I already have too many products of this type to justify purchasing it. If anyone out there has the Glow Up powder, hit the Comments and let us all know how it is 🙂
PRO TIP: Any pro quality powder cosmetic can also be applied damp to intensify the color and effect. So if you want a more intense highlighting effect, simply apply with a slightly dampened brush. Be sure to let your product dry completely before closing it so it doesn't warp or get moldy.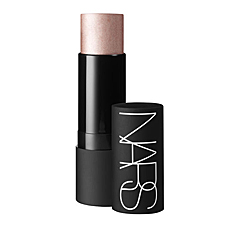 4 ) Nars – The Multiples – Copacabana
NARS is really doing the most with The Multiples nowadays. The Multiples is one of NARS oldest and most successful products in their brand, but now they have new Matte Multiples and all these bizarre colors, and this that and the third. Needless to say I'll have to visit a boutique soon and see what all that is about. In the meantime as far as strobing needs are concerned, I would look no further than Copacabana which is a nude-y sheen-y color texture. It has long been my favorite Multiple by a mile (I love Malibu as well but it's the wrong color for our purposes right now). A cream product can give you stronger "Strobing" action than most powders will, and in fact it can be layered with powder.


5 ) Stila Cosmetics – All Over Shimmer Liquid
A liquid will potentially give you the most strobing action of any product type. You can apply lightly for a subtle sheen, or you can go for it and kick up the bright lights. Use With Caution! Stila's All Over Shimmer has long been favorite of mine for giving pronounced highlighting action without being sparkly. It used to be available in a truly nude color (#1), but unfortunately that color is no longer. Of the available options, I'd recommend Kitten.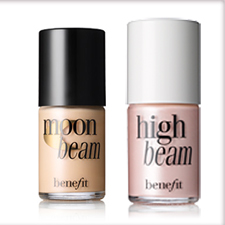 Honorable Mention: Benefit Cosmetics Moonbeam and Highbeam – Moonbeam is an iridescent apricot color, and Highbeam is an iridescent pearl color. They are a little bit more glittery than the All Over Shimmer liquid, and they can also be either applied for subtle sheen or for all out shine.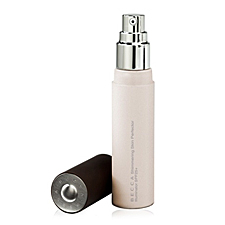 Honorable Mention 2: Nowadays I actually use Becca Cosmetics liquid version of their Shimmering Skin Perfector®. It's a more subtle sheen (less sparkly), but also buildable and Pearl is a perfect nude-y white sheen color.
PRO TIP: I would not use a liquid highlighter/illuminator around the eyes. I'm sure people have, but I cannot imagine what that would feel like if you accidentally got some in your eyes. I'll stick to powders around the eyes. Do not say I did not warn you.

If you are tired of playing games and want intense sheen and highlight, this is the product for you. This is a theatrical makeup, so it's meant to withstand lights and read from off stage. AKA – it's strong: Proceed with caution. That said, this has been one of my favorite products which I've kept in my Kit for years and years.
How Do I Strobe?
I don't make tutorial videos (yet… we'll see in the future), but I would say the video I posted from Ellis Faas is a good outline. The areas you'll want to highlight are;
– Brow Bone
– Inner eye corners
– **tops of the cheekbone**
– **center of the nose**
– and possibly the cupids bow of the lips (use a light hand as that highlight sometimes just looks sweaty)
Ms. Faas also did the center of the lower eyelid in order to further accentuate the Orbital Bone, and I like to do the center of the forehead (as long as there is no breakout or whathaveyou) and right above the brows to further accentuate the temples.
You'll note both of the brushes she used were rather small. This is important so as to maintain control of your product instead of your product going all over and controlling you. I recommend brushes such as;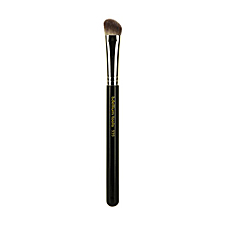 Bdellium Tools – Maestro 939 Angled Detailer which is a small, angled detail brush for precise application on the nose, cheeks, etc.
and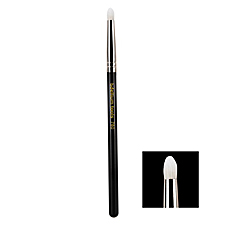 Bdellium Tools – Maestro 780 Pencil for the inner eye corners. "Pencil" brushes are short, dense hair brushes that allow for clean application of product in that difficult inner eye area. I also like Pencils for smokey eyes so I get smokey eyes not Out Of Control raccoon eyes.
Bare in mind also that different products are better for different skin types and conditions. If you have really perfect skin without a lot of texture, you can use pretty much whatever you want, as strongly as you want. However if you have acne, wrinkles, enlarged pores, or any other type of skin texture issue, shimmer will accentuate the texture so less is more. For more mature skin I love the Kevyn Aucoin Celestial Powder. For skin with a lot of texture, I like the Becca Shimmering Skin Perfector® Liquid or the Hourglass Ambient Lighting powders.
Have you tried the Strobing phenomenon? How did it go? Let us know in Comments, or better yet, send in a picture!
—-
Have you signed up for the Makeup to Go Blog newsletter yet? Join the fun for exclusive content, contests, and other assorted fabulosity! Makeup to Go Blog Newsletter – "Speaking of Makeup"
© 2015 – 2016, Tania. All rights reserved.