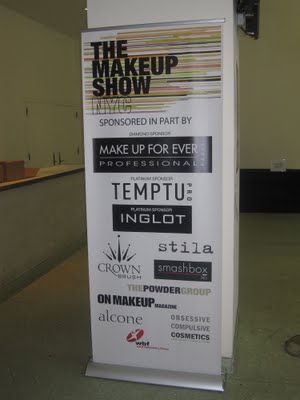 If you follow my blog for my creative industries clients where I talk about the jobs I'm currently doing, you 'll note that I've been working like a maniac of late. As such, I did not get to go back east to hit the NYC edition of Metropolitan Events The Makeup Show. Have no fear, however, because friends of Makeup to Go exist in all parts of the globe.
Our friend and comrade NYC Makeup Artist Kim Weber was there front and center for the NYC Makeup Show 2011. While she was only able to attend one day due to her own busy work schedule, that one day was chocked full of Makeup Goodness that we thought you might be interested in. Kim was so kind as to let us repost part of her blog post for our Makeup to Go readers. Kim, take it away!…

The Haul...
I knew that I would only be able to spend one day at The Makeup Show as I had booked a job for Monday. I had gone through my kit and wrote down a list of the must haves that I needed to replenish and what new products I wanted to see and check out. So, basically, I came with a plan of attack.
I had already reunited with ALOT of my makeup artist friends that I had not seen in a while the night before and if it was anything like in years past, I knew that it was going to get packed, hot and crowded fairly quickly.
On my list I had:
1. lip brushes from Hakuhodo
2. an artist pack of Beauty Blender Sponges
3. 2 shade refills of my Graftobian HD foundation
4. Elegant Faces brush shampoo
5. Goe Oil
6. Embryolisse (I hoard it so I never run out…)
7. replenish 4 shades of Kevyn Aucoin foundation
8. Kevyn Aucion lash curlers
I had wanted to check out:
1. NARS even though I usually get supplied via their online service and they opened a store here in NY on Bleecker, I still wanted to see if they had anything new, fun & exciting debuting at the show
2. YSL. Nothing else needs to be said. It's YSL, I've been a long time fan and devotee of several items in this line and for reasons aformentioned in number 1, I wanted to see what the deal was there
3. Anything else that caught my eye that I deemed as necessary. Being a seasoned artist, I'm quite specific about what it is that I'm looking for, hence having a plan of attack to make a beeline for exactly what I needed…
I managed to get through and conquer everything on that list with the exception of No.2 as all of the artist packs were sold out by the time I got to a booth that was selling them and No.4 as the vendor wasn't at the show. It's been out of stock since forever so it brings me to wonder if they are even making this product anymore as its my favorite organic shampoo soap block with which to wash my brushes…
Let's now go through the rest of that list in order, shall we?
-Number one: Hakuhodo
Check. I even picked up some other brushes from them. I've been using Hakuhodo brushes for MANY years and I'm happy that I can count on them being there. Honestly, they are one of the main reasons that I even bother to go to the show. Since I'm based in NY, I have access to nearly all of the other brands at this show except for them so thats why they are my number one draw. I really only needed to get some newer lipbrushes, (as I wanted some with covers) but I ended up buying about 5 new eyeshadow brushes in varying shapes and sizes as well. Seemingly, I can never leave that booth without spending less than a few hundred dollars. The staff and I are on a first name basis so we both get happy each time we see each other.
-Number two: Beauty Blender Sponge
…sadly was already addressed so I will have to get in contact with the Beauty Blender people and rectify that situation STAT. I don't always use sponges, but when I do, 90% of the time, its a beauty blender.
-Number three: Graftobian HD Glamour Creme Foundations
I didn't end up getting the HD refill as I forgot to write down which shade I needed; I mistakenly just wrote down the palette. However upon perusal of their booth, I was delighted to come across their new Super Palettes…
Let's discuss for a moment why these make me happy. Firstly I love the Graftobian High Def Glamour Creme foundations. I found them when I initially started upon the journey to find something that closely approximated the old Shu Uemura Nobara foundaion. It's no secret that I love cream foundation and tend to use it a majority of the time. I like their coverage, their performance and their color selection is thorough and its perfect for hi-def. I also like the fact that they make one of the best dark skin foundation palettes that I've seen in a looong time. I'm also a big palette fan as ANY time I can condense something to take up less space in my kit, than I do so. I like how they have 18 shades in each of the palettes as they used to only be available in the 5 well palette. Yay for having every color you could possibly need and for having it in such a portable handy dandy, at-the-ready thin palette (with a mirror). Since the booth was sharing the aisle with Make Up For Ever, it was pretty mobbed and I was only able to get a snapshot of 2 of the 3 foundation palettes. Shown above is the Super cool palette on the left and the Super palette warm on the right. It's also available in a third option: Super palette neutral. I'll be picking up one of each of these to put into my other makeup kit…
-Number four: Elegant Faces Brush Shampoo
Bueller? Bueller? Frye??….Frye? If anyone has seen this can you please let me know. I feel like its becoming one of those Where's Waldo moments as I've been searching for it for at least a year. Please see the aforementioned intro paragraph if your conused to what I'm referring to here…
-Number five: Goe Oil
Check…I discovered Goe Oil last year when I went to replenish my hand refresher. (Yes, that Jao, the amazing hand refresher people) In addition to the products, I love the principal and the philosophy behind the entire Jao Brands line: (small, family owned & operated, passion and research are put into each product, they smell delicious etc…) I also get a ton of compliments any time someone gets a whiff of my hands when I'm doing their makeup. Couple that with the fact that I love the smell of lavender and well, you have what initially made me fall in love with Jao's hand refresher about 9 years ago but I'm sidetracking. I apologize. I have a thing for body sheens, balms, creams, highligthers, lotions, oils, potions, gleams and the etcetera. I'll try anything on my quest to find the perfect body product. Goe Oil was the personification of my 'unicorn'. It's super moisturizing (it delivers the moisture of a body butter or a balm but its not heavy) and last longer than just a regular lotion. It's packaged in a tube so that should give you an idea of its consistency. Sometimes on the body, when I'm not using it as a basic moisturizer I use it as I would a highlighter; just on the 'high' spots, down the center of the shin, on the shoulders (you get the idea). It imparts a well moisturized and lightly oiled or sheened look without the mess of say, baby oil (stylists won't kill you) and its not in the least bit greasy. it leaves your skin super soft plus it smells like heaven. AND you can use it in your hair, or on your cuticles, it's not just for faces but also can be used on spare places (sorry, I was getting all Dr. Seuss-y)….
….. want to read the rest? We know you do! It's a great article so catch it in full at Beauty Beauty by Kim Weber


© 2011 – 2016, Tania. All rights reserved.