As it has been a while since my last post, it has been a while I have talked about product. This in no way means I have not been buying and using new product! Here are some Makeup Monday Short Notes about items I have recently tried as well as an ode to a dearly departed makeup kit staple…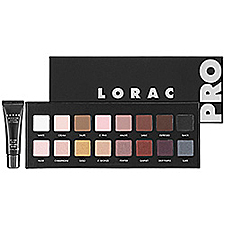 Urban Decay Naked vs LORAC Pro Eyeshadow Palette
When Urban Decay's Naked palettes came out I was resistant to buying them for a super long time because almost all of the colors are shimmery and/or sparkly. I can completely understand why a consumer would adore everything about the Naked palettes, the colors are beautiful, but for a professional a palette of All Shimmer All The Time is not entirely practical. I finally relented and purchased Naked 1 when a client all but told me that's what she wanted me to use on her. Admittedly I do like Naked 1 very much and I use it more than I thought I would. Naked 2, I gave away to a friend who loves it (personal use, she's not a makeup artist). Enter LORAC cosmetic's Pro Palette. This takes the concept of the neutral palette one step further by being one row of matte and one row of shimmer. Why no one has thought of this before is beyond me but it is brillant and perfect perfection in a palette. Both brands of eyeshadow give great color/pigmentation payoff and both are creamy and smooth and blend flawlessly. The LORAC palette also comes with a trial sized tube of their eyeshadow primer which converted me away from the Urban Decay Primer Potion because the LORAC is just as effective at making the eyeshadow last long and resist creasing, but it is less drying on the eyelids and less grabby.
As it is, I am happy with both purchases and I do use them both. Had it come out first, however, I probably would have just purchased the LORAC Pro palette and been done. The winner in this round? LORAC.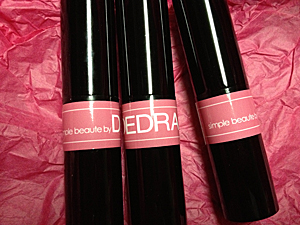 Dedra Beauty (formerly known as Simple Beaute by Dedra)
You may know Dedra Whitt from her star turn on The Real Housewives of Beverly Hills (Camille Grammer's friend and makeup artist), but I am proud to say I know her in real life as a friend and talented makeup artist. It is always exciting when a working makeup artist designs a makeup line because they bring in all of their real-world experiences of what has worked and what hasn't in other cosmetics. After all, we work with a variety of product on a variety of faces and skins EVERY day, so we learn a lot about the Good the Bad and the Underperforming product in the process. To launch her line, Dedra has started out with the single most important element in creating a beautiful face: Foundation.
There really are not words for what a fantastic foundation Simple Beaute by Dedra is. (the line is now known as Dedra Beauty)
This foundation is so fab that I am not going to go into it right now, it deserves a full review with photographs which I will be posting soon. In the meantime, you can see the line at her blog, Dedra Beauty (formerly known as Simple Beaute by Dedra). While you're there, go ahead and subscribe to her blog so you can read all of her tips insights into beauty. (For updated information on Dedra Beauty, click here to read our 2014 post on the full line)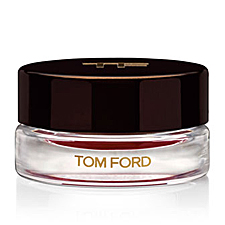 Tom Ford Beauty
As you know if you are a regular Makeup to Go! reader, I do not base my reviews on the latest, greatest thing to come out. Firstly, I think there are several great Blogs – like Temptalia – that do that already. Secondly, as a pro makeup artist I base my selections on performance after I have had time to really use a product. The Hype Train came pulling into the station at full speed when Tom Ford Beauty came out and even though it costs upwards of $35 per item (meaning the least expensive items in the line start at $35), I have read all types of reviews from end-consumers, semi pros, etc. raving about the line. OK – I am not at all opposed to luxury lines, in fact I have an entire kit comprised of only luxury lines as opposed to my pro-line staples, but I'm saying any makeup product has to perform for me to get excited about it, particularly $45 lip glosses. Products have to wear well, look good in multiple lighting situations and possible lighting changes, and photograph well, etc. Reality Check: Not all luxury brands fit this bill. Most were made for personal, not professional, use. I went ahead and purchased a cream eyeshadow and an eyeshadow quad for my Luxury kit, and I have to say I am pleased and impressed, particularly with the cream eyeshadow. Cream Eyeshadows in particular are tricky; the right one can intensify color and help powder eyeshadow stay in place and last longer. The wrong cream eyeshadow will make color crease and slip off or fade away faster. I have used the Tom Ford Beauty Cream Color for Eyes alone and with powder shadow and it is beautiful, creamy, richly colored, and does not crease. #Winning.
Ode to a Brush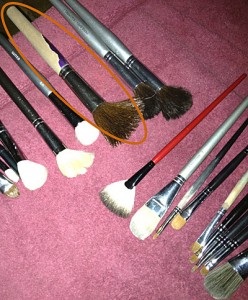 A few months ago at the end of a long shoot day I left my touch-up bag behind in the studio where we were shooting. Despite contacting everyone immediately, no one claims to have seen the bag. Didn't really make sense, particularly since I knew exactly where I'd left it, but no biggie. No biggie until I realized the reality of the truth – the first Professional Makeup brush I'd ever purchased was in that touchup bag. As you can see by the photo, I owned that brush for a long, long time. It was a true workhorse. A throwback to a golden age in makeup where brushes were made TO LAST and this one did. I still remember buying that drug at Rexall Square drugstore on the corner of La Cienega and 3rd street back when they were open 24-hours and they were known for being a trend spot to get the latest and greatest in cosmetics. I do not remember the brand of the brush but I remember it was $35, which was not a small amount of money for me to invest in my kit at that point in my career. It was an investment, however, that paid for itself I do not even know how many times over. I used it on every job I had for over a decade, up until that fateful day this past August when she ran away from me 🙁 I do not know who ended up with her, but I hope she's found a new home with someone who can really appreciate her. To the day that I lost her, she never lost her shape, she never shed ONE hair, she held product beautifully and distributed it evenly. I hope whoever has her now can appreciate that even if you spend twice as much nowadays, you are in no way guaranteed to get a brush even half as good. Goodbye miss Purple Handle Powder Brush! You will always be an All Star VIP in my makeup career!
© 2012 – 2016, Tania. All rights reserved.