Howdy folks. Once again I am away working hence once again bloggage has slowed down a lil bit. I am always, however, playing with makeup so here are a few of the gems I've had my hands on lately.
1 ) Hourglass Cosmetics Ambient Lighting Palette
First of all, how has Hourglass Cosmetics been around since 2008 and I just heard of them within the last 2 years? #latepass
Secondly, how did I hear of them within the last 2 years but I just started buying some of their products last month?? #superlatepass
Well, who knows but I'm finally on board now. This past weekend I was on a beauty shoot and I got a chance to use the Ambient Lights palette. As I stated on Instagram; I'm going to marry this palette. OK, maybe that's a bit strong, but I do seriously love it. The Ambient Lighting Palette is a compact containing 3 shades of highlighting powder. For a makeup artist it means no more carrying a zillion highlight powders (I know some folks still will, but I'm a minimalist and I like to keep my kit as compact as possible). For the makeup user it means that you can use each color individually or mix and match as desired. There are two things I particularly love about this highlight powder (both of which are characteristics I look for in all highlight products). First of all, I tried all 3 colors in the palette and none of them have that white cast/powdery undertone that some highlight powders can have. This makes them usable on all skin tones, even going into very deep tones. That white cast on dark skin is not a good look, I know that feel from personal experience on myself and on clients. Even on fairer complexions it just is not very flattering. That powdery undertone is dated and looks like old-fashioned, 70s frost. No one wants that. Secondly, the Ambient Lighting Powder is very finely milled. It gives a beautiful, subtle glow instead of a blast-o-tronic sheen or worse, an extravaganza of sparkle. Sparkle of course has its place in life and makeup, but when a highlighter is too sparkly, it is very limiting in how you can use it. The Ambient Lighting Palette (or if you prefer you can just buy the Ambient Lighting Powders individually) can be used on the face, shoulders, decollate, down the arms, on the legs, wherever you want a pop of sheen and glam. Needless to say this is PERFECT for the Holiday season!
SIDENOTE: I did not buy it yet, but when I get back from my current biz trip I'm getting the Ambient Lighting Blush Palette which my girl Bren Dixie of Chasing Beauty says is also the bomb-diggity.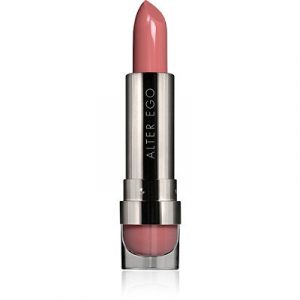 2 ) LORAC – Alter Ego Lipstick
When I went to go buy the Ambient Lighting Palette, some lipsticks jumped into my shopping basket as well. I don't know how it happened! 😉
I am a total lip color junkie. I tried my best to talk myself out of buying these and I could not. There have been two trends in lipcolor happening amongst hardcore makeup-istas: highly pigmented lipcolor and matte finishes. I, too, have to say that I am on-board with both of these – particularly the matte finish. But lets's be real, what works well in editorial and on the Runway does not always translate into real life. Matte lipstick more often than not feels drying and uncomfortable on the lips, and much of the hyper-pigmented lipsticks come in colors that are not wearable for most women in most real-life situations. LORAC has always been about high-quality, high performance cosmetics but they've also always been about wearablity. The Alter Egos come in strong, fun colors but they're not crazy colors. They have a chic, smooth matte finish but they're not super matte. The feel good on the lips, they last a long time, the colors stay rich and true. In short, they are fab.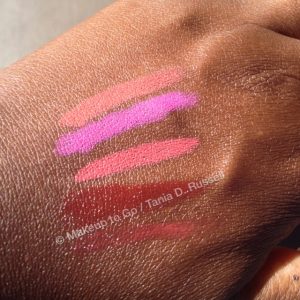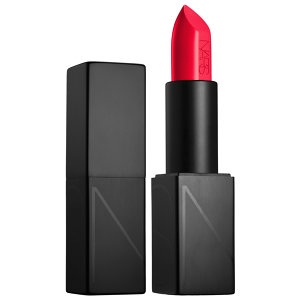 3 ) NARS – Audacious Lipstick Collection
Speaking of lipcolor YOU KNOW I am all over the new NARS Audacious collection. NARS has always made lucious lipcolor products and these are no exception. These are satin-y finish, lightweight lipcolors that pack a punch of pigmentation and color. So if you want bold color but aren't sold on the whole "matte" thing, these are the lippies for you. All of the colors are truly gorgeous but I have to say this collection boasts some of the best REDS I have seen in quite some time. From the vibrant and pop-y "Annabella" (which is actually a poppy-based red), to the deep and sultry merlot-based red of "Ingrid", there is a red for everyone just in this one collection. And "Charlotte" – named after Charlotte Rampling who is NARS's campaign model for this collection – is just a revelation. A deep, rich oxblood burgundy color, I absolutely cannot get enough of it. Love.
4 ) The Business of Makeup
Don't call it a comeback! Last August I held my first Business of Makeup workshop in San Francisco and it was a major success! Unfortunately, the Los Angeles class did not take place as it ended up conflicting with other similar workshops happening at about the same time. Well, the Business of Makeup workshop is set to return in 2015! It will be taking place in both SF and LA and should be bigger, better and bolder than before! Information will of course be posted here and feel free to email workshops @ makeuptogo .com at any time!
Read more about the class at Makeuptogo.com/Workshops and come have fun and learn some things 🙂
© 2014 – 2016, Tania. All rights reserved.