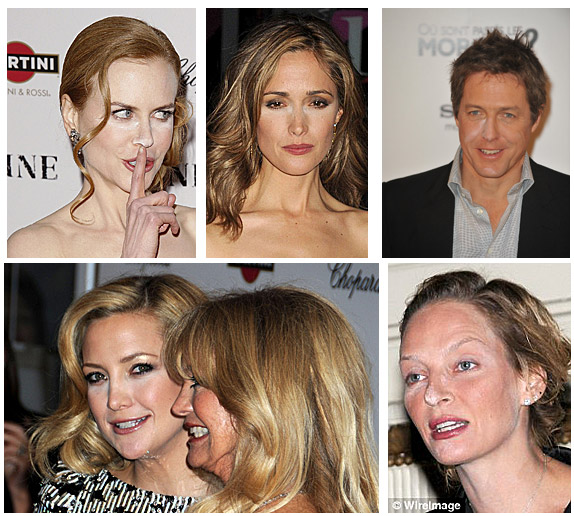 Face powder and the Makeup Malfunction. Such a simple product, yet such controversy. Use of face powder goes back to the time of Cleopatra, so it is hardly something "new" in cosmetics. In fact in my previous article on face powder, I described it as a wonder product and one of the most important products in my kit. And it is. So if powder is such a "cannot live without wonder product" I am sure non-pros reading about all of these makeup disasters are wondering the same thing;
What is really going on with all of these celebrity makeup malfunctions?
Well, the issue is not the product so much as the product usage. This is why it is prudent, albeit admittedly difficult, to not jump on every product trend but to learn HOW product works and get what works best for you from there. Let's delve into why Powder and the Makeup Malfunction occurs. WARNING: Science Ahead!
How is it Used?
Face Powders have been used throughout cosmetics history to even skintone, brighten complexions and give the skin a smooth surface feel. As cream and liquid foundation came into being, powders became accompanying partners in the makeup routine to help keep skin matte and to help make the liquid/cream foundations last longer. Historically it has been applied with a puff or a brush and buffed into the skin, pretty much the same as it is now. As a makeup artist, I can also use it to subtly adjust foundation colors, blend edges, mute overly-bright color cosmetics, etc. Powders are wonderful and versatile cosmetics.
What Is Face Powder?

Generally speaking, face powders these days are comprised of Talc and/or grain starches (rice, corn, etc.), preservatives and possibly colorants and scents. Some brands may also add moisturizing or other treatments agents. So called "mineral" powders are generally comprised of Mica, Silica, Zinc and Titanium Oxide and then Iron Oxide pigments that provide the color. Let's take a look at the labels on some of these products.

Ben Nye is one of the original, old-school powders ever available in the marketplace and its ingredients list is fairly typical* of a loose face powder. These are the ingredients for the Ben Nye Neutral Set Colorless Powder;

Talc – Talc used to be deemed a dangerous ingredient because INDUSTRIAL GRADE talc had Asbestos which is obviously not a good thing. Cosmetics grade Talc which has been purified and is what is in use in health and beauty products poses little to no adverse health risks. Talc is all natural (unlike a lot of "mineral" makeup ingredients which are actually synthesized) and is the softest of all of the minerals. Therefore talc is used when a silky soft finish is desired.
Aluminum Hydroxide – Skin protectant, adds opacity, may also add color in some formulas.
Methylparaben / Propylparaben / Butylparaben – Preservatives
Sorbic Acid – Not to be confused with Ascorbic Acid which is Vitamin C, Sorbic Acid is another preservative.
Koh Gen Do Maifanshi Powder was the first HD powder I ever became aware of. It is extremely finely milled and goes on nearly weightlessly and invisibly. Its ingredients list is as follows;

Talc
Zinc Myristate – Is a mineral salt and is used as an anti-caking agent.
Silk Powder – An inorganic pigment powder and filler, Silk Powder is used to give product and the skin a "silky" soft finish, and to give added oil absorption to a formulation.
Sodium Hyaluronate – Salt form of Hyaluronic Acid. Hyaluronic Acid is a "skin-identical" ingredient used in health and beauty formulations as a moisturizing agent. (Hyaluronic Acid occurs naturally in the human body, primarily in eye fluids and in the joints. HA for cosmetics use is laboratory generated generally from bacteria).
Iron Oxides – Iron compounds used for coloring cosmetics products.
So as you can see, the Koh Gen Do powder – which if I did not say before is LE AMAZING – incorporates elements of straight stage powder like Ben Nye, but also some modern formulations found in today's cosmetics as well as some ingredients found in products marketed as "mineral" makeup powders.
Talc, rice starch and corn starch all share in common the fact that they are very matte and they contain no reflective materials. Therefore when used, they leave a soft, matte overall finish to the skin. The "oxide" family are widely used in the mineral makeup product category and in color cosmetics (eyeshadows, blushes, etc.). Most have reflective properties to them to varying degrees (some low lustre, some sheeny, some high sparkle, etc.). You may be familiar with Titanium Dioxide and Zinc Oxide as physical sunscreens which work by deflecting the sun's rays away from your skin. Makeup Artists will also recognize Titanium Dioxide as a product to be used with caution for professional photography because the reflective nature of TD can cause a "TD reaction": That appearance you see in some photographs where the face looks whiter than the body. This is the lighting reflecting off the titanium dioxide back into the camera. This is also common in selfies, snap-shots, etc. where flash photography is common. Cosmetics companies like Oxides in powders, foundations, etc. because the keep formulas from looking too "matte" and they give varying degrees of sheen/shimmer to products which gives a "glow" when applied.
Now. In May 2008 Make Up For Ever introduced a brand new concept into the world of Face Powders when they introduced their High Definition Micro Finish Powder into the marketplace. The HD Micro Finish loose powder contains but one ingredient; silica. Silica's full name is Silicon Dioxide.
Uh oh. Didn't you just say that Oxides have reflective properties?
Yes I did. Read on my friends…
What Goes Wrong?
MUFE's HD Micro Finish Powder is 100% Silica (in the loose powder form. The pressed powder has other ingredients, but the primary ingredient is still Silica). Silica is also well known to most as the little packet that comes in packaging – including some food packaging – to absorb moisture keep products dry. Therefore as a powder it is very mattifying but in a less "cake-y" way than talc or starches can be. Texture-wise, the MUFE HD powder is very very light and very very dry. A light dusting is all that's needed to mattify the face and provide a flawless finish.
So What's The Problem?
A 100% silica powder is a 100% reflective powder, so it is not a wise choice for FLASH photography. It's great for TV, it's great for film, it can be great for print, it's great for walking down the street. It is great anywhere there is going to be stationary, set lighting. To the naked eye, it is matte in appearance. However – and this is where the danger starts – when the flashes go off, that OXIDE is going to react and flash that light back at the camera. The second danger element is the fact that it is so dry. As I mentioned in my previous powder article, silica based powders need the moisture of freshly applied makeup to hold onto. The dryness makes silica powder a fabulous SETTING powder because it adheres like crazy and really sets the makeup. However, once the makeup is set and dry there is no moisture for it to cling to, so it just builds up. As you can see, common culprit areas are around the nose and underneath the eyes which are frequent touch-up areas (under the eyes due to concealer slip and around the nose due to natural skin oils). The final danger element is the "micro finish". The particles of the MUFE powder are teeny tiny. They are not as readily visible as talc and starch based powders. MUFE themselves tout the "invisibility" factor of their HD powder as one of the benefits of the powder and it is a good thing. Normally. However when you have a makeup error such as too much powder building up in one place but you cannot see that too much powder has built up in one place, you are en route to a Makeup Malfunction situation. That is how all these celebs are getting caught out there. The people involved are neither crazy nor blind. Had they been able to SEE that the powder was going to go buckwild and do them wrong, they would have fixed the situation before it happened. However;
Oxide reaction + dry powder buildup + fine particles that are not easily seen = Makeup Malfunction.
I really, really want to stress that MUFE HD powder is a fantastic product and when used correctly looks absolutely gorgeous. This article is not intended to bash any given product. Also, a lot of brands are now making their own knock-off versions of the MUFE HD powder, surely of varying ingredients and varying overall quality. In all likelihood none of us were there when these makeup malfunctions took place, so we do not even know for sure what product was used. Lastly, I also want to shout-out all the makeup artists who have had clients appear in the "What Were They Thinking" columns the day after an event. Any artist who works in these situations knows that you do not know what the client is going to do once they leave you to go to their events. We've all read plenty of stories of celebs getting their awards show fast food fix on (this article says "after" but trust me I know of several "on the way there" stories). Therefore I am not going to speculate who did what, when or why. I am merely writing this article to educate artists and consumers on how this particular phenomenon happens.
Bottom line – I, Tania Russell, makeup artist, would just not risk using silica based face powders at all for these types of events. If you want to make sure that you look your best in your snap shots at parties, etc. or that your client looks their best at any type of live event, stick to the tried and true of talc/starch based powders. If you are worried about the "cake" factor, apply with a skilled hand and you will not have that problem. I used Ben Nye powder on at least 90% of the photos on my website. If you DO choose to use a silica based powder, please know what you're doing. Knowing how to use the product and, first and foremost, knowing the conditions under which the powder is going to be seen makes all the difference between a makeup malfunction and a makeup masterpiece.
Sources: Temptalia.com, Ponte Vedra Soap Shop, MakingCosmetics.com, Paula's Choice, Skinacea.com, Environmental Working Group, WebMD, American Cancer Society, Human Touch of Chemistry.com, Wikipedia.org,
* there are countless cosmetics formulations in existence, this is just provided as an example.
© 2014 – 2016, Tania. All rights reserved.