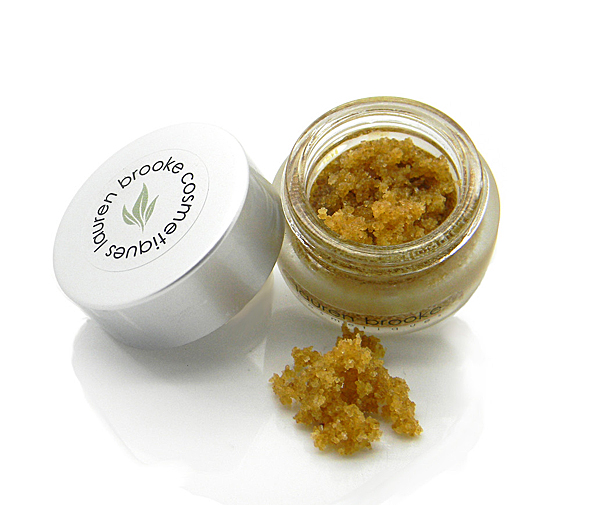 Regular readers may know that I work in the San Francisco Bay as both a makeup artist and a makeup educator on a regular basis. I generally drive to the Bay because I need my car. If you've never driven from Southern to Northern California (or vice-versa) let me tell you one thing: that is one long drive. It's anywhere from 5-7 hours depending on the driver 😉 (for me it's about 6 hours) and without exception, by the end of it every square inch of me is parched. Hair, face, nails, everything.
I actually travel a lot for work and as most folks who travel will tell you, trains, planes and automobiles will do a number on your beauty routine. When I return from my travels, one of the ways I like to decompress and get it back together is to take some time to pamper and rehydrate from head to toe using my Post Travel Recovery routine.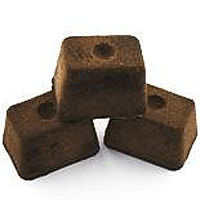 Hair – Anita Grant Original Rhassoul Deep Condish
As it says on her site, this product is for the AfroCurly girls in the house. Contrary to popular belief, Afro-texture hair is actually fragile and needs lots of TLC in order to thrive (my hair is not only NOT coarse, but my hair strands are fine). The main thing Afro-Textured hair needs is All Moisture All The Time. I condition regularly, but when I need a serious hit there is NOTHING like this Rhassoul Deep Conditioner cube. Rhassoul is a mineral clay used for centuries to cleanse and purify the hair. It is deeply nourishing containing contains silica, iron, magnesium, potassium, sodium, and lithium. Anita Grant combines the clay with natural oils (olive, cocoa, Vitamin E), MSM (which is said to enhance hair growth), and honey which is a natural humectant. Natural-heads, if you have not tried this, please do! Yes it's pricey, yes I have to mail order it from the UK (although there are a few stockists here in the States), but yes it is COMPLETELY worth it. It leaves my hair feeling like silk Chenille.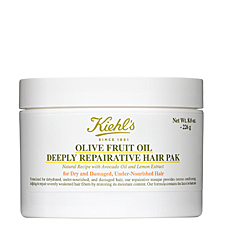 For my non Afro haired honeys in the house, I like Kiehl's Olive Fruit Oil Deeply Reparative Hair Pak, which contains Avocado Oil, Lemon Extract, and Olive Fruit Oil to strengthen and refresh hair that's been parched by sun, chemicals (like hair dyes), or heat styling.

Lips – DIY Lip Scrub
All the balms, serums, and moisturizers will not help your lips if there is a bunch of dead skin in the way. A lip scrub is probably the easiest DIY beauty treatments there is. I mix together a little honey, brown sugar (or turbinado sugar) and lemon juice, apply and rub. It works nearly instantly. Apply a good moisturizer after rinsing off and you're good to go.
There are about a million lip scrubs on the market, so if purchasing a product is your preference there are plenty to choose from. I am partial to Lauren Brooke Cosmetiques Organic Sweet Chai lip scrub (pictured up top), which I keep in my kit (pulling out a homemade jobby when working on a client is not a good look).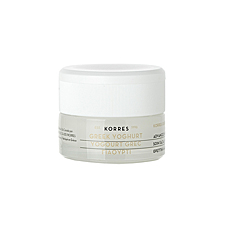 Face – Korres Greek Yoghurt Advanced Nourishing Sleeping Facial
I love a good face treatment. But most masks have traditionally been clay based, designed to draw out impurities and have at least somewhat of a drying action. The emergence of moisture masks is one of the more exciting trends in skincare, in my opinion. You go to sleep with goop on your face (or take a nap poolside, or at the beach,etc.), and when you wake up and rinse your face it is glowy and hydrated. I love the Korres mask because many moisture masks are geared towards dry skin and contain Mineral Oil. I'm not necessarily anti-Mineral oil in cosmetics (afterall, Embryolisse is my gangsta boo), but it is an ingredient that you should downplay if you are breakout prone like myself. Also I just prefer more naturally derived products when I can get it. The Greek Yoghurt mask harnesses the power of protein and vitamins – much as many shampoos and conditioners do – to deliver moisture and nourishment to skin in need of a boost.
Don't feel like spending $40+ on a facial treatment?
DIY: Plain Greek yogurt w/ honey. A little less refined than Korres' version, but it works a treat. (Great as a hair mask, too!)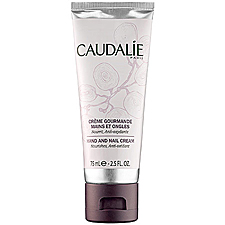 Hand / Nails – Caudalie Hand And Nail Cream
Dry hands are obviously undesirable, but it is easy to overlook that nails also need moisture. Without it nails can start to peel, split and generally act a fool. Start paying more attention to moisturizing your cuticles and nails and you will quickly see the difference. Caudalie's Hand and Nail cream is a soothing creamy salve chock full of skin/nail loving ingredients such as shea butter, grapeseed oil and avocado oil. It also contains Dimethicone – which I'm normally not a fan of – but I like it for hand care products as it helps to form a film so product stays on the hands longer to act as a protective barrier. Being a makeup artist I have to wash my hands a lot so I keep this cream in my kit as well as my travel bag.


DIY: Give your hands an occasional treat with a warm coconut oil and honey mask, which is what I actually did after my last trip. I just take about a tablespoon of each, heat it on medium heat in the microwave (I want it warm but not scalding hot so that I burn myself), rub it into my hands and put on a pair of cotton gloves. When I'm done I just wash my hands and apply my hand cream of choice.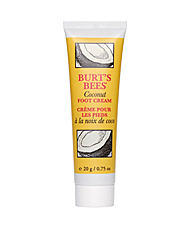 Feet – Burt's Bees Coconut Foot Cream
One of the best ways to keep your feet on point is to apply an ample amount of a thick cream or oil and then wear socks as an overnight treatment. Do that regularly and your feet will stay moist and smooth. Quite frankly, Crisco, coconut oil, cocoa butter or any thick oil or butter is fantastic for this purpose. However if you're like me and you'd like to use something a bit nicer with a lovely scent, try the Burt's Bees Coconut Food Cream. It's yummy. And in addition to coconut oil which we all know is tremendously healing, it has peppermint and rosemary to revitalize tired tootsies. After a long drive I soak and scrub my feet and then apply a generous amount of this cream and take a well needed nap. My feet feel brand new!


Body – H2o
And this is my real problem. When I travel – flight or driving – I tend not to drink enough water. Knowing this, when I get home (or once I reach my destination), I immediately hit the tap and get to drinking. All the external treatments in the universe won't get it done if you do not adequately hydrate and give your body something to work with. So drink up! 🙂
© 2015 – 2016, Tania. All rights reserved.