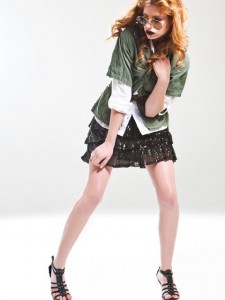 Howdy all. Hope all my folks in the US enjoyed a fabulous Labor Day weekend. I took the weekend off from any and all work related activities, hence we are having MakeupMonday on Tuesday 🙂
So dark lip color… I have avoided writing about this because I had hoped the trend would go away at some point but alas it has not. It is not that I am against dark, bold lips – as you can see in the above photo I shot a look with it – it's more that this trend does not always translate from the runways and magazine pages successfully into real life. However, I have seen more wearable more flattering incarnations come about in recent months. As it is doubtful that this trend will be leaving before the onset of fall and winter when most women tend to wear more lip color anyway, and most lines are adding dark lip colors to their fall collections, here are some of my choices for great dark lip colors as well as tips for wearing them successfully.
When wearing dark colors it is important not to lose balance because it is easy for the look to either come off as a Goth stereotype or become clowntastic. In addition, it is important to find a color that is still flattering to your skin tone – particularly if you are fair – because you don't want the dark color to drain your natural face coloring and make you look dead. You want high impact and fashion forward, not camp. For this reason, I suggest you leave straight up Black off the menu. Black should only be worn by the most experienced of makeup mavens, and even then in the right situations, of which there aren't many. You will have a much higher probability of success by sticking to blood reds, purples, burgundies, browns and mixes thereof for your dark lip looks. As far as the actual application of the color, I recommend you;
– Exfoliate your lips using a soft toothbrush or washcloth and then apply lip moisturizer and let it sink in.
– If you're wearing a lipstick, take a dab of your normal foundation or concealer and blot over lips to block out your natural lip color. This will assure a more even application of the lip color which is important when you're wearing dark colors, and it will make you lip color last longer. I've read some folks suggest using makeup primer on your lips, but as your lips don't make their own natural moisture, it could make your lip line look dry and puckery like premature lip wrinkles. Skip this step if you're wearing a lip-gloss as the foundation would still be visible through the gloss and it would look funky.
– Use a lip liner to draw a defined line – it is very important that this look not look sloppily applied. If wearing a sheer formulation, you can give it a bit of oomph and make it last longer by using the lip liner all over the lips and then applying gloss over. When I'm using a lip liner I either use a color that matches the lip color I plan to use or if I don't have a good match I'll use a color the same shade as my clients lips. Either will help me draw a precise lip line without showing visible liner.
– USE A LIP BRUSH to apply your color. It will go on much more evenly. Yes, use a lip brush even if you're using a gloss lip color. This is dramatic look and you'll want to do it right. Now is not the time for a slap-dash application job.
Now that you've got your technique down-pat, here are some great products to try;
Sheer
– Clinique Almost Lipstick – Black Honey
This product is a classic and has been around forever. This formulation will give you a just bitten look like you've eaten some fresh blackberries. Very very pretty.
– Urban Decay Lipstick – Apocalypse, and Oil Slick
Despite the names, these colors are all quite wearable due to their formulation as both are sheer and glossy. Apocalypse is a great deep Blackberry and Oil Slick – not for the faint of makeup – is a sheer, sparkly black. It can be worn alone, but its real strength is in combination with other colors to add depth and make them more dramatic.
– Bobbi Brown Cosmetics Sheer Color Gloss (Limited Edition) – Black Chocolate
The Bobbi Brown line is all about wearable color, and this fab gloss is no exception. Black Chocolate is a rich velvety brown-y plum in a sheer formulation suitable for wear day or night.
– Scott Barnes Flossy Glossy – Black Currant
If you aren't familiar, Scott Barnes glosses are fab. They can be worn sheer or full coverage, and offer great color and shine without being sticky or gloopy.
– Urban Decay – Confession – Lipstick
Another great Urban Decay lip color, Confession is a deep berry with a semi sheer finish. Great if you want more color but aren't yet ready to commit to full coverage.
Full Coverage
– Posner Lipstick – Violet Explosion and Fine Wine
Never heard of Posner? Well, that's because Posner has always been kind of an "indie" line, but they've actually been around since forever. Posner Cosmetics was one of the first brands to provide makeup for black skin tones, including deeper complexions (a lot of "mainstream" lines will have one or two "dark" shades that are still too light for deeper black skin tones). As I've stated before, the black cosmetic lines are often goldmines for rich colors because product for black skin needs a lot of pigmentation in order for it to show. These are full coverage lipsticks with a smooth, satiny finish. Truth be told – these colors are staples in my kit.
– Revlon Lipsticks – Grape (Color Burst), Wine Not (Matte) & VaVa Violet and CoCo Licious (Super Lustrous)
Another winner on the drugstore end of the spectrum is Revlon. Revlon lipsticks are seriously excellent and most artists I know have a few as part of their kit. Revlon is awesome because they just have So. Many. Colors. and they also have an impressive array of textures and finishes. In addition they feel good, they wear well, and they don't change colors.
– Inglot Cosmetics Lipstick – 175 & 267
Inglot is a makeup artists' cult line. After manufacturing for other companies for years, Inglot – which originated in Poland – finally started their own amazing signature line. Inglot products are known for their high pigmentation; therefore their products are no joke. I love the entire product line, but I particularly love the lipsticks. 175 is a deep rich aubergine color and 267 is a velvety black. Yes, black. It can be worn straight HOWEVER, it is best used as a mixer with other colors to make them deeper and richer. This is just the tip of the Inglot iceberg as they have more amazing colors and formulations than I can cover in such a short write up. Look for a full article on Inglot soon.
– Scott Barnes Lip Suede – Veronica, Bobbi Brown Cosmetics Lip Color – Black Maple & Black Raspberry
These are the companion lipsticks to the lip-glosses from these two brands that I mentioned above. Scott Barnes' 'Veronica' is a deep mauve-y brown. Bobbi Brown's 'Black Maple' is a black red plum and 'Black Raspberry' is a black burgundy. All three colors are rich and beautiful on their own, or you can kick them up a notch by combining with their companion glosses.
© 2010 – 2016, Tania. All rights reserved.