As awards season is well underway…
I figure much of my readership is either attending some of the many awards shows and related events OR you are applying makeup to your clients who are. With event makeup it is all about a clean application (there is no Photoshop in real life situations) and making it last. It does not fly to have your client looking great when you are first done with the application but then their makeup is already starting to break down by the time they arrive at their first event. For these moments, these products are my event makeup secret stash. These are not necessarily the types of products I use for every job but they are perfect for when the makeup has to give maximum impact and last last last.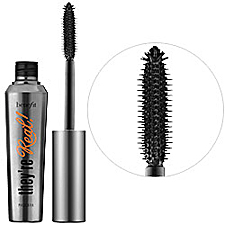 1 ) Benefit Cosmetics – They're Real Mascara
As I've stated many times on this blog, I am a Maybelline Great Lash gal to the teeth. However, Great Lash has one flaw and that is it can flake. So it is perfectly fantastic to use on set when I am going to be there to touch up talent, etc. It is not a good option when I'm going to do a client and they are going to go their own way. There are a lot of great mascaras on the market but I have particularly fallen in love with this one because it is nice and Black, nice and glossy and it really does pick up and maximize every single lash. "They're Real" is perfect for my clients who do not wish to wear false lashes, although it plays nicely with falsies, too. One Note: A lot of the action of this mascara is in the brush so I have tended to use it on clients whom I plan to give the mascara to afterwards. Some day I need to try this on an on-set job to see how it performs with disposable wands.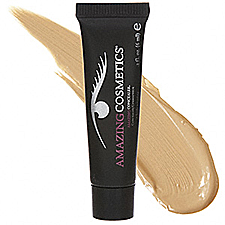 2 ) Amazing Cosmetics – Amazing Concealer
I first discovered Amazing Concealer about 4 or 5 years ago. More often than not I use cream concealers (either Three Custom Colors or Kryolan's Dermacolors) but the pitfall with cream concealers is they can separate into creases, particularly under the eyes. As with the mascara, this is tolerable if I am there with my talent for touch-ups, but no bueno if I am not going to be there. Historically I do not love liquid concealers because they are often not pigmented enough and those that are oftentimes are stiff and cakey. Amazing Concealer is incredibly pigmented, does not separate and crease and moves with the skin so as to not look stiff and cakey. Let me re-iterate: This product is very highly pigmented. A little goes a very long way, and I find it works better for me when I warm it up on my hand the way I do the Kryolan concealer. That said, once applied it gives me seamless coverage that I do not have to worry about for hours on end. And it comes in a fantastic array of colors to match all skin tones, lightest to deepest.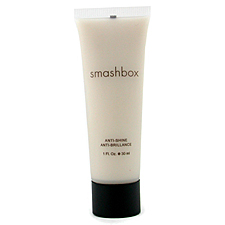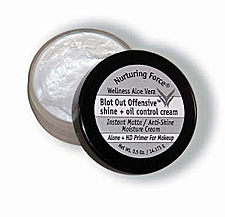 3 ) Smashbox Anti Shine or Nurturing Force Blot Out Offensive cream
Smashbox I have used for a long time, Nurturing Force is a product to which I have been more recently introduced. I have not decided which I prefer or if I like them both equally. One thing is for sure: I have GOT to have an anti-shine product in my kit. I use this on both men and women. On men (I often do a little bit of grooming on my client's husbands as well) I will typically do a little concealer if/where needed and use an anti-shine cream all over the face to keep them looking even and matte. For women, I will carefully tap a little bit of an anti-shine cream over key hotspots like the temples, tip of the nose and the center of the chin. Both of these products can be used over makeup without disruption and they are far more effective than continual powdering to control shine.


4 ) Skindinavia Makeup Finishing Spray
I am not a fan of the "hairspray on the face" variety of makeup setting sprays. In my experience they disrupt the makeup, they make the makeup look cakey or even worse "break" (they basically try to glue the makeup to the face, but faces move so makeup needs to stay flexible and move with the face). Further, I cannot imagine they are comfortable to wear. Skindinavia has been a staple in the pro community for seemingly ever and it works by controlling the surface temperature of the skin so the makeup does not suffer from melt down. I guess you can say instead of "hairspray for the face" Skindinavia's Makeup Finishing Spray is more anti-perspirant for the face. LOL! 🙂
I have used this product for years and I can attest that it definitely works. As a plus, it also gives the final makeup a pretty "glow". This is a great, great product and one of my "Top Ten Products Without Which I Would Die". (Yes I have recommended Model In A Bottle's Sensitive Skin formula in the past. I do not like it as much as Skindinavia but when I need something "stronger" it works well without the pitfalls of most makeup fixative products).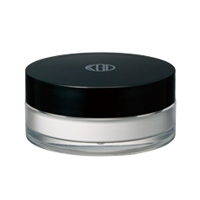 5 ) Koh Gen Do – Maifanshi Face Powder
I remember discovering Koh Gen Do at an IMATS tradeshow several years back and at least a good year – if not two years – before Make Up For Ever introduced it's now widely used Hi-Def Microfinish loose powder. Koh Gen Do was actually the first I'd heard of anyone referring to High Definition makeup and it was explained that these types of products were what Japanese makeup artists were using for film and television. Now "High Definition" is so ubiquitous in makeup it has become a meaningless term. Koh Gen Do's products, however, remain as The Truth. I prefer the Koh Gen Do powder because it – in my experience – does not build up the way the Make Up For Ever powder can. The Koh Gen Do contains a moisturizing ingredient that gives it a silky texture and finish and it is beautiful on all skins; young and old, fair or deep. (Sidenote: Koh Gen Do's Maifanshi Moisture foundation is also an amazing product).
© 2012 – 2016, Tania. All rights reserved.