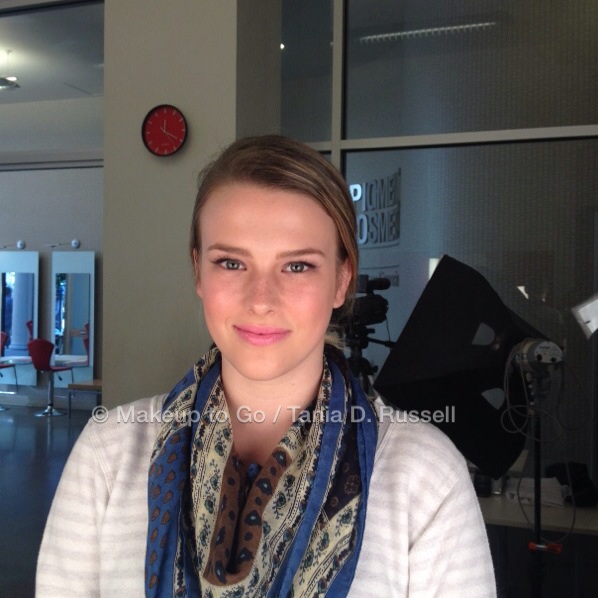 Howdy folks. I'm using this Makeup Monday to introduce a new column to Makeup to Go; A Quick One. A Quick One reviews are going to be straght-forward reviews of just one product. I'll still cover ingredients, performance, etc. but in a condensed and easier to read format. I may even start using a ratings system.
For this the inaugural A Quick One, I am reviewing Maybelline's Master Kajal eyeliner. Anyone who knows me or who reads the Makeup to Go Blog knows that – with the exception of Great Lash mascara, Revlon lip colors, and a couple of other products – I'm not a huge fan of drugstore/mass-market makeup. Too much of it just doesn't work. When I first heard about the Maybelline Master Kajal, I was duped intrigued on the strength of Maybelline's Eye Studio Lasting Drama Gel Eyeliner. The Lasting Drama gel liner was almost unilaterally well-received and reviewed and deservedly so. The gel liners are creamy, nicely pigmented, apply easily and work for personal and professional use. How does the Master Kajal Eyeliner stack up?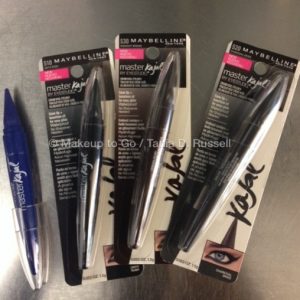 What Is Kajal?: It's Kohl. As you are likely familiar, Kohl is a popular eyeliner type due to its soft texture and easy blendability. Traditional kohl/kajal is made from ground galena which is a form of lead(II) sulfide, mixed with other ingredients. Even though that form of lead is not generally considered to be toxic, a lot mainstream brands that sell Kohl pencils do not actually use Kohl in the formulation. Instead they'll use a mixture of oils and waxes to emulate the texture of kohl.
When I was growing up, the Kajal I was familiar with was the traditional kajal which came in short, stubby cones with pointed ends. You can still find these traditional kajal cones in Indian and other international grocery stores that sell international beauty products.
Testing: I used the Master Kajal eyeliner during a demo for my Makeup for Photography class. I did not want to chance using it on a job, but I did want to see how it look photographed as well as in real life. I tested the Navy eyeliner specifically because I wanted to see if it would give good color payoff.

Design: The Maybelline Master Kajal emulates that traditional cone shape and adds a long, tapered handle to make it easier to hold. I liked the handle, it felt good in hand and it was easy to control. It should be noted that the Master Kajal has no sharpener nor does any more product "push up". The amount of product you see is the amount of product you get. Product life will depend on product usage, and Maybelline suggests in the product packaging to always use it on its side (in a rotating fashion) instead of on its point. Keep this in mind.
Colors: Black, Charcoal, Brown and Navy
Good eyeliner basics and the Navy adds a nice pop of color to the collection.
Texture: Waxy. Not at all what I was expecting, although upon further inspection of the ingredients I am not surprised. People who like Kohl eyeliner – which I do – like it for it's creamy texture. In fact some people do not like Kohl because they think it's too soft. Well, as we will soon see, there's no danger of that with this product 😐
Blendability: Since it is not creamy, it is not as blendable as one would expect or want from a Kohl/Kajal liner. In India, Africa and the Middle East the Kajal cone is all many women use to create a deep smokey eyeliner. There is no way you could do that with a product of this texture. I had a more difficult than expected time getting the winged eyeliner to jump off. Both myself and my model felt the product "drag" along the lash line. I would definitely not use this for the lower lashline or the waterline.
Color Payoff: Weak. It registered as a grayed blue in real life and as just a gray-ish/charcoal-ish color when photographed. It certainly did NOT look like anything I've seen in the advertising for this product. Remember when I said you are instructed to use the product on its side for maximum product life? Well nothing came off the cone when I did that 😐 It was only when I used the tip did I start to get any meaningful color release. As the product warmed up against my model's skin I was able to use the side but it took some effort.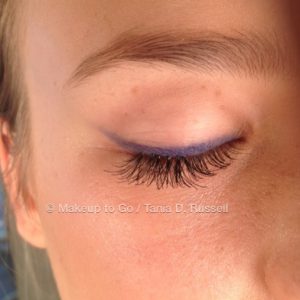 Wear: Just okay. I did my demo in the morning, and my model and myself were at school all day. I did notice that by the end of the day the color – which was not strong to begin with – had begun to fade. But there was still liner on her lids several hours later.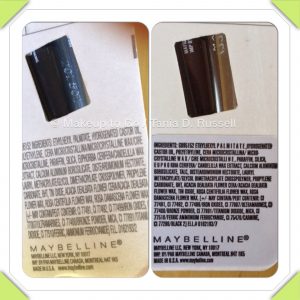 Ingredients:
I took pictures of the backs of two of the eyeliners I purchased because one had a sticker on it which implies that the product may have had some formulation changes. As you can see the first several ingredients are various waxes: Microcrystalline wax, paraffin, candella, etc. It does contain castor oil which is a great ingredient that generally adds a smooth texture and "slip" to a product. But then that's it. There are a couple of standard cosmetics ingredients in the mix (lauryl methacrylate/glycol dimethacrylate crosspolymer is a fixative, for example), and a few flower waxes towards the end of the ingredients list (meaning they are small components of the overall formulation). Mostly this is a colored wax stick and we all know what a colored wax stick is called? A crayon. Quite frankly that's what the Maybelline Master Kajal looked and felt like. By contrast check out the ingredients in Sephora's Kohl eyeliner pencils. Waxes AND oils for a soft, smooth texture. Clearly Maybelline are referring to "kajal" as the shape of the product, not the actual quality of the product
The Verdict: Would Not Repurchase. This is certainly not up to snuff for any professional use of any capacity, and consumers can do better as well. There are other "Kajal cones" available (Sephora's brand has particularly nice color payoff) or you can just get a Kohl pencil like Make Up For Ever's fab Kohl Pencils and call it a day.
Alas, Maybelline did not hit another one out the park with the Master Kajal eyeliner.
© 2014 – 2016, Tania. All rights reserved.