For this month's installment of Maquillaje Para Go, we discuss the joys of false eyelashes. Delia and I were clearly on a similar page as I had planned to have one of my upcoming The Basics articles on False Eyelashes. Look for an "answer article" from me in the coming weeks. In the meantime let's enjoy what Delia has to say about this makeup artist essential item… (as always, the English version follows below…)
¿Qué hace usted cuándo quiere tomar su mirada al próximo nivel? ¡Agregue pestañas postizas! Si es un cambio dramático o un cambio sutil, agregando pestañas postizas definitivamente aumenta cualquier mirada. No sea intimidado; pestañas postizas toman alguna práctica para dominar, pero una vez que logra entenderlo usted se preguntará cómo pudo sin ellos.
Goma es importante. No queremos que su pestaña se este caendo durante su fiesta importante. La última cosa que useted desea es estar bailando y su pestaña se cai meintras este bailando. Mi goma preferida es Duo. He tratado otras marcas y ningun trabaja como Duo. Tienen Duo en fórmula clara y oscuro. Recomiendo utilizando la fórmula clara hasta que aprenda cómo aplicar pestañas postizas. Una vez que usted es cómodo con aplicación, puede utilizar la fórmula oscura.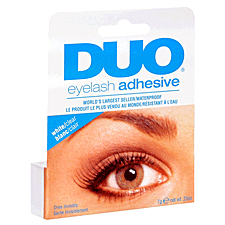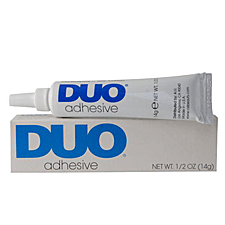 Las pestañas postizas de tira son más fáciles de aplicar. Pestañas de tira vienen en variedad de medidas y colores. Una vez que usted escoge el estilo de su gusto, mida la tira que quede a el ojo. Si la tira de pestañas no le queda al ojo, corte la esquina del la pestaña hasta que le quede al propio tamaño. Otra vez, puede encontrar pestañas postizas de tira en tamaño y formas diferentes para convenir sus necesidades. Trate de mirar las pestañas de Red Cherry para encontrar un par que quizás trabaje por su noche fuera.
¡Las pestañas individuales son mi favoritos! Si usted no quiere ir para una mirada dramática, pero todavía desea el efecto de tener pestañas llenos, éstos son perfectos. Aunque éstos son más duros de aplicar, parecen naturales y hacen sus propias pestañas mirar mas llenos. Los individuales son mis pestañas preferidas para mis clients, y vienen en tres diferentes medidas y algunos colores diferentes. Me gusta utilizar la pestaña individual por Ardell en medida mediano sin nudo.
Ahora que usted esta preparado con su información de pestañas postizas, sale y practica. ¡Los resultados le pueden sorprender!
Delia Jiménez Owens es una artista de maquillaje y pelo disponible, en los angeles y las vegas. Puede seguidor en Twitter en @ DeliaJOwens
++++++++++++++++++++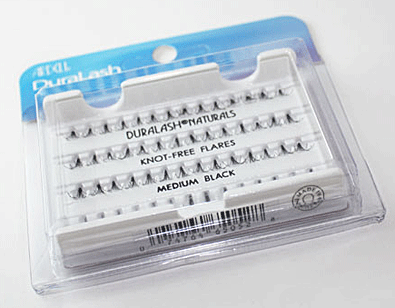 What do you do when you want to take your look to the next level? Add lashes of course! Whether it 's a dramatic change or a subtle one, adding lashes definitely enhances any look. Don't be intimidated; lashes take some practice to master, but once you get the hang of it you'll wonder how you managed without them.
Adhesive is key. You don't want your lash hanging off your eye midway through your event. Last thing you want is to be dancing away and have your eyelash pop off as you're doing the running man. My adhesive of choice is Duo. I've tried other brands and none seem to hold up as well as Duo. Duo comes in clear and dark formulas. I recommend using the clear formula until you get the hang of applying lashes. Once you are comfortable with application, you can try using the dark formula.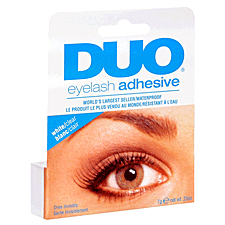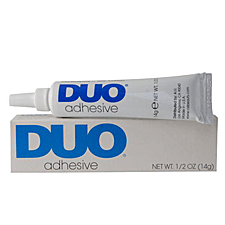 Strip lashes are easiest to apply. Strip lashes come in a variety of lengths and colors. Once you choose the style of your choice, measure the strip to fit your eye. If the lash strip is too long for your eye, cut at the corner until the lash fits your eyelid. Again, you can find strip lashes in different sizes and shapes to suit your needs. Try browsing through Red Cherry lashes to find a pair that might work for your night out.
Individual lashes are my favorite! If you don't want to go for a dramatic look, but still want the effect of having full lashes, these are perfect. Although these are harder to apply, they look natural while giving your lashes added fullness. Individuals are my lashes of choice for my bridal clients, and come in three different lengths and a few different colors. I like to use the knot free medium flare lashes by Ardell.
Now that you are well prepared with your false eyelash information, go out and practice. The results may surprise you!
Delia Jimenez Owens is a makeup and hair artist available in both Los Angeles and Las Vegas. You can follow her on Twitter @DeliaJOwens.
© 2011 – 2016, Delia Jimenez Owens. All rights reserved.