Howdy folks. It's finally Autumn, my favorite season..
In California it's a time for clear, crisp sunny days but with cooler, friendlier temperatures. And while we here in Southern California may not get the "change of seasons" in terms of foliage that other regions do, there is a beautiful change in the light. It's almost like going from a bright hazy yellow to a more sharply focused amber hue. Just gorgeous.
As the season changes, so does the makeup and also likely your skincare will need some updating as well, as I wrote in a previous post on Prepping for Fall. And if you are an avid beauty-ista you know that a lot of new products are generally introduced this time of year, leading up to the Holidays. Therefore there is a lot of fun new stuff to play with. Here are my Makeup Short Notes October 2015…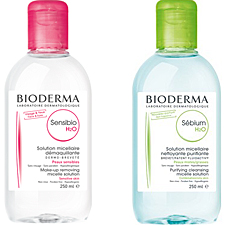 1 ) Bioderma Sensibio / Crealine H2O vs Bioderma Sebium H2O
While they aren't actually new, Micellar (Micellaire) Waters have become the Big New Thing in skincare. What IS new is All of a sudden the talk has changed from using it either on set or using it occasionally as part of one's personal skncare routine to everone using it regularly in the place of traditional cleansers and moisturizers. Whoa whoa whoa… let's not go crazy here, folks. I am big on my skincare, particularly of using the right skin cleanser, so I wanted to put this to the test.
Bioderma Sensibio (originally called Crealine*) is the original formulation (I made mention of this in my previous Makeup Monday post), and the Sebium H2O is one of several new additions to the Bioderma skincare line. Both are a cleanser/makeup remover and some would say moisturizer all in one. Both are formulated to be gentle on the skin, and to leave the skin clean and refreshed without needing to rinse off the product. The Sebium is made for oilier skins and contains ingredients to control clogged pores and sebum production such as zinc gluconate (effective anti inflammatory ingredient) and copper sulphate (increased collagen production amongst other claims, but the actual efficacy as a skincare ingredient is less certain).
I have very oily skin and I do not care for the way makeup feels on my skin so when I do wear it, I generally want it off at the first available moment. SO, I took advantage of a couple of days where I knew I had to wear makeup (business meetings) to come home in the evening and use these Micellar Waters. Despite the fact that the Sensibio is supposed to be "not strong enough" for my skintype, I found I preferred it for makeup removal as it removed the makeup (Bare Escentual Matte Powder Foundation) faster in my opinion. That said, Sebium is better for me as a face cleanser. I did not feel as though Sebium got the makeup off as quickly as Sensibio (I needed to use both sides of 5 cotton rounds to get everything off), so I wouldn't use it as a makeup remover; in all that time I could have just washed my face. HOWEVER I do like it very much for times when I need a quick face cleansing (like post-workout), in the morning, or even before bed IF I didn't wear makeup that day and I'm too tired to wash my face.
TL;DR – Micellar Water will NOT be replacing proper face washing for me anytime soon, but they are good for quick clean-ups.
Pro Tip: *It seems that with the addition of the newer formulations they are re-branding the entire line, however the Sensibio is the same product as the artist formerly known as Crealine.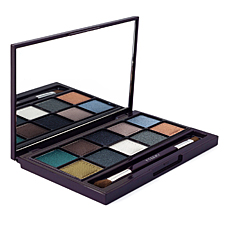 2 ) By Terry – Eye Designer Palette #3 – Magnet'Eyes
I got this for no reason other than I wanted it and so far I'm loving it. By Terry is a luxury brand that comes with a luxury price tag. It is a staple in my "star kit" which is increasingly becoming "my kit". 99.6% of the time I am working in a neutral color palette on the eyes, but I did feel like I wanted to add a new selection of autumnal colors to my arsenal. These are gorgeous gorgeous gorgeous jewel tones, nicely pigmented (aka it reads even on my skintone and doesn't have a white cast), flatteringly sheeny without being too shimmery, with a velvety texture. At $96 it's no joke BUT it isn't a palette I expect to be using super often so with proper care it should last a good while.
Pro Tip: By Terry as a brand is available at Barney's, Space NK, etc. but Magnet'Eyes Palette #3 is exclusive to Beautylish.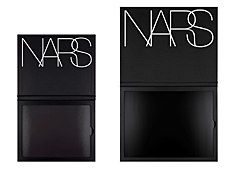 3 ) NARS Pro Palette
If you are a working artist OR if you just own a lot of makeup, the best way to store your makeup in terms of ease of use and organization is to "palette-ize" your products, i.e. transfer your product from the original retail packaging to an empty palette. This makes it easier to see and use what you have and it takes up less overall space (hence it's essential for a working artists' kit). The latest entry into the artist palette realm is NARS Pro Palette. These are plastic shell palettes with magnetic backing to hold cosmetics pans in place. I purchased mine to house product I already own, but you can also "build your own palette" online or in a NARS boutique. Since I have no idea how these are going to wear in the long run, and since I tend to prefer to keep my kit small anyway I've started out with a small palette. Fortunately neither size are too large, nor are they too thick. I'll be doing a follow up on these after I've used them for a while.

Make any great new purchases lately? Tell us about it in comments! 🙂
—-
Have you signed up for the Makeup to Go Blog newsletter yet? Join the fun for exclusive content, giveaways, and other assorted fabulosity! Makeup to Go Blog Newsletter – "Speaking of Makeup"
© 2015 – 2016, Tania. All rights reserved.