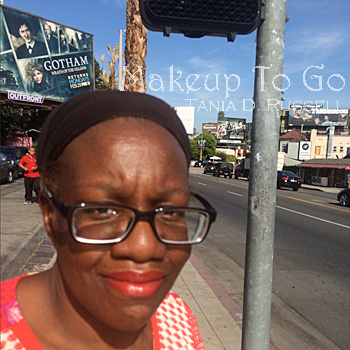 Howdy folks. And once again, we're back!
There's a lot going on in the background of Makeup to Go these days, more on that to be announced at later dates. In the meantime, la vida makeup continua and I've had the opportunity to try lots o' new product. Here, then, are my Makeup Short Notes March 2016
1 ) Chanel Rouge Coco Stylo Lipshine
I recently attended the "I Love Coco" event taking place in Los Angeles. The point of the event was to introduce new products in the Chanel color line via a style lounge with drinks, mingling and little mini-makeovers. There was – unsurprisingly – a wait to get a mani as Chanel nailpolishes are INCREDIBLE, but surprisingly there wasn't much of a wait in the makeup room. I decided to try the new Rouge Stylo lipsticks. If you follow me on Instagram, then you saw the above blurriness when I first posted it right after the event. (…my skin looks good tho. I'm not wearing any face makeup in that pic. (take care of your skin, folks!).
Rouge Stylo comes in 8 shades and anyone who knows me knows that IF I am going to bother wearing lipstick, it's going to be red, so we selected "Histoire" for my mini-makeover. In the tube this looked like it was going to be too orange-y but it was actually a nice true red which would be wearable for a variety of skintones (even tho I'm Black, I'm COOL not warm, and too warm colors look ashy/funky on me). The formula was very creamy and comfortable to wear yet lasted the entire rest of my day (I had a client later that evening and she remarked on my super-fly lip color). At $37 this is a bit of an investment, but like most Chanel it is an investment worth making. I purchased "Histore" for my personal use and I plan to buy the full set of colors for my celeb kit.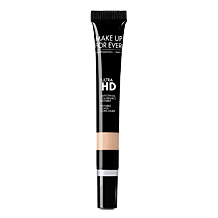 2 ) Make Up For Ever Ultra HD Concealer
I am extremely picky about concealers, particularly for use under the eye. When it comes to concealing you can color correct a problem or you can mask a problem by covering over it. Generally speaking, I like products that can do both hence I need less product and there's less chance of slippage, cracking, cakiness, etc. This new iteration of the HD concealer by Make Up For Ever comes in the liqui-cream texture that I like for concealers. It is highly pigmented to give adequate coverage, but it is a more flexible formula that is less likely to crease and go crazy when used under the eyes (which means it would be totally fine on other parts of the face). By Makeup For Ever's description, the "R"s are color correcting and the "Y"s are concealing so that would be the only drawback as – again – I prefer one product to do both. But upon initial usage I was impressed with the texture and the wear so I will continue to give this product a shot.

3 ) Micro Mini Correct Four Set
On the topic of correcting and concealing, Beauty Blender has introduced a micro.mini.correct.four set designed to make the task of concealing and correcting a little bit easier. The micro mini beauty blenders came on the scene a couple of years or so ago as a companion piece for the regular Beauty Blender. The micros are designed to fit into all of the nooks and crannies (corners of the eyes, around the nose, etc.) where a regular sized Blender might be more awkward to use.
I'm including this set for all the non-pro Makeup to Go readers in the house. Correctors (yellow, orange, green, lavender, and sometimes pink) have been in use by pros for eons, but they have been making their way slowly but surely into the consumer market. In fact both Smashbox and Urban Decay have recently introduced easy-to-use corrector products. What I like about the mini correct four set is you can coordinate your sponge with your corrector. That sounds silly, but its really REALLY important to use correctors correctly or they just look wrong. Manys the time I've seen a woman walking around with visible green on her face and that's just Le Sad.
PRO TIP: If you're confused about concealing/correcting, fear not! A visual tutorial is coming soon!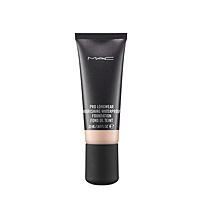 4 ) Pro Longwear Nourishing Waterproof Foundation
Every time I get out, something pulls me back in… Like many "makeup artists of a certain age", I have a love/notasmuchinlove relationship with MAC Cosmetics these days. They are certainly a very different company than they were back in the pre-Estee Lauder days, that's for sure. That said, while it may be shocking to some folks that I'm talking about a MAC product, they've never fully left my kit in fact MAC makes a couple of absolute Holy Grail products that never leave my kit. One of the notasmuchinlove areas for me with MAC has always been their foundations, largely because there is a very particular finish I am looking to achieve with foundation and I do not – even though I know its the trend nowadays – care for full coverage foundation. A few years ago MAC reformulated the Face and Body foundation and it is just absolutely gorg, so I was open to the possibility of trying a MAC foundation, particularly a liquid. Enter the Pro Longwear Nourishing Waterproof Foundation. It is a silicone based foundation, which we all know I love, so I loved the finish and the wear of the product. MAC claims that this product is waterproof, transfer-proof, and can last for as long as 24 hours. Well folks, based on my initial usage I'm inclined to believe it. I used this on a very high-energy performer. The first time I did his grooming I was panicked about product breakdown but fortunately I'd used a good setting spray. This time around I knew the drill. The waterproof formula didn't breakdown, didn't get chalky or cakey, and my client didn't look rode hard and brought home wet after his performance. A quick touch up with powder and he was able to take his seat and look good for the remainder of the show taping. If it can last after dancing around under TV studio lighting, it can make it through anyone's day.
PRO TIP: My client is a deeper-complexioned African American. The color range for people of color in this product is excellent.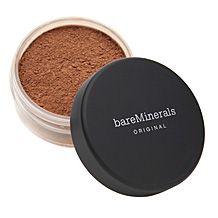 5 ) Bare Minerals MATTE Powder Foundation
"Hey T…Haven't you talked about this product a number of times already?" Yes, I have. This is the powder foundation that I wear on myself on a day to day basis for natural, light coverage. It's great. It evens up my skintone, wears well with my oiliness, and unlike the original Bare Minerals powder it does not give a grey cast (which traditional mineral foundations can do on deeper skintones). So why am I writing about it again? Welp, I wore it on the day that I got my new driver's license photo taken last November. When I took a selfie in the parking lot in natural light it looked fine, in fact I looked great. But WHOOO BOY what it did when that already not particularly flattering DMV flash lighting hit it. You talk about flashback/TD reaction. I look old and a completely different color. YIKES! No, I will not be posting that photo.

PRO TIP: Do Not Wear For Photographic Use.


—-
Have you signed up for the Makeup to Go Blog newsletter yet? Join the fun for exclusive content, giveaways, and other assorted fabulosity! Makeup to Go Blog Newsletter – "Speaking of Makeup"

© 2016, Tania. All rights reserved.