This Article is Old. Links may no longer direct to named product…
Early on in Makeup to Go's history, I posted an article entitled "Top Ten Makeup Products Without Which I Would Die" (click to read the original post). Basically I was saying that these are my go-to, must-have, desert island, fade to black, killing it products. It's a good list, too. However, that article is from clear back in 2009 and much has changed since then so I thought it time to revisit and update the list.
What is remarkable is how many of the products I named back then are still going to be on this list. Great products are great products. There is a reason you hear every makeup artist/expert/maven name the same products over and over again: They work. They work for a multitude of people, over a significant span of time, with consistent results. As readers of this blog, you are likely into beauty products and as such you are aware that these are rare qualities. Lots of good/OK/mediocre products come out everyday. How many times have you bought the latest greatest thing only to stop using it within a few months? Yep. The downside of beauty junkie-dom is that it does take a lot of trial and error to find those holy grail products. Once found, the wise beauty-ista holds on with two hands for as long as the product is available. Here are the Makeup Products I Would Die Without, revisited.

Looking over the previous list, I still use these items as much then as I do now, for all the reasons previously stated. These are classics that will likely remain on my list until such time as they are discontinued. Make Up For Ever's Flash Color Palette does, however, get an asterisk because they have changed the colors in the palette and the thinned down the formula of the cream itself. So whereas I would wholeheartedly recommend the version of the palette that *I* have, I am not actually a huge fan of the current version of the product.
Honorable Mention: Stila All Over Shimmer Liquid and Shu Uemura Nobara Cream foundation would both still be on the list were they still available. (Stila still has a product called "All Over Shimmer Liquid" but the original colors are no longer available, and Shu Uemura still has the Nobara cream but they changed the formulation and the color selection some years back…)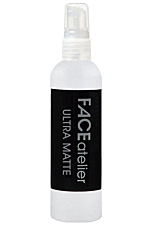 2 ) Face Atelier – Ultra Foundation / Ultra Matte spray / Transforming Gel
Face Atelier existed in 2009, but I was not familiar with the brand back then. Since learning of the brand in – oh – 2011 or so Face Atelier has become one of my absolute favorite brands. The Ultra Foundation is an absolutely GLORIOUS liquid foundation, which I've professed my love for many times here on Makeup to Go. It is silicone based and gives a flawless, glow-y, perfected skin finish. If you are a pro, go for the Ultra Foundation Pro which is the exact same foundation in a more kit friendly plastic bottle. The Ultra Matte Spray is another silicone-based product that magically creates a satiny-matte finish on the skin which lasts and lasts. And when I say it lasts I mean that the first time I used it was on a very high energy performer whom I expected would be a sweaty looking mess after his performance. Instead he looked pretty much as matte and even as he did when I first did his makeup. AMAZING product. Lastly the Transforming Gel will change any powder cosmetic into a long-lasting gel consistency. So if you want to use eyeshadow to fill in brows or as an eyeliner, the Transforming Gel will get the job done. (Sidenote: the Matte spray and the Transforming Gel are on the Face Atelier website under "Effects")

I may have mentioned a few times here on the blog how much I love this product. I have zero idea how this got left off of the first version of this list. If I had to pick one desert island color of the Cheekstain, it would definitely be "Tipsy".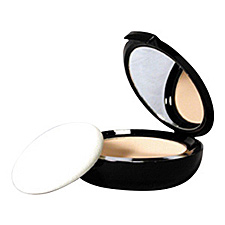 4 ) Graftobian Dual Finish Foundation
I've received a lot of grief over my love of this product from other artists, but bottom line is I have used it for 4 years now and a ) I still have plenty of most of the product and b ) it has always worked extremely well for me. Whether you get Graftobian or another brand, a wet/dry powder foundation is a very versatile and useful product for any makeup artists kit (Yaby I hear makes a great one, I've not tried it yet). I also recommend it for my non-makeup artist clients who want a bit of flexible coverage but do not like the feel of wearing foundation. The Graftobian is NOTHING like MAC's Studio Fix or the like. When used dry is it like a pressed powder. It give a little bit of coverage and knocks out shine. When used wet it gives sheer coverage similar to a bb cream and it can be built up to a more medium coverage without looking cakey and streaky. Sidenote: The Graftobian Dual Finish Foundation is also available in a palette of 12 of their most popular colors. Click here to see the Pro Palette version I actually have in my kit. My review from 2012 is still up on the CRC site! 🙂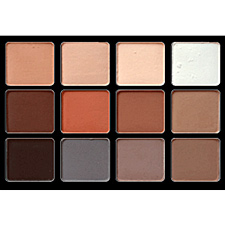 5 ) Viseart Neutral Eyeshadow Palette
I was either high or lying when I did not include this on my first list. I probably did not want to include it because I did not want to tell people about it 😉 But if you frequent any of the many online makeup social groups you will see that the cat is very much out of the bag on this product. I was made aware of the Viseart palette way back when during my first agency so we're talking circa 2005. I finally bought it and added to my kit a couple of years later, and it has not left my kit since. In my opinion this is *the* pro neutral eyeshadow palette. It is truly matte in finish, the color are truly neutral, it is creamy in texture and easily blendable and not at all powdery or chalky. The Viseart palette is in no way comparable to the current rage of neutral eyeshadow palettes currently flooding the market. The Viseart palette stands alone in a league of its own.
—
Have you signed up for the Makeup to Go Blog newsletter yet? Join the fun for exclusive content, giveaways, and other assorted fabulosity! Makeup to Go Blog Newsletter – "Speaking of Makeup"
Disclosure: Howdy folks, instead of doing sponsored posts, Makeup to Go may contain affiliate links from Shop List, SkimLinks, or Amazon Affiliates. When you shop via these links Makeup to Go gets a lil sumthin sumthin to help keep things running (at no additional cost to you!). Sound good? Ok groovy. Thanks much!
© 2014 – 2022, Tania. All rights reserved.