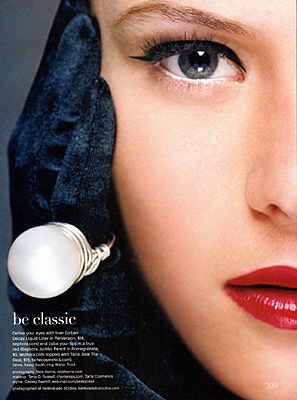 Liquid Eyeliner is emerging as a trend for Fall 2010 makeup. Truth be told, however, the timeless look of liquid eyeliner is never out of style. Just one sweep of the brush can transform a look from casual to dressy giving your eyes instant pop. A lot of women have trouble with liquid eyeliner and it's true, it's not easy. However, it's makeup not neuro-surgery and with a little practice you, too, can become a liquid eyeliner master.
There are specific characteristics too look for when choosing a liquid eyeliner because there are definitely good and bad liners out there. First of all, for purposes of definition, I am calling anything NOT a pencil, a liquid eyeliner. The 3 formulations I am including in this recap – liquid, gel and cake – are all applied similarly and all give a similar final result. Whereas good pencils are meant to be soft so that they can give you a blended, more "smokey" line, a liquid-type formulation gives that precise line that is very difficult to emulate with a pencil. Further, liquids are all formulated to be long lasting, whereas the softness that makes a pencil good also makes not as long lasting. When choosing a liquid liner you want a product that goes on smoothly, has a fine brush, and does not flake. All of the products below – from atelier to drugstore – fit the bill. As far as applying your liner, it is always easier to get a smooth even line if you gently pull your eyelid taut by gently pulling the outer corner of your eye. Balance the ball of your hand on your cheekbone for leverage, and do not try to rush. Let your liner sit for a moment before moving on to your next makeup step so you are sure it's all dry and set and you should be good to go. Also – sanitation is important with liquid liners as they are a prime way to get eye infections. Resist the temptation to borrow a friend's liner. When using a liquid liner, be sure to wipe the applicator off with a tissue before re-inserting into the tube. With gels and cakes, wipe off the top layer with a tissue before each use. If you are a professional using a liquid liner as part of your kit don't try to get away with using the applicator in the product, that's just asking for serious trouble. Pour some product out onto a palette and apply with a brush. If the product has a felt applicator spray with 70% alcohol and let dry before re-inserting into the tube (or better yet, use it on the client and then give it to them). With gels and cakes, spray with alcohol as normal after using.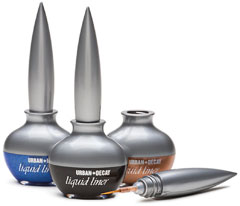 Urban Decay Liquid Liner – Urban Decay makes some of my favorite liners overall, both pencil and liquid. Their liquid liners go on extremely smoothly which is important to get a clean application, and highly colored liners oftentimes have problems in that regard. These do not, and they also last a good long time. These have a teeny tiny, fine line brush built into the cap which may pose a challenge for some but once you get the hang you, too, will fall in love with this product. (if you don't fall in love with the applicator cap, you can always do as the Pros do and just pour some product out and use a real eyeliner brush.)

Lorac Front Of The Line – They seem to have reformulated this product as it is now called Front Of The Line PRO, but whatever the name, this is my favorite black liquid liner. It's a really for real Black and it really does not move. Now, that's both good and bad because you have to be precise and there's little margin for error, but again once you get the hang of it, this is a GREAT liner. I also noticed that the old Front Of The Line formula is on clearance which is an opportunity to try this great product and a discounted price.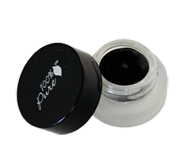 100% Pure Black Tea Pigmented Gel Liner – I just wrote about this product recently in my review of the 100% Pure product line, but this product is so nice I have to mention it twice. This is a gel formula liner, and gels are great because they are in between a pencil and a liquid. They go on and you have a moment to smudge or play with them, but then one they set they're set. You can apply a gel liner with an angled precision brush and get a fine, sharp line that will rival any liquid. The 100% Pure gel liners come in a nice assortment of colors, go on smoothly and evenly, and last a REALLY long time. And did I mention they use natural fruit pigments and are gluten free AND vegan? Yeah, GREAT product. I have all of the colors in my kit, but my favorite is definitely the Silver Star which is one of those great "not Black" colors. It gives great definition without the harshness that black sometimes has. It's also a great color for blue eyes.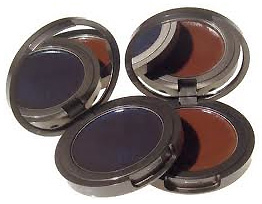 Three Custom Color Specialists Opaline Creme Eye Definer – I don't feel like I talk about Three Custom Color often enough which is odd considering how many of their products are in my kit. I recently discovered a cream eyeliner product from them and I love. Like any good cream/gel formulation these can go smudgy or sharp and then set to a non-budging finish. The Three Custom (or 3CC as they are affectionately known) cream liner also has a slight slight shimmer to it which is really flattering, particularly at night. It's not enough to look "sparkly" (which is usually a bad look), it's just enough to pick up light and make the eyes "pop". I particularly love Aurora which is another of those great "not Black" colors.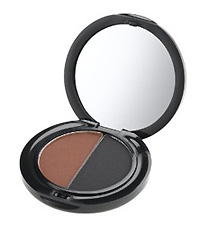 Benefit Babe Cake – Back in the day of old Hollywood, before there were liquid liners and long before gel liners, there were Cake eyeliners. Cakes are no longer as popular in the mainstream now that the newer formulations have taken over, but they are still great. I consider cake liners to be "Advanced Makeup" because you have total control over the product to do whatever you want with it. I really like it for when I want to do thick, prominent, "50's Prison Movie" – type liner. But it can also do very very fine lines easily, just by using a different brush. One benefit (no pun intended) to cake liner is that it's a more sanitary formulation because it's a powder that activates with water, but then dries back to a powder after use. If you are prone to pink eye and have had problems with liquids in the past, cakes may be a good option for you.
Drugstore Divas, do not dispair. While less expensive liquid eyeliners have historically been pretty bad (not enough pigmentation, skippy/non-smooth formula, flakes and wears off quickly, etc.) a number of companies have heard your cries and are answering the call…

Rimmel Professional Liquid Eyeliner – Rimmel has a well earned rep for being one of the better drugstore lines and their Liquid Eyeliner is further proof as to why. They call it a "professional" eyeliner and it really does rival any of the top end brands. Comes in Black and a pretty Silver color. Downside – I hear Rimmel may test on animals although I've yet to confirm this.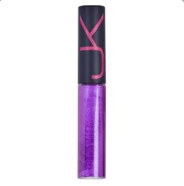 Jemma Kidd I-Tech Liquid Liner – If you're a color-technic kinda gal who has been frustrated with the lack of options for GOOD colored liquid liners in the drugstore brands, be frustrated no more. These are not as pigmented as say, Makeup For Ever Aqua Liners, but they are nicely pigmented and have a smooth formulation for an even application and they come in truly fun colors (as well as good ole Black).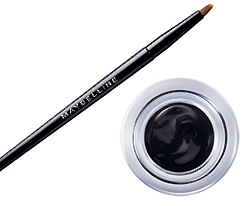 Maybelline Eye Studio™ Lasting Drama™ Gel Eyeliner – A student of mine recently bought these and was showing them off in her kit to me. I was dubious to say the least. Drugstore brands are pretty notorious for having things that look good in the packaging and then don't deliver when you apply them. Maybelline is clearly trying to bust that image as this product recently won an Allure Magazine Best of Beauty™ nod. I tried it myself and it really is great. This is the first really good low-cost gel liner option I've encountered. Even the brush that comes with it is good.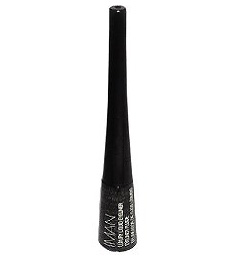 Iman Luxury Liquid Eyeliner – And for us divas of color, Iman has a very nice selection of liquid eyeliners. Again, with lower-cost brands the issue is always pigmentation because low pigment products just won't show on darker complexions. Iman's products never have this problem. The liquid eyeliners come in a nice array of colors (my fave is 'Sapphire') and apply evenly and wear nicely.
© 2010 – 2016, Tania. All rights reserved.