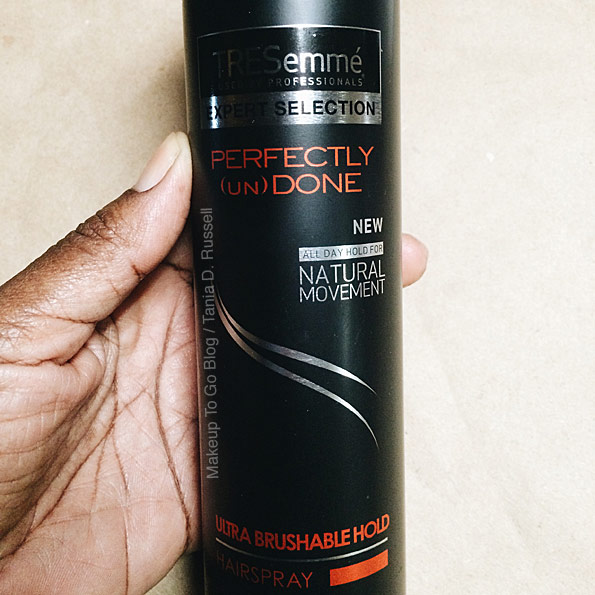 Whether pro or consumer or somewhere in between we've all been there…
You're away from home and you realize you're missing a needed product.
This has happened to me both personally and professionally more times than I care to even remember. Because this has happened to me a ga-zillion times, however, I've discovered a whole arsenal of GREAT "Lifesavers"; products that I can buy anywhere and that perform without missing a step.
Tresemme Perfectly UnDone Hairspray (pictured above)
I recently worked up in San Francisco and at the time I left LA, I was booked to do one commercial job and then also teach (I am a recurring specialty instructor at the Blush School of Makeup in SF). Neither of those jobs required me to do hair so I decided not to pack my hair kit. This was a mistake. While in the Bay I got booked for another commercial job, and this one required both makeup AND hair. UGH! I was able to borrow hair tools from the school (THANK YOU!) but I needed to get product, obviously, and Friday night the day before the shoot does not leave one with many options (particularly outside of NYC or LA). I knew I'd have to drugstore it and I KNEW I was getting Tresemme. Tresemme makes excellent pro-quality products and I can *always* find something to fit the bill. When I'm shooting I prefer brushable hairspray because I often need to change styles and I want a hairspray I can also use as a for thermal styling. Normally I use either Bumble and Bumble Does it All Spray or good ole Elnett and I will say that the Tresemme Perfectly Undone Hairspray can take the "Pepsi Challenge®" with either of those two products.
PRO TIP: Not packing any sort of a hair kit was a poor decision on my part. If you market yourself as makeup AND hair, always have a hair kit on you.


Jane Carter Solution – Curl Defining Cream
Again on the hair tip, but this one is personal not professional. I wear my hair in its natural, afro textured state. Thusly my main hair concerns are to a) keep my hair moisturized and b) keep my hair moisturized at all times. Speaking only for myself I do not particularly worry about curl definition and I've been natural for well over 20 years so I am incredibly hair lazy. Therefore I don't really use styling products unless they are also moisturizing so I can get some 2-for-1 action. Finding quality haircare (no petroleum, 'cone-free, no crazy fragrances, etc.) for natural hair has been drama until recently but now several good brands are available in Target and other such mass-retailers. One of my faves is the Jane Carter Solution brand, which is naturally derived, features many Vegan items including the Curl Cream, and all of her products are focused on moisturizing and nourishing the hair. The Jane Carter Solution brand is in Target, Ulta, and even Whole Foods Market so it is pretty easy to find no matter where I am. The line is not just for natural coily/curly heads either, Jane Carter Solution has products for all hair types so check it. Honorable Mention: Oyin Handmade Shine and Define cream. I love Oyin Handmade and I actually started using the line well before discovering JCS BUT while Oyin is now in Target, it is not yet quite as widely distributed and Target does not yet carry the entire product line.
PRO TIP: I also keep some of the Curl Defining Cream in my kit. It's a great styler for any sort of curly/coily/multi-cultural hair.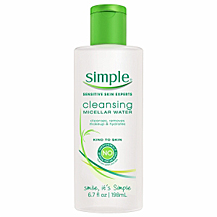 Simple – Cleansing Micellar Water
To date I've fortunately never been so out of it that I forgot my makeup kit, but I have had times where I've needed some quick skincare items. Micellar waters have become all the rage and makeup artists have, in fact, been using them for years because they do work (NO they do not replace washing your face, but in a pinch they effectively remove makeup and cleanse the face without needing to rinse afterward). Everyone by now has heard of the legendary Bioderma Crealine which artists used to have to bring back with them from travels abroad, and even now you can only get it in the States online at Beautylish. The Simple brand's Cleansing Micellar Water is vitamin-enriched and made with triple filtered water and leaves the skin refreshed and hydrated. The Simple brand micellar water is also much more affordably priced should you decide you want to incorporate micellar into your regular skincare routine.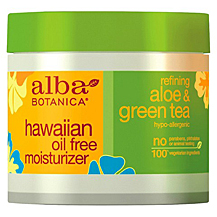 Alba Botanica Oil-Free Moisturizer Aloe & Green Tea
Finding an oil free moisturizer that does not contain a bunch of actives but that also actually does anything is challenging.
Finding a moisturizer that uses naturally derived ingredients but does not use an oil base is very challenging.
Joy came to my life in the form of Alba Botanica Aloe & Green Tea Oil-Free Moisturizer. When you first apply it, the texture may seem odd because it's a kind of gel-like and slippery. Initially it may seem like it didn't do anything but after a minute or so you will bask in how soft and supple your face feels. I also like this moisturizer because it plays nicely with Sunscreen (I don't like moisturizers with Sunscreen in them, I'd rather layer two separate products for maximum effectiveness). This has actually become a staple item for me since first discovering it in a state of desperation.


Nuxe – Huile Prodigieuse® Multi-Purpose Dry Oil Shimmer
I. Was. So. Stoked when I discovered that Target was now carrying select items from the Nuxe brand. Nuxe is another one of those "makeup artists love it" brands that was – not as ridiculous as Bioderma – but a little challenging to get as it started as a small brand generally available in specialty stores (like Space NK), but now Nuxe is all grown up and widely available. Like everyone else in the know, I absolutely adore the Nuxe-Huile Prodigieuse® Multi-Purpose Dry Oil Shimmer. Nuxe is known for their famous dry oil, Huile Prodigieuse for Face, Body and Hair. This is that same amazing oil base with shimmer added to it. I can do so much with this product anytime I want to add a pop of sheen (or change product texture) on body, hair and face. I first bought this on the road when I got booked to do a red carpet client and I needed to add a little bit of highlight to her face and some color and sheen to her legs. Worked a treat.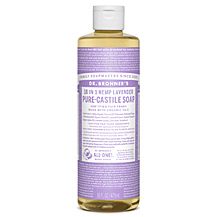 Dr. Bronner's Pure Castile Soap
Maaaan… listen. This stuff has saved my life more times and in more situations than I can even count. It can literally be used from head to toe for bathing, it can be used for laundry, it can wash makeup and hair brushes, it can even be used to brush your teeth (yes I've done it, and it's actually fine just don't use more than a couple of drops). This product is the definition of a lifesaver AND you can get it practically anywhere now, from Target to Trader Joe's, and even some mainstream grocery stores. And it's organic and comes in an array of yummy scents. 🙂 (I personally prefer the liquid version. Liquid soaps are more hygenic and more versatile IMO, but Dr. Bronner's is available as a bar soap if that's what you like better…)


Coconut Oil
'nuff said. (I will say that I prefer organic virgin coconut oil if I can get it and considering you can even get it at WalMart these days… it's pretty easy to get.)
Obviously, we would all prefer to have our standby, "Holy Grail" products with us at all times but let's face it; life happens. It is good to know, however, that when for whatever reason do not have one of my tried and true regulars, there are a lot of quality products which I turn to in pinch.
Do you have some Lifesavers products I didn't mention? Tell me in comments 🙂
—-
Have you signed up for the Makeup to Go Blog newsletter yet? Join the fun for exclusive content, giveaways, and other assorted fabulosity! Makeup to Go Blog Newsletter – "Speaking of Makeup"
© 2015 – 2016, Tania. All rights reserved.