A couple of weeks ago here on Makeup to Go Blog, I posted an article regarding knowing when it was time to say "Goodbye" to your old makeup (click to read "Breaking Up Is Hard to Do: When to Toss Makeup). In that article I made mention of the fact that some rules can be bent or even broken. The trick? Kit Sanitation.
Makeup artists refer to their makeup product & tools as their "Kit". If you have a lipstick, an eyeliner, a mascara and a few brushes, that is your Kit. Makeup artists obviously have a lot more in their Kits (not to mention an artist that does Airbrush or an artist that does FX), but the point of the story is whether your Kit contains 5 items or 500, proper care, maintenance and storage will enable you to keep and use your products longer. I debated doing this post as a "Makeup Monday" or as a "Biz Talk" post but as I was writing the makeup purge post I realized this is relevant info for pros and non-pro makeup lovers alike 🙂
THE HARD TRUTH
Humans are bundles of bacteria, as are most things in the world. It is this constant contact with a barrage of bacteria why we cannot just keep makeup indefinitely. Think I'm exaggerating? Check out this LiveStrong article on the different types of bacteria found on cosmetics, transmitted through human contact.
– Staphylococcus epidermidis
– Staphylococcus warneri
– Pseudomonas aeruginosa
– Methicillin-Resistant Staphylococcus Aureus
So we're talking 3 different forms of Staph infection, and one other infectious bacteria that is even worse. No bueno.
WHAT TO DO
Short version: Keep your stuff clean!!!!!
As a semi-germaphobe I just cannot believe the condition in which I've see some people's makeup and tools. Sad to say, I include non-pros AND pros in this statement 😐 Keeping your products and tools clean will not only lessen (not eliminate, lessen) the risk of catching some of the afore mentioned nasties BUT it will enable you to keep makeup longer. No makeup artist is buying a limited edition NARS palette and then tossing it after a year, that's laughable. I owned my beloved "Skin Deep", "Emotional Rescue", and "Rapture" palettes for about 6 years or so (from when they came out until this past Labour Day weekend when I did my purge) and they were in steady rotation in good working use for about 5 of those 6 years. That final year was me being in denial and not ready to let go, even though the lipsticks were giving me that telltale smell 🙁
HOW TO CLEAN
Ask a number of makeup artists and you'll likely get a number of different answers, but in 15+ years I've never had a sanitation complaint or had talent have a negative reaction (that I am aware of) from my Kit. Here's how I keep it clean;
Cream Products
(Foundations, Blushes, Eyeshadows, Lipsticks, etc):
SPRAY WITH ALCOHOL AFTER USING.
In my professional life I use a (preferably metal) spatula to take product out of its container so I can use it on my talent/client. On myself, of course, I just use the product directly on my face. In either case, I give a quick spray with alcohol after use (yes, even when using a spatula because the product has been open and hence exposed to air). Let the alcohol sit on the product for at least 30 seconds. I just give my product a good spray down and let it air-dry and by the time its fully dry it is good to go.
Powder Products
(Eyeshadows, Blushes, Bronzers, Pressed Powder, Powder Foundations, etc.)
SPRAY WITH ALCOHOL AFTER USING. Wipe top layer periodically.
Powders should last you a while because they do not carry bacteria the way creams and liquids do. That said, unlike creams and liquids you have to use them right out of the pan. With creams and liquids you can decant as needed and not have to "double dip" into your product. Since using powder products is a constant "double dip" you'll want to keep that top surface clean. Spraying with alcohol will NOT compromise your product, just be sure not to over saturate your product, and let the alcohol evaporate completely. You can – and should periodically – use alcohol wipes on your powder product so that you are actually removing the top layer of product revealing a fresh, new layer underneath. Some people recommend scraping the top layer of powder products, but one time of accidentally crushing your favorite eyeshadow, blush, or bronzer and you'll see why I'm not a fan of that method.
Liquid Products
(Foundations, Liquid Highlighters, Illuminators, Lotions, etc.)
USE PUMP and/or TUBE DISPENSERS
These are tricky because they generally need to be shaken and then most people pour the product out into their hand, often touching their hand. Once bacteria is in there, there is no way to get it out. My solution: Use liquids that come in a pump bottle. That way you only dispense what you need and the rest stays safe and isn't exposed to air, your hand, etc. If your favorite product doesn't come in a pump bottle or a tube, move it to one. Places like The Container Store or my beloved MUJI that I wrote about have empty pumps and tubes available. NOTE: Glass is better than plastic in terms of longer term storage. If you get a plastic container, don't try to reuse as plastic is porous. Just toss it when the product is empty and get a new one. Extra Germaphobe Points: Wipe the opening of your pump bottle/tube with alcohol periodically 🙂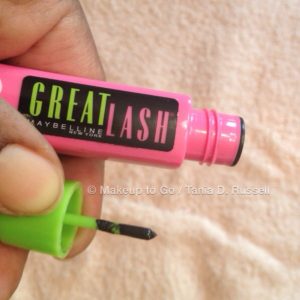 Mascara
CUT THAT WAND OFF!!! Use Disposable Wands Instead
Mascara just does not live long so your first order of sanitation business is just to accept the reality of that reality. However, you can make your mascara last longer by ditching the wand that comes with it and using disposable wands the way professionals do. And by ditching the wand I do not just mean not using it, I mean cutting it off. Why? Because every time you take the wand in and out of the tube, you are pumping air into the product. This not only increases the likelihood of introducing bacteria, it also dries the mascara out faster so you have to replace it sooner. By cutting the wand off you can stretch your mascara's life from 3 months to as many as 6 or maybe more*. NOW – a lot of the hype with many mascaras on the market IS the brush itself and how it applies product or separates lashes or what have you. IF you want to use the wand that comes with the mascara you certainly can (on YOURSELF, not using it on multiple people), just know that you'll have to replace your mascara more frequently.
Pencils
KEEP SHARPENED. SPRAY WITH ALCOHOL.
Pencils can actually last a while if well cared for. I do an alcohol > sharpen > alcohol routine for all of my pencils in my kit. For yourself, if you just sharpen your pencils** right after using it and keep your pencils covered (don't lose those lids!) you'll be removing that outer layer where the bacteria lives and your pencils will stay happy longer. Extra Germaphobe points if you sharpen your pencil AND spray with alcohol after each use.
Gel / Liquid Liners
NOT A WHOLE LOT YOU CAN DO
With Gel liners, which is what I primarily use, I scrape a small amount of product out with a spatula and I spray the gel liner with alcohol after each use. As we all know, gel liners tend to dry out quickly anyway, and alcohol hastens the process. Therefore like mascara, this is just a category of product that does not last very long.
Liquid liner is great for personal use but tricky for pro use because the brush/applicator sits in the product in the tube. Therefore to use the product you are constantly double dipping. For professional use if I decide I'm going to use a liquid liner for whatever reason it's a case of one and done for me. I use it and I give it to the person I used it on and just keep it moving. For personal use, you can wipe off the brush/applicator tip with alcohol before re-inserting it into the tube. This may help a bit but again, this type of product by its nature just doesn't last long.
Tools
(Brushes, eyelash curlers, pencil sharpeners, etc.)
CLEAN, BABY, CLEAN
I said this in a previous Makeup to Go post and I'll say it again: Everything I just wrote is completely moot if you do not keep your TOOLS clean. Your TOOLS are the items making direct contact to the skin and hence they are the carriers of the bacteria.
– WIPE BRUSHES AFTER EVERY USE. Its not hard, in fact it only takes a few minutes. Wiping your brushes with a specifically designed quick brush cleaner will remove surface oils, skin cells, etc. that get on your brushes. Hence you won't transfer that back to your product, hence your product will live longer. There are many brands, just make sure they disinfect as well as clean pigment. And always let the brush dry completely before using again, you do not want brush cleaner on your product or on your face! In a pinch you can always use good ole alcohol (just be forewarned, over use of alcohol will dry your bristles and cause your brushes to age prematurely). My brush cleaner of choice: Parian Spirit
– DEEP SHAMPOO your brushes at least once a week. If you're doing makeup on other people, please do this as close to daily as possible. Again, there are a number of good brands, and in a pinch you can use either a shampoo/conditioner all-in-one like Pert, or any baby shampoo. My brush shampoo of choice: Clean Brush
– WIPE METAL TOOLS such as tweezers, eyelash curlers, pencil sharpeners and spatulas with alcohol after every use. And when they start looking raggedy, just replace them.
– WASH YOUR HANDS before doing anything. Our hands are our most important "tool" in our "kits". Before handling anything and certainly before touching your face, wash your hands with soap and hot water. At very least wipe with a sanitizing cloth and use hand sanitizer. It makes a huge difference.
PRODUCTS TO HELP YOU STAY CLEAN
– Alcohol
Preferably NOT 99% alcohol, it evaporates too quickly. I use either 70% or 91% alcohol, both of which are readily available at any drugstore. 70% is my favorite. The water content helps the alcohol evaporate more slowly so it disinfects more thoroughly but it is not so much water that it will ruin your product (I wouldn't recommend a 50% alcohol, too much water).
– Beauty So Clean
I've not personally tried it but I know many pros who swear by it. The main active ingredient in BSC is alcohol. The difference with BSC is the addition of emollient agents. They claim that straight alcohol can dry out and alter your cosmetics (not in my experience) and that BSC is formulated with a balance of disinfectants and emollients to prevent that from happening. Again, I've never had a problem with straight alcohol, but Beauty So Clean works and it smells good. If you'd prefer to use something other than straight alcohol, Beauty So Clean is there for you.
– Parian Spirit Brush Cleaner
(NOTE: Parian Spirit has lower alcohol content than most pro brush cleaners and uses citrus spirit as its main cleaning/disinfectant agent. Therefore it does not dry as quickly as other "quick clean" brush cleaners and the smell is very citrus-y. I love it, some folks hate it lol)
– Clean Brush Shampoo
Solid brush shampoo to deep clean your brushes.
– Bleach
This shouldn't need to be said but I'll say it just in case: DO NOT USE BLEACH ON YOUR COSMETICS PRODUCTS. It'll ruin them. However I do use a small amount of bleach on a q-tip to clean my pencil sharpeners periodically. Wipe, let sit for a bit, then RINSE with water and dry thoroughly. Do not try to soak your sharpener in bleach, it will rust all the metal bits (ask me how I know that 😐 ).
STORAGE makes a big difference as well in the longevity of your products but speaking of long, this post already is. Look for a post on storing your cosmetics in an upcoming Makeup Monday.
© 2014 – 2015, Tania. All rights reserved.