As an artist and as a woman I am a minimalist…
When it comes to my makeup – both personal and professionally – I have always aspired to carry as little as possible and still be able to get the job done. When I heard that makeup powerhouse Francesca Tolot often carries little more than a small sized Art Bin™ box, she became my patron saint. I do not know if that rumour was ever true but it's my goal and I am sticking to it!
One of the ways I keep both my kit and my own personal makeup bag small is by carrying mini makeup products aka minis whenever possible. From nail polish to skincare to eyeliners, if you want a mini version it probably exists. Here are some of my favorites new and old.
1 ) Tarte Ring It In Mini Cheekstain Set (pictured above) –
I mentioned these here on Makeup to Go! when they first came out, but these are worth a second mention. As we all know, I think the Tarte Cheekstains are some of the most fab makeup items ever, and this little set in three great shades is just the perfect size for work and play.

2 ) Dermalogica Skin Kits –
If you are already a fan of these products and do not want to be without them, these Skin Kits are great. If you do not know the line and want to learn what all the praise is about, these kits are a great way to try these products. Either way these sets are a Win Win. The Skin Kits come in Dry, Normal/Dry, Normal/Oily, Oily, Ultra Calming (sensitive skin) and MediBac (adult acne) and feature travel sizes of some of Dermalogica's best and most popular products.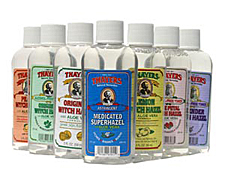 3 ) Thayer's Witch Hazel –
The Witch Hazel generally available in the drugstore is often glorified rubbing alcohol. Thayer's is a true Witch Hazel extract and one of my favorite facial toners. I personally stick to the alcohol-free varieties (out of the 9-product sample pack, 5 of the formulas are alcohol free) but with this great little set you can try them all and see which one you like most.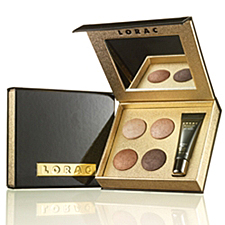 4 ) LORAC Little Black Palette –
This is just a a great little mirrored eyeshadow palette filled with 4 "more than" neutral eyeshadow shades AND a tube of eyeshadow primer. Perfect to create day or evening looks while on the move.


6 ) Urban Decay 24/7 Travel Sets –
To go along with your eyeshadow palette, how about a set of some of the best eyeliners on the market? Urban Decay just introduced these travel sized sets of their famous 24/7 pencils. The sets are available in Naked which are the more neutral colors or Electric which are the "wild" colors, and you will want to get both (I did!).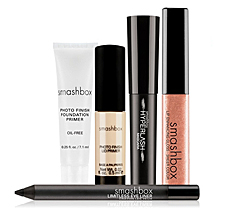 7 ) Smashbox Try It Set –
The Try It set is the bomb. For $20 you get travel sizes of Smashbox's Photo Finish primer, the Photo Finish Lid Primer (eye shadow primer), a mini Hyperlash Mascara, a mini Lipgloss in Illume which is a great shimmery, nude-y pink. This is perfect for a travel bag or a set bag.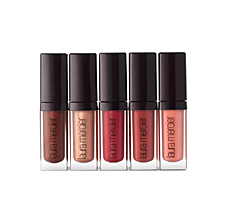 8 ) Laura Mercier Limited Edition Mini Lip Glacé Set-
They are calling this a limited edition so you know what that means – if you want it, RUN! This is a great little set of 5 lipglosses in great colors. Laura Mercier lipglosses are rich and creamy to the feel , high shine without being sticky and have come in rich colors. There is also a version of this set that is apparently exclusive to Sephora. I will have to go see them in person to see which colors I prefer but in any event I will be adding these to my arsenal.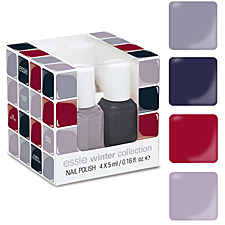 9 ) Essie Nail Polish Minis –
It may come as a surprise but I always carry nail polishes in my pro makeup kit. I was just on a magazine shoot recently where we had to paint all the models nails, there was no manicurist on the shoot, and my nail polishes saved the day. Almost every nail brand nowadays makes mini versions of their nail polishes so if you have a brand of choice just check their website (or search the web). My brand of choice is generally Essie because of their long lasting formulations and fashion forward color selection. In fact, that is their one downside – they introduce new colors/collections regularly so old favorites may become difficult to find. To avoid this problem, as soon as I see a collection I love I snap it up!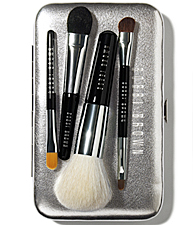 10) Bobbi Brown Party Collection Mini Brush Set –
This is another limited edition item. There are a lot of mini brush sets in existence and generally I am not a fan because they are of poor quality. I have not tried this set in particular but I have several Bobbi Brown brushes in my possession and the Bobbi Brown line has long been known for making excellent brushes. Therefore, I'd be more than willing to give this set a shot. I also like the collection of brushes included – it is everything you need to do a complete face. This is obviously perfect for travel, but this is another item that I would also consider getting for my set bag for quick touch-ups.

© 2011 – 2016, Tania. All rights reserved.