Once again I had the pleasure of attending a makeup artist trade show. This time around was the International Makeup Artist Trade Show aka IMATS Los Angeles 2015.
This year was a bit different for me because I was (and still am) actually working up in San Francisco and had to fly down for the show. But armed with inexpensive airfare (thanks JetBlue!), I was able to make it down to see makeup artist friends, stay in contact with vendors, see fabulous lectures/demonstrations, and yes, do a little bit of shopping.
If you're an old-timer like me, it's difficult not to take note of how much IMATS has changed over the years, in ways that are both good and bad for the professional artist. When it was the only show of its kind, it was pretty darn hardcore. Nowadays..??? I was not able to make it to Pro Night on Friday because I was working, but I could feel the change in subtle ways all throughout the show: From having to constantly ask for my receipts from purchases made, to pricing definitely being higher than standard pro pricing on some things, to going to amazing lectures where the audience was half empty. The focus of the show from the standpoint of the majority of attendees was squarely on shopping and in particular all of the lines that are popular in the online makeup world such as Sigma, OCC, Anastasia, and Morphe Brushes for example. Those are all great brands, but it just says a lot about the attendance of a show when those brands literally have long, winding lines but longtime pro staples such as Reel Creations were comparatively empty. Sad to say most of my students seemed to be mostly interested in shopping as well. I guess the shopping frenzy bug is something that slows down over time…
I got like 5 things and that was way more shopping than I thought I would be doing. My Saturday partner in crime – Fab makeup artist Renee Loiz – had some things she needed to get and suffice to say she was a bad influence 😉
Since I was doing the back-and-forth shuffle, I left my bag go goodies at home in LA without remembering to take a photo of my haul first. :|. Anyway, here's a breakdown of what I got.
Parian Spirit
For once I did not get Parian Spirit, HA! I have plenty for the moment. I'll see them in March at the Makeup Show.


Face Atelier
I have a few colors I need to restock in the fabulous Ultra Foundation, but I did not get them. Why you may ask? Because instead I bought a couple of the newly introduced Ultra Skin foundation. The Ultra Skin is a lighter weight formulation but I would not call it a tinted moisturizer. It's almost like a balm. It felt hydrating and smooth on the skin, gave true coverage and a beautiful finish. I cannot wait to try it on a shoot soon! (sadly it is not up on the Face Atelier website just yet so no photo 🙁 )
Glam Kitti
Glam Kitti is the brainchild of celebrity makeup artist Monifa Mortis, and an idea whose time actually came a while ago so I'm glad someone's actually created it. For those of you who do bridal, private clients, red carpet, or work in any scenario where you have to give your client some cosmetics so they can keep their touched up, you know that doing so has been a chore. The best we as artists have been able to offer to date are those little jars and some spatulas in a plastic baggie. Not cute. Ms. Mortis has created a recyclable mirrored compact consisting of a lip brush, applicator, spatula, & powder puff, wells for 6 cream products, a little well for powder, and 6 blotting powder sheets! All in a little compact that fits in the smallest of palms. How genius is this??? The benefit to this for makeup artists is obvious, but this should do well in the consumer market as well. I bought a couple, one specifically for myself for traveling. No TSA confiscation of my cosmetics, thank you… (click here to check out the cute little infomercial for the Glam Kitti )
Dante Brush Cleaner
One of my fab makeup gals told me about them a while ago, and I've been looking forward to trying ever since. Unlike Parian – which uses citrus oils as its primary cleaning agent so the smell is very strong and it takes a while for the oils to evaporate – Dante is more of an innocuous liquid. No color, no scent and non oily. So obviously it is not an all natural product as I generally prefer, but I am hoping this will be good on set when I need to clean and reuse brushes quickly.
Bioderma Sensibo (Crealine) H2O Cleanser
This is when I knew that even for non FX artists, most of the attendees were non pros. This booth should have been swamped. Artists have been coveting the Bioderma Crealine (Sensibio) H2o Ultra-mild Non-rinse Face and Eyes Cleanser for years. For American artists it's meant waiting until you or a friend went to Europe, or over paying on European websites or Amazon. It's that good. Now, however, BeautyLish will be carrying the product for the American market. Hazzah! And while I'm sure their prices will be good, the prices at the show were crazy good. I bought a grip. If you didn't, ya missed it! 😉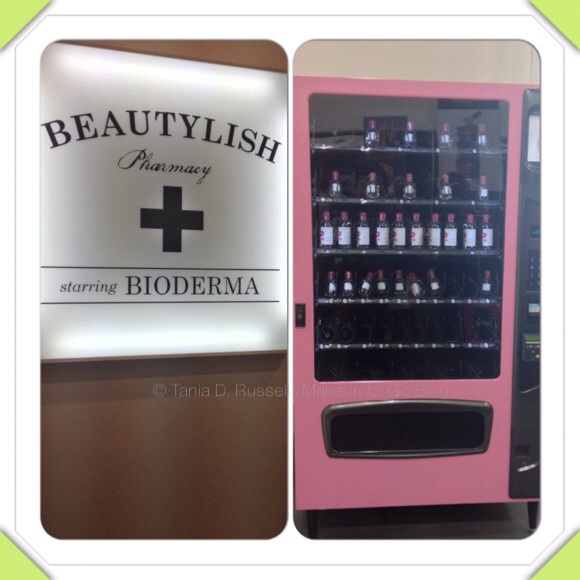 Ben Nye Banana Yellow powder
I am so annoyed with myself on this one. I braved the ridiculously long line at Naimie's booth SPECIFICALLY to buy a jar of Banana Yellow powder to bring back with me to my class I was teaching in SF. Guess what did NOT make the trip back up to SF? 😐 And I overpaid, that price was definitely full retail. #LeSigh. I guess I'll bring it next time I teach this class. On the positive side, Naimie's line was crazy, but they were very efficient and the line moved quickly. (In fact, I paid MORE than what is currently listed on their website. Great 😐 )

On the Lectures tip, I only got to attend 2 but they were both amazing. First was Stephen Dimmick who is a high-end beauty/fashion and celebrity artist. His work is stunning, but yet again his lecture was more than half empty. What an opportunity missed! Stephen gave those of us in attendance a wonderful retrospective of himself as an artist and how he grew his career as well as his thoughts on the state of the industry today. He was warm, real, candid, and completely on point.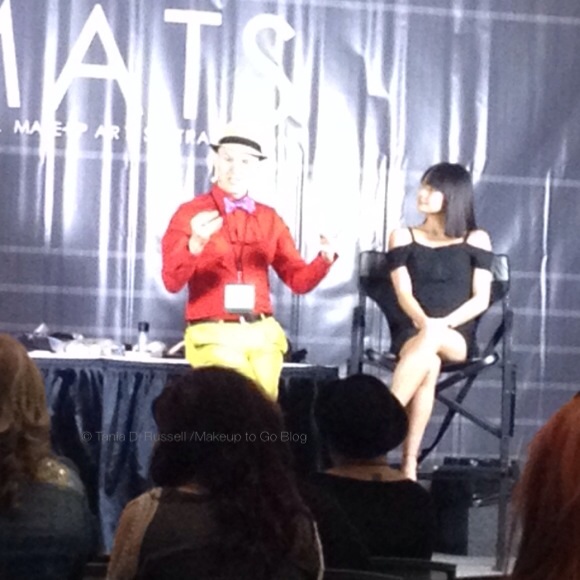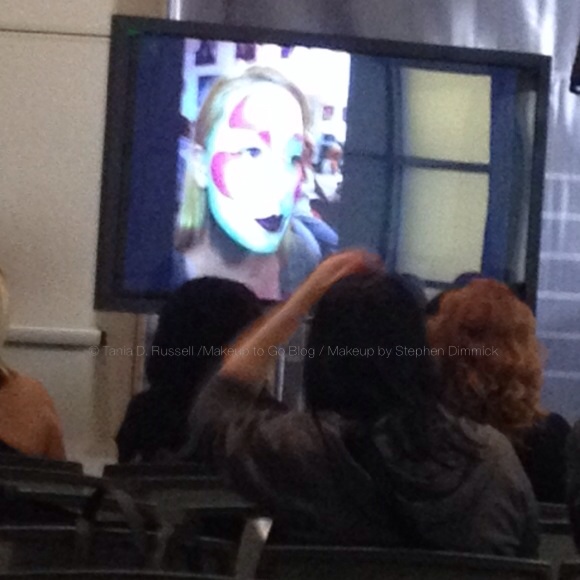 The second lecture I attended was Francesca Tolot. Her lecture was well attended although a lot of people heard like the first 10 minutes and then left. SIGH. Anyway, for those who stayed, she shared stories of the creation of her book One Woman 100 Faces
(disclosure: affiliate link to help keep Makeup to Go! going 🙂 ). What I was impressed by and I really hope a lot of young artists heard was how collaborative the project was, and how much she honored and regarded her collaborators. I've already personally come across a few unfortunate incidents of "ME ME ME" since I've been teaching and its… yeah. Humility and gratitude for those who help to lift you up is so much of being an artist, and to see someone at the absolute highest level show such respect for her team was truly refreshing. And then of course her work is just Bananas. She had three live models come out in looks featured in the book. All were amazing, one I do not even know how she did it. Unfortunately they were moving so my photos aren't great, but you get the point. Amazing.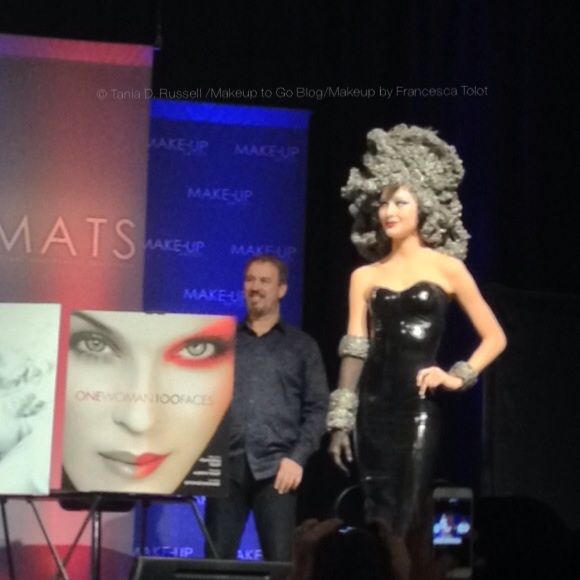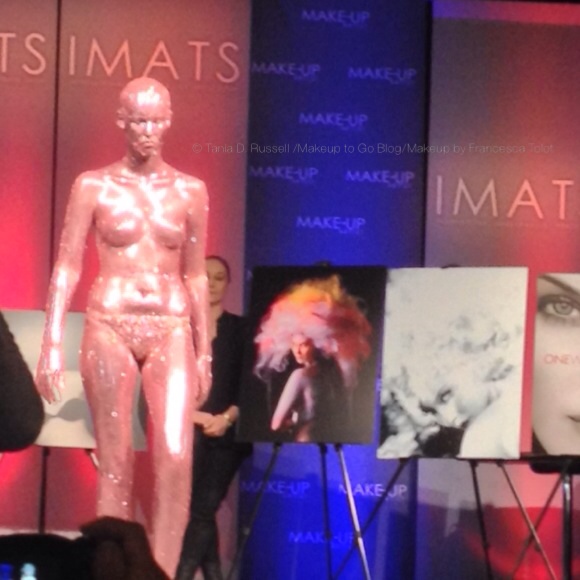 Once again, I left a trade show inspired and excited to be a makeup artist.
© 2015 – 2016, Tania. All rights reserved.