Two years ago, early in Makeup to Go!'s existence…
I wrote a piece about what I felt were the "top lip glosses" at that time. Funny how time flies because a lot of those lip glosses are no longer on the market. This is both the ecstasy and the agony of being a makeup fanatic; there is new product out all of the time BUT you never know when one of your ultimate favorites will be discontinued. A lot can happen in two years so let us now take a look at what happened to some of my faves and what are my favorite lip glosses 2012.
Honorable Mention: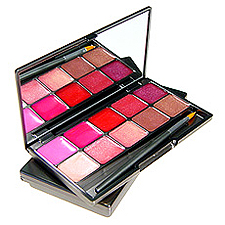 – Three Custom Color
I am not sure why I did not mention them in the first article so I am mentioning them now: Three Custom Color – or 3CC as they're also known – makes fantastic lip products. They do make individual lip gloss wands, but most makeup artists, myself included, worship their lip gloss palettes. I have had the "Century of Red" palette in my kit since forever and I have recently added the "Perfectly Pink" palette (pictured) as well.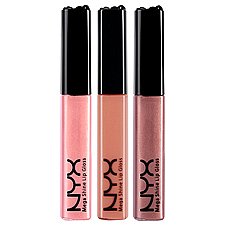 5 )
Then: Cargo Lipgloss Tins
Now: NYX Mega Shine Lip Gloss
I discovered these particular NYX lip glosses a while ago and what I love is they are nice little knock-offs of the Smashbox Lip Enhancing glosses. They are not quite as thick in texture hence they do not last quite as long as the Smashbox, but they have a good texture and a good amount of wear, and they come in a great selection of colors including some "wild" colors, some nice reds, and some **great** basics (nude, apricot, rose, cocoa, etc). What is great about these is they are really cheap (in price, not in quality). Like cheap-y cheap. And I never recommend cheap cosmetics because usually cheap cosmetics are terrible but these are cheap and great. Can't beat that!
What Happened to Cargo? Pretty much the same as I mentioned in the first article, they discontinued the lip gloss duo tins in favor of lip gloss quad tins, and they changed all the color combinations, discontinuing many of their best colors.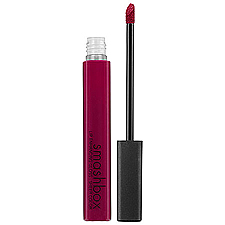 4 )
Then: Tarte Double Ended Lipgloss Wands
Now: Smashbox Lip Enhancing Lip Gloss
Yep, Smashbox has dropped down a bit on my list. This is NOT AT ALL due to a lapse in quality, oh no. This is strictly because they have dramatically cut the options of this product. The Lip Enhancing Lip Gloss used to come in three formulations (Sheer, True and Full) with a variety of colors in each formulation. Now Smashbox has cut it down to 17 colors in total, many of which are shimmery. The new lip gloss that Smashbox is offering – the Reflection High Shine glosses – is also shimmery. Smashbox seems to be going through a shimmery phase but unfortunately I am not a fan of shimmery glosses. If you are, yay for you Smashbox has lots of very nice shimmery colors right now. For me, not so much. As if this were not all painful enough, my FAVORITE of the Lip Enhancing Lip Gloss colors – "Debut", a perfect creamy rose color – has been discontinued. Quel Dommage! (Pictured in the photo is "Tease" – a sheer raspberry)
What happened to Tarte? They have many other fantastic lip color products, but they discontinued the double-end lip gloss wands entirely.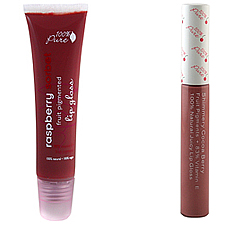 3 )
Then: Korres Lip Butter
Now: 100% Pure Lip Gloss
I still like Korres Lip Butters and Lip Butter Glazes quite a bit but these days I am going to have to give the nod to 100% Pure Lip Glosses. A ) I think they are better glosses. The butters are pretty but they are more like lip balms. B ) 100% Pure is committed to being a vegan, naturally derived, cruelty-free line. Korres USA is under a licensing agreement with Johnson and Johnson so while most of their products are naturally derived, I do not honestly know how natural Korres is or if they are cruelty-free with regards to their testing policies.
With 100% Pure, I know what I am getting. Their lipglosses are fruit pigmented and vegan and gorgeous. They have great texture, great scent, wear well, feel great and come in super pretty colors. I particularly love the "Raspberry Sorbet" gloss tube and "Shimmery Cocoa Berry" and "Pink Caramel" gloss wands.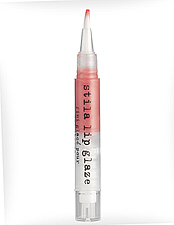 2 )
Then: Nars Lipgloss
Now: Stila Lip Glaze
Stila's Lip Glaze pens have been around for a little bit now. I think I got into them when I went to the Warehouse Sale a couple of years ago, and they have been a fixture in my kit ever since. When I want a light, sheer hit of color and gloss these are amongst my Go To-s. The weight and texture are very light, the amount of gloss is very flattering, they are just very pretty. Another big plus is that they come in a variety of shades that all skin tones can wear. Stila changes/adds new colors regularly but as of right now they still have "Watermelon" "Apricot" and "Blackberry" which are three of my favorites.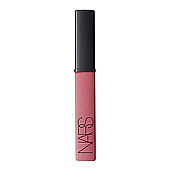 1 )
Then: Smashbox Lip Enhancing Gloss
Now: Nars Lipgloss
I remember it being a difficult to choose between Smashbox and Nars for the top spot when I wrote the original lip gloss article. If memory serves, my heart chose Nars but my mind chose Smashbox basically because I felt Smashbox was more accessible to more women. That may be true but I should definitely have followed my first mind. Nars is just phenomenal. What is more, they do not just randomly drop great products for seemingly no reason (Well, almost. They did drop all of their best Artist Palettes on me a few years ago but I digress…). They introduce new colors and formulations regularly, but in Nars world that does not mean the existing great colors have to be dropped. This pushes them to the head of the class by a mile for me. For makeup artists new is fun but for every ten new products if you are lucky one might prove to be a classic. Once you have found a classic you never want your kit to be without it. Consistency is key and I need products that I know are going to be fabulous every time I use them. All this said – yes Nars is pricey. If you can afford to get a few of the glosses, do so, you will not be disappointed. If you cannot afford to go whole hog, save up and get a couple. You are worth the occasional splurge and again, you will not be disappointed. I do not even have a particular color recommendation for Nars lip glosses. Pick whatever color strikes your fancy, it will be amazing.
© 2012 – 2016, Tania. All rights reserved.