Behold! The first in Makeup to Go's version of "swatches"…
As you can see, our idea of swatches is a bit different. As a makeup fan, I understand that seeing the actual product on an actual person is a more accurate way to see a color/texture/etc. of a product. As a professional makeup artist, I also want to know how it wears, how it looks in different lights, and how it photographs. Therefore – about every month or so – I hope to pick a product line or a theme or the like and USE them in a professional photoshoot and see how they perform. First up to bat I am featuring the Fashion Fair Supreme Color Collection by Sam Fine.
For those who are not familiar, Fashion Fair was founded in 1973 by the late John H. Johnson and his wife, the late Eunice W. Johnso. The goal was to address the lack of cosmetics available for women of color, particularly African America women. You can click here to read the full story but basically put; long before there was MAC or before it was expected for a mainstream brand to have colors for "ethnic" skintones, Fashion Fair was there to fulfill the need. Like many a brown girl of a certain age, I grew up watching my grandmother, mother and all of the women around me using Fashion Fair. The pink packaging with gold leaf writing brings back strong memories. Over time, however, Fashion Fair began to recede in popularity as the mainstream brands did start to (finally!) address the needs of women of color. That coupled with dated color palettes and formulations (and some would say the packaging was dated as well), and Fashion Fair began to slip a bit in the competitive cosmetics marketplace. Enter master makeup artist Sam Fine. In August 2011 it was announced that he would be joining Fashion Fair as the Creative Makeup Director and begin designing signature Trend lines for the brand. His first collection came out in 2012 and was an instant success, bringing a much needed breath of fresh air and vitality to the brand.
In this story, I am working with his latest collection, The Supreme Color collection. I am focusing on one eyeshadow palette in particular, the Amalfi Coast quad. I chose to work with the eyeshadows because eyeshadow is one of the areas where rank-and-file consumer cosmetics often do not work for women of color because they lack adequate pigmentation. I have even found this to be the case with some of the better brands. On the other hand, a woman wants a palette of wearable colors and not necessarily the extremes of brands such as Sugarpill or LimeCrime. Overall, I was very impressed with this palette. The shadows are wonderfully pigmented and have a creamy texture with good color payoff. Unlike a lot (most) higher pigmentation eyeshadows, they are creamy instead of powdery, which means they are easily blendable and have less fallout. All that said, let's see the products in action.
…and here are swatches of the colors on my model's hands both dry and damp (most eyeshadows that can be applied dry can be applied damp to increase the pigmentation and staying power).


As you can see, the Amalfi Coast quad is a more "neutral" palette, although Mr. Fine modernized by Quad by adding a pop of color in the form of this year's trend color of Emerald Green. It is smart touches like that which make this Collection on trend without being overboard trendy. (The other quad in the collection, Tunisian Nights, is a jewel-tone blue & purple palette).I also used some of the lip colors from the collection in my shoots. Here is a swatch of all of the lip colors in the collection. As you can see, the color palette is fresh and contemporary with a few classics mixed in. The lip colors are also nicely pigmented while still creamy and blendable, and the pigment lays very evenly. Also used throughout the shoot, although not pictured, is the Canary Diamond gloss which is a nude-y/gold shimmer. I liked it, but I wouldn't say it was remarkable.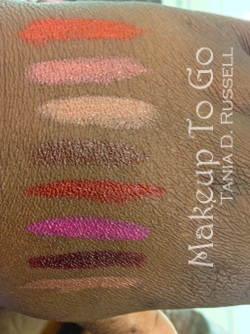 OK so for look #1 I of course started out with a clean beauty/daytime look using only the burgundy/bronze shimmer (lower left corner) and the light gold shimmer (upper left corner). I used the shadows dry. (all makeup below by Tania D. Russell, photography by Gorgeous Digital. These images are NOT STOCK and unauthorized usage is prohibited.)

Next I wanted to do something a bit more "glam", so I used a lot of the light gold shimmer on the center lid to create highlight and added the matte brown (lower right corner) to the outer corners of the eyes to add depth. The burgundy/bronze and light gold shimmer shadows blended like a dream dry or dampened. I found that when damp, the matte brown grabbed a bit which is something matte shadows can do. I was able to blend it out by using a bit more of the same brown with a dry brush. The lipcolor is Whispering Rose, also from the Supreme Color collection.
Next I wanted to ramp it up to a full smokey eye. This is where I was wishing for a Quint instead of a Quad, because I was really wishing I had a black eyeshadow to work with (there is a matte black color in the Tunisian Nights quad). As it was, I was able to achieve more depth by using the matte brown color all over the lid, blending out into the burgundy/bronze, and rimming the eyes with black eyeliner. The lipcolor is a mix of Cognac and Deep Suede, topped with a touch of the Canary Diamond lipgloss, all from the Supreme Color collection.
Finally, I got to do my favorite which is a simple but strong wash of the Emerald Green color blended out into the crease. For the lip color I believe I just used the Canary Diamond lipgloss.
And there you have it. Four distinct looks from one eyeshadow quad. I was definitely impressed and I would recommend it to anyone considering this for themselves or their kit. Speaking of "for your kit", Fashion Fair is apparently hosting a booth at the upcoming Makep Show trade show, and the Sam Fine Supreme Color Collection will be available (no idea if discounted).
Many thanks to Gorgeous Digital for their fabulous photographic & retouching work and our lovely model Ja'Veonna for making this article possible. ALSO – if you're wondering about the fabulous jewelry worn in this shoot, we had the pleasure of shooting this story in the store, Made In Earth located in Venice CA on Abbot Kinney. Proprietor/Creative Director and master Deisgner Bunny Bedi hones raw gems/earth stones and even meteorites (!) into one-of-a-kind jewelry pieces. Due to the nature of honed stone, no two pieces are exactly alike. We were honored to be able to use his gorgeous creations in our photo-shoot. I became an instantaneous fan! (and yes, that is a "sand rug" on the floor of his store).
Fabulous Photography: Gorgeous Digital
Makeup: Tania D. Russell
Fabulous Model: Ja'Veonna
Fabulous Location: Made in Earth
Disclosure: I was given the Tiger Iron pendant pictured in exchange for work on a shoot we did for Made in Earth. (yay me!) All cosmetics used were PURCHASED by me for this story.
© 2013 – 2019, Tania. All rights reserved.