…Alas the Dedra Beauty line is no more, it's doors closed in 2016. I still use products from the line regularly in my kit, particularly the foundation sticks, the eyeshadow chubbies and the cream blushes. If you see Dedra Beauty come up in swap groups or on ebay or the like, BUY IT!…
OK let's talk makeup. If you follow any of my social media streams you have heard me speak frequently of Dedra beauty. What is this Dedra beauty of which I speak? you may be wondering. Well now I'm gonna tell ya all about it.
Dedra beauty is the creation of LA celebrity Makeup Artist Dedra Whitt. You may know her as DD from her star turn on the Real Housewives of Beverly Hills, as she has been one of Camille Grammer's makeup artists for quite some time. Well, miss Dedra and I know each other from when we worked together for a mutual client. From the time I was introduced to Dedra beauty I have been nothing but impressed. So much so that – in the spirit of disclosure – I am one of the artists on Team Dedra. I am proud to be associated because its a great new line so let me tell you about some of my fave items.
THE FOUNDATION STICKS
When she first launched the line, Dedra beauty consisted of only one product; the fabulous Foundation Sticks. Makeup artists are kind of obsessed with Foundation the way the general populace is obsessed with mascara (a worthy obsession to be sure). Why? Because skin is everything. What I loved about the Dedra foundation sticks right off the bat was the finish and the color selection. Dedra foundation is a build-able formulation with a true "skin" finish. Meaning when applied properly, the wearer has great SKIN not a "foundation-y" look. I have used this foundation in many a photo-shoot and it photographs beautifully as you can see above. Moreover, it has become my go-to foundation for my private clients. As with all of the Dedra beauty products, the Foundation Stick is chock full of "good for you" ingredients and is Paraben and Talc-free. Color-wise the Foundation Sticks are more neutral/warm which makes them more wearable for a wider range of people. My only ding is that she used to have a color – "Dark Coffee" – that was a perfect deep orange/red brown for people of my complexion. I hope that color makes a comeback!
Honorable mention goes to the Tinted Moisturizers. For my needs I do not use Tinted Moisturizers as often as I do foundations, but if you prefer a lighter formulation to even out skin tone, they are a winner. OR you can use the tinted moisturizer all over and use the foundation stick in spots as your concealer. See? Versatility! (and I just noticed on the site that you can order samples of the foundation so you can "try before you buy")
THE LIPGLOSSES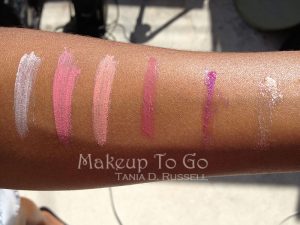 If you've read Makeup to Go with any regularity you know that I am a lip color fanatic. I love these lipglosses. The colors are super saturated and "juicy". They are my favorite kind of texture – thick enough to last but not goopy and/or so thick as to remind one of motor oil. The lipglosses are based in Jojoba oil so they are hydrating and feel fab and they have a pleasant but not overbearing scent. Right now there are five colors, all of which work on multiple skin tones. Of particular note is the super versatile white pearl color, Diamond (white pearl is a trend color for Spring).
THE SMUDGE STICKS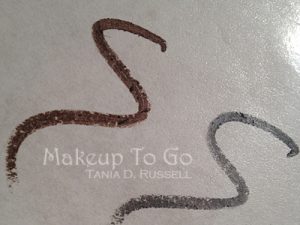 In my many years of being a makeup artist, there is no style I am asked to recreate more often than a smokey eye. Let's face it, nothing brings the drama quite like a good smokey. HOWEVER, executing a good smokey isn't always the easiest thing. These Smudge Pencils are a true one-step smokey. The formula is creamy and blend-able and they wear well once set. I have used it both as an eyeliner and as a full on eye color. With the three sticks – Champagne, Baroque and Smoke – you have everything you need.
THE EYES LIPS CHEEKS PALETTE
The Eyes Lips Cheeks palette quickly became the signature product in the Dedra beauty line and with good reason. This is the "belle of the ball" as far as I am concerned. I fell in love with this product as soon as I tried it. Firstly, it's WAY more pigmented than meets the eye. I used entirely too much the first time I used it. The colors are perfectly complimentary to one another so they work well blended together or used separately so everyone can create a color that works for them. And by everyone I mean everyone including my model in the lead photo on whom I used a combination of all 3 colors and I have used these on myself for a pretty glow. But lets talk about that texture. That gloriously creamy texture that gives a lovely satin finish on the lips and a wonderful, creamy non-sparkly glow on the cheeks. I have not yet tried this on the eyes but I can imagine this giving a pretty highlight when coupled with your eyeshadow application. AND it sets so it does not move around requiring 50,000 touch-ups. AND the palette is refillable. Dedra did the damn thang on this product!
Dedra often refers to her makeup line as "car makeup" meaning it is easy to use, requires no tools, and its so easy to apply women can just pop it on while in the car. While we here at Makeup to Go discourage applying makeup while driving – LOL! – Dedra beauty really is that easy to use which makes it GREAT for the everyday woman. Having been created by a professional media makeup artist, however, it stands up to everything a pro needs out of a makeup line from color range to pigmentation to being photo-true.
For now Dedra beauty is available online via her website. Follow her social media for specials and deals. And Pro Artists can apply for her pro discount. The link to information is in my Resources section. (Resources section is now a closed section available to Makeup to Go workshop attendees past and present)
Website: http://www.Dedrabeauty.com
Twitter: @dedrabeauty
Instagram: @dedrabeauty
GIVEAWAY TIME
SO – Wanna try Dedra Beauty? YEP — it's the first post back here at Makeup to Go! after a long absence so we're doing a giveaway! Dedra has graciously agreed to give one lucky reader her upcoming Spring Special! 1 lucky winner will receive a Nectarine lipgloss and a 3-in-1 Eyes Lips Cheeks palette! 😀
CONTEST IS CLOSED
1. Go go httpss://www.facebook.com/makeuptogo and "Like" us
2. Post a comment in the Dedra Beauty Giveaway thread titled "GIVEAWAY TIME".
I will pick a winner at random using Random.org. Contest is open to residents of the United States of America only. Contest will close at 11:59pm on Friday, 1/31/2014 and the selected winner will have one week to claim their prize. If unclaimed by 11:59 2/7/2014 I will select a new winner. No substitutions and no cash value. Prizes will be mailed out within 3 weeks (Dedra and I are both workin' folks! 🙂 )
Best of luck and thanks for reading Makeup to Go!
(Many thanks again to Gorgeous Digital for her fab photography and retouching, Made In Earth for the fab location, and thanks to Tunisha for being a fab model!)
© 2014 – 2017, Tania. All rights reserved.