The Black Girl Beautiful inaugural event took place this past Saturday (10/15/16) at the Siren Studios Orange in Los Angeles.
So let's get the elephant out of the room…
Why is an event like "Black Girl Beautiful" even necessary? Well, I can think of a few reasons. First of all, the stated Vision for the event:
"Black Girl Beautiful is an empowering, shopping and beauty event for women of color that want more. More products, knowledge and conversations with like minded women, and beauty experts focused on beauty for black skin."
Sounds fair enough, no? As I mentioned in a recent post, I was kinda shocked that so many mainstream makeup brands still do not have deeper foundation colors. And I've been to many a consumer shopping event (so not including the pro shows like IMATS, the Makeup Show, etc.) where there were NO beauty products that would work for women of color. Likewise haircare products that work for the highly textured hair that most Black women have are generally not represented.
The other reason I can think of is that in 2016 we are still having "scientific studies" to explain why women of color are not considered amongst the most beautiful faces (in the full article that breaks women down by feature, Rihanna did slip in there a couple of times, as did Selena Gomez). Leaving out how incredibly tired and outdated it is to rank "most beautiful women" at all, it is difficult to believe that if we do still insist on making such a ranking, no women of color would make the cut. "Science" or no, that just seems ridiculous to me.
ALL women possess beauty and ALL women deserve a space to feel uplifted, and pampered and to have their beauty celebrated. That's what the Black Girl Beautiful event was all about.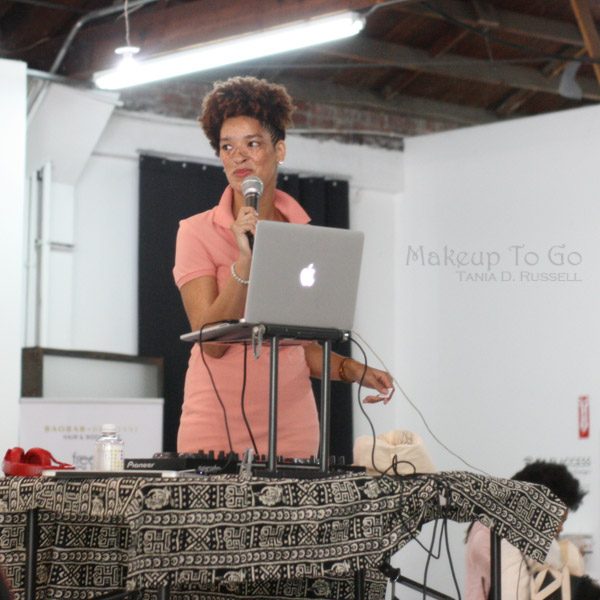 It was a warm, sunny day in LA and the open space and white walls of the Siren Studios space gave the event a relaxed, spa-like feel. So since everything was out in the open I just started at one booth and made and shopped my way around…
I started, of course, with the official Black Girl Beautiful booth to pick up a tee and a pin. Super cute!
One of my main goals was to look at a foundation for myself. I was matched by one of the AJ Crimson artists with AJSkin Duo Cream #7. It is oil based – which is a concern with my oily skin – but the initial color match was excellent. As the day went on, the foundation wore well and would have been fine if I'd had some powder on me. What I did notice when I took one last snapshot of myself before hitting the bed was that it had turned quite yellow on me. Now; I'm super red and notoriously difficult to match. But I do think this is more of a case of oxidation as the product sat on my skin. So that will be something to watch for as I try this product again. On the super plus side, the weight and texture of this product is outstanding and I never got the "GET THIS OFF OF MY FACE!!!" feeling that I normally do by the end of the day with foundations.
I'd go more in-depth about the AJ Crimson line, except I already have before. I do need to do an update (and I will be because something big is coming soon), but in the meantime keep AJ Crimson Beauty in mind. His line is one of the better brands for Black women currently on the market.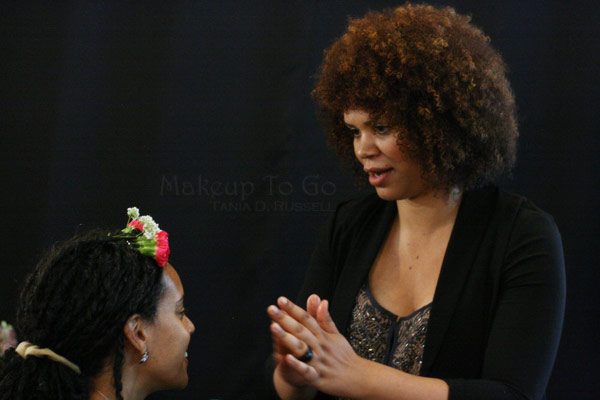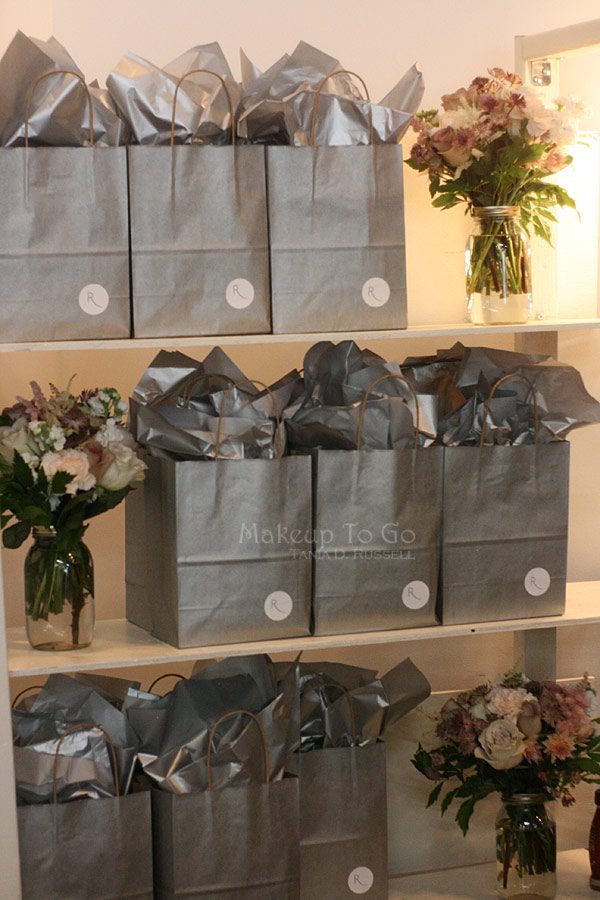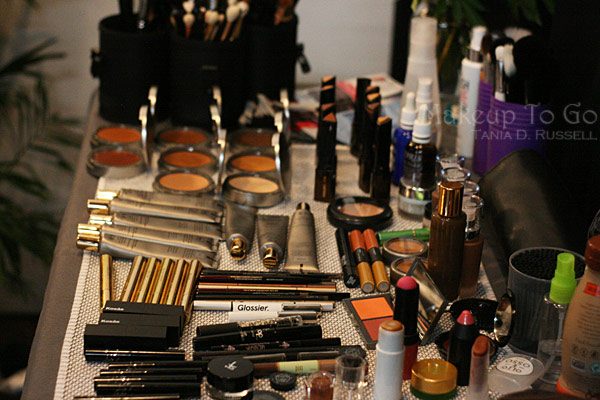 I could not have been more proud of my makeup kin Renee Loiz who was in attendance providing makeup/skin consultations and performing mini-makeovers. Her booth set up was absolutely gorgeous and she was turning out those faces! She was too busy for me to even chat with her, which was great!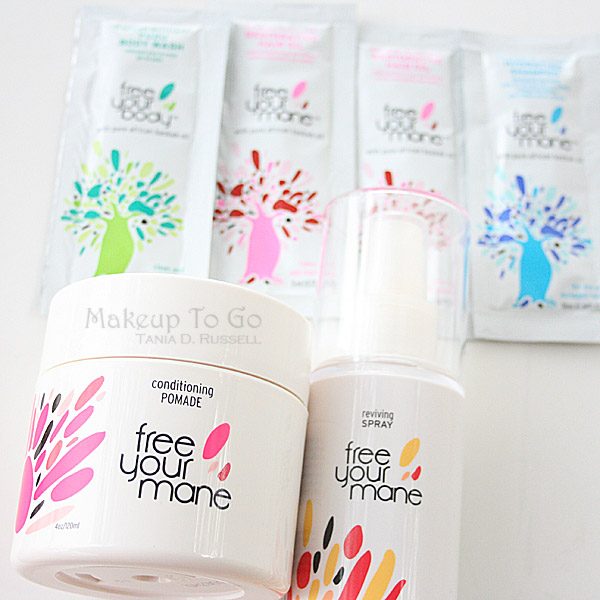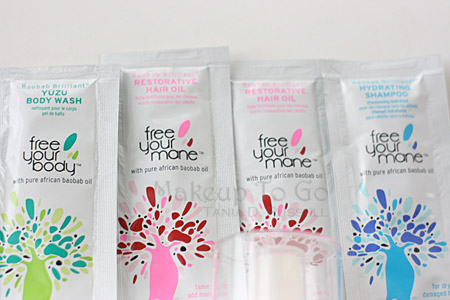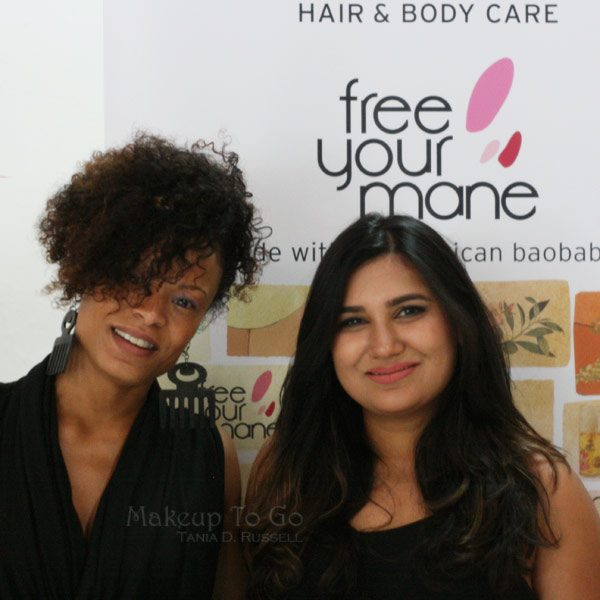 Again, the other big category of need for Black women at beauty shopping events is hair product. The Free Your Mane brand is new to me, but they've already been racking up accolades and have been written about in major mags like Allure. One important thing to know about natural Black hair: No two heads are alike. So FOR ME there were a lot of problmatic ingredients in the FYM products, namely 'cones (various forms of silicone which is often used to smooth and de-frizz curly hair textures) and oils. My baby fine hair can't deal. That said, a lot of women LOVE 'cones and oils in their hair. So if that's you, it is worthwhile to give Free Your Mane a looksee. The oils are high quality (their main one being organic Baobab seed oil), and their products are paraben, phthalate and sulfate-free. AND they are naturally scented and smell delish! (important with hair products!)
I picked up the Perky Curls Reviving Spray – which does have oils but it's in a water base – for myself, and the Conditioning Pomade probably for my kit. Texture-wise, the Conditioning Pomade looks very much like Suavecito pomade, which I love. It's more of a gel pomade as opposed to a heavy oil pomade. Gel pomades thin down nicely and are more usable on more varied kinds of hair, IMO.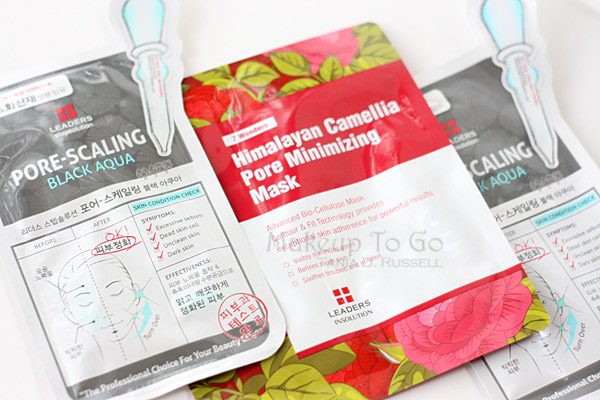 Leaders Cosmetics was on hand with their Korean-style face masks (they are a Korean skincare brand, and the primary seller of the now infamous Sheet Masks). They had several different kinds on-hand but I chose these to try as I have hellaciously oily skin (STILL!!!), but at 40+ years old, using products to try to "dry up" the oil is not what's hot in the streets. It's all about balancing the skin so it can be at its best. Because while having oily skin may be annoying, not having lines or wrinkles is not annoying. 🙂 The Pore-Scaling mask is a charcoal based powder mask designed to draw impurities and excess oil. The Himalayan Camellia Pore Minimizing Mask refines pores and soothes irritated skin. Camellia oil is the oil from the green tea seed (not to be confused with Tea Tree Oil, which comes from an entirely different plant) and it is a power-house beauty ingredient. It is emollient, anti-oxidant, anti-microbial, anti-inflammatory, you-name-it. And the mask itself – instead of being a regular paper sheet mask – is a Coconut Bio Cellulose Mask for extra hydration. I cannot wait to use these back-to-back and watch my skin glow!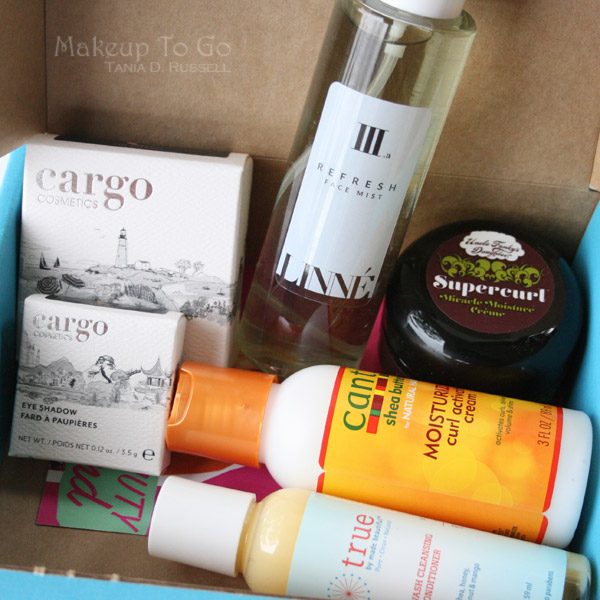 I've had my eye on Onyx Box as a beauty box subscription service I'd wanted to try for a while. Since they were in attendance at the show, I had to give it a whirl. At the show, I was able to pick out 6 products to create my first Box. And then of course in future boxes they will curate the contents and I'll get a beauty surprise in the mail every month 🙂 As you can see, these are no skimpy little envelope samples that you could have gotten yourself at the beauty counter. And they aren't a bunch of perfumes or "who's that??" brands, either. These are 3 deluxe size samples and 3 full sized products of known, Premium brands, my friends. Now I'm not saying every box is half full sized product (I don't know, I just joined) but I am saying that Onyx Box gives you product sizes you can actually use.
PRO TIP: If you are a beauty pro who does not happen to be Black yourself, but you want to learn about makeup and HAIR products that will work on your Black clientele, wouldn't it make sense to join a service like Onyx Box? Do it! And if you do, please tell them Tania Russell / Makeup to Go sent ya!
Last but not least I had to visit the Deva (pronounced Diva) Curl mini-salon. DevaCurl is not a Black hair salon. Many (I would even say most) Black hair salons specialize in hair straightening treatments, weaves, etc. Black women who wear their hair in it's natural state – as I do – need a different skill set in a salon. Enter DevaCurl which specializes in Curly hair of all kinds, including highly textured natural Black hair. I don't know if they were the first salon of its kind or if Ouidad was the first. Both are great salons. Ankywhoo, DevaCurl revolutionized Curly haircare in terms of both products and the infamous DevaCut™. So I'm not going to say explicitly why ya girl needed to swing by the mini salon to talk to a stylist, I'm just saying that I needed to swing by the mini salon to talk to a stylist… 😉
Honorable mention goes to;
Nicolet Beauty and Body Culinaire, both of whom I visited although I did not purchase anything. Yet.
Nicolet Beauty – as you can see – is another member of the highly pigmented matte lips in "unusual" colors tribe. They also had very pigmented eyeshadows. The colors looked very good and were very true (so – for example – the purple goes on PURPLE, not magenta as some purple lipsticks do). I have to be honest – I personally do not care for how the matte formuations feel, nor am I into these colors for myself. So as a woman I'm like eh… HOWEVER as an artist I recognize that I need to incorporate some of these types of lips into my kit and the Nicolet Beauty lippies were some of the better ones I've seen of the type, with great colors for deep skintones.
Body Culinaire was a custom body scrub bar consisting of yummy skin loving all natural scrub ingredients (coffee, brown sugar, etc.) and luscious natural oils with which to make custom body scrub blends. The booth looked and smelled scrumptious! I loved EVERYthing about it, but my reality is I never use body scrubs on myself LOL! I will visit her site soon, however, because I do like things like this as gifts, and gift season cometh soon!
In addition to the shopping, there was a speaker series with various thought leaders in the Beauty industry weighing in on topics pertaining to Black Women and Beauty. Sadly, this is where my inexperience as a photographer failed me and I did not get any good photos because I had the wrong kind of lens with me 🙁 But I sat in on the "Cultural Appropriation" panel and the "Iconic Beauty" panel. The Iconic Beauty panel – in particular – was right on target for Makeup to Go with AJ Crimson, celebrity natural hairstylist Felicia Leatherwood, The Real head hairstylist and wig maestro Robbi Rogers, Lori Taylor Davis of Smashbox, and celebrity artist extraordinaire Autumn Moultrie as speakers. The topic of discussion ranged from influences, to what constitutes an iconic Look, to how do they create iconic looks for their clients. THIS was the diversity in the industry panel the pro shows were looking for.
To say I enjoyed the Black Girl Beautiful inaugural event doesn't really say it. I practically floated back to my car and I've thought about what I saw and heard (as long as this post is, I left stuff OUT) all day today. In addition to who/what was there, the event itself was very well done. Everything about it was high-end, high quality #Excellence. This event was created to fill a need in the beauty/shopping experience market and indeed it did. I look forward to attending the event again in the future and I'm hopeful it will continue for many years to come!
(Nope, not a sponsored post. I purchased my entrance ticket and all products mentioned 🙂 )
Do you use any of these products? Did you attend the event? Tell me in Comments 🙂
—-
Have you signed up for the Makeup to Go Blog newsletter yet? Join the fun for exclusive content, giveaways, and other assorted fabulosity! Makeup to Go Blog Newsletter – "Speaking of Makeup"
© 2016 – 2018, Tania. All rights reserved.