In past incarnations of Makeup to Go! awards season coverage…
I have broken down what I felt were some of the best beauty looks on awards attendees at each show. While I may do that again in the future we're going to skip that this year, as it felt like things were getting a bit repetitive. Instead, using last night's Sag Awards as my example, I am going to break down the components of what I feel make a successful Red Carpet look which are the same elements you and I would use for our big nights on the town. Let's look at some examples of 2012 Red Carpet beauty.
1 ) It's The Skin, Silly
While it is fine and actually probably preferable to skip foundation on the day to day, it does not work to do so for Event makeup. Whenever photographs are going to be taken what is the predominant feature you see? The skin! Therefore care must be taken to ensure that the face is even, mostly matte, and flawless. Trust me a lot of the men of the red carpet are wearing a little sumthin' sumthin' as well. Did I mention matte? Yes. Some sheen is pretty, but tons of sheen does not read well under lights. What might be a pretty look in normal circumstances can turn to shine or even worse look sweaty under the bright lights. Any use of highlight/illuminzing must be well controlled for a successful Red Carpet look. Special Note; because of the way darker skin reflects light keeping things matte is particularly true for us deeper complexion gals and guys. My complexion is somewhere around that of SAG Award winning actress Viola Davis. Her artist did a very good job of adding some subtle highlights in the cheeks but keeping the forehead, nose, and chin matte so her overall look is even and flawless. Congrats to Ms. Davis!
2 ) The Eyes Have It
This does not need to be said I'm sure but you really must bring emphasis to the eyes or else you'll just have no face. What *does* need to be said, however, is how you add said emphasis. For most women it is a more successful look if they do not bring a lot of color above the crease. Go to E Online, or Hollywood Reporter and you will soon see what I mean. Most ladies went for a neutral eyeshadow and liner and lashes, some ladies went more smokey like Angelina Jolie or Sofia Vergara but in almost all instances the "below the crease" rule stayed true. Reason being that unless you have a lot of lid space a lot of dark color actually makes your eyes look smaller, not bigger. You want to add depth and emphasis to your eyes without making them disappear.
3 ) A Pop of Color is Nice
I noticed most attendees went for a neutral lip and contouring but nearly no cheek color. Those women who defied that norm really stood out in a positive way for me. While you do not necessarily want to go Technicolor® Rainbow for Event makeup, and not all events are appropriate for the kinds of over the top extravaganza of say, the MTV VMA Awards, that does not – in my opinion – mean you have to shy away from color altogether. Particularly on fairer complexions it just adds that nice touch of liveliness and keeps you from looking washed out. Even as simple as a bright lip on an otherwise clean face as Emma Stone or my girl-crush Tilda Swinton wore for their SAG red carpet looks.
4 ) Mature Gals – Less is More
For mature ladies, you want to bring out your features but heavily applied makeup is generally not flattering. We all have our phase in our late teens and in our 20s where we can pile it on as much as we want. However as we get older, editing is in order. This is about the time when a lot of women will panic, saying "YOU MEAN I CAN'T HAVE A SMOKEY EYE ANYMORE?!?!?!?!?!!!" No, that is not what I mean. Fear not, you can have your smokey eye. I would suggest sticking to the rule above of not bringing it too high up the lid and I also might change the color scheme from really dark colors and/or black to browns, mauves/plums, soft greys etc. Stick to matte shadows as opposed to shimmers and top off with your liner and lashes and you'll be good to go. As usual, Glenn Close did her thing quite well.
5 ) Think Big Picture
Ultimately for a truly successful Event look, it has to be about the entire look; makeup, hair, outfit, accessories, shoes, etc., like Lea Michele – who looked flaweless – pictured below. If any one thing is out of whack, the whole look is down the tubes. Sadly there were a few "not quite right" looks at the SAG Awards as well. Some had a great outfit and then look like they threw on some lipgloss in the car on the way to the show, some had great outfit and makeup but the hair did not work, and then I actually saw a couple of truly Question Mark outfits. In my experience these are folks who usually either changed an element when they got away from their styling team or winged it entirely. Styling teams are brought together for a reason. It is helpful for all of us to have another eye to help us tailor our look. When planning for your own Event look ask a friend or a family member (although in my opinion friends are usually better!) to help you edit down your look so that you present your best self.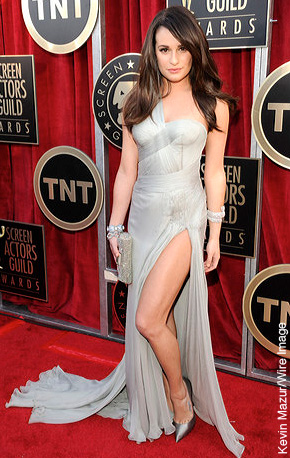 © 2012 – 2016, Tania. All rights reserved.