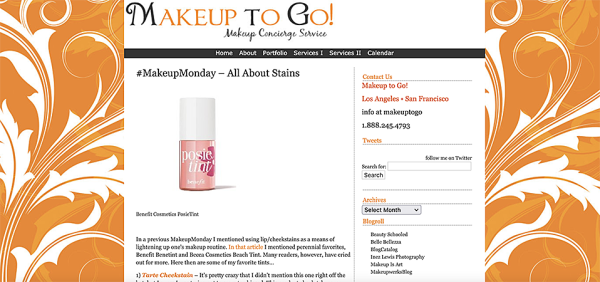 Picture it…Los Angeles… circa 2005
I'm an emerging artist on my Come Up. I'm certainly nowhere near a Senior Artist but I have some good work under my belt, I've just signed with my first starter Agency, and in short: I'm feeling myself.

This is the groundwork from which Makeup to Go was born…
So where did the idea of Makeup to Go come from anyway?
Well, Makeup to Go started because I had just signed to my first agency (Shout out to Cherie Reps!), and I wanted a way to continue working with my private clients. I loved taking private clients out on makeup shopping trips and doing in-person makeup lessons, and all of that fun stuff, and that type of work won't typically go through an agent. AND as a newer artist, I didn't have established commercial clients really, so it was nice "keep me going" money while still staying in my field.
Concurrent with all of this, I'd been involved in what turned out to be an extremely influential online message board for makeup artists (pre Model Mayhem and WAY pre Facebook) called EmElle's Industry Forums. And when I say influential I mean Roshar, Viktoria Bowers, Margina Dennis, Mary Irwin, Lucy Mckeown and even Erin Parsons. And that's just to name a very few of the artists who were on that board. Some posted on the regular, some on the occasion, many of us became friends in real life, it was a great forum.
Mary Erickson (founder of Camera Ready Cosmetics) was already well established as an artist and she was one of the moderators of The Board. She founded a site called Makeup Mentors under the theory that an aspiring artist could learn more, and learn it faster by paying a working artist's day rate and learning from that artist directly instead of spending time in makeup school. (Sidenote: I'm not sure if Makeup Mentors is still an active site. Last I did see of it Mary was no longer running it, it was being run by a different artist.)
I probably had little to no business training emerging pro artists just yet – LOL – but, but based on advice I gave on the Board, I was able to book some mentorship lessons. I actually must have been good enough because two of those early Private Lessons clients went on to have very nice careers and they've both said my early advice helped them. I went on to throw a number of successful Workshops, even without the benefit of Social Media as it exists now. My Workshops were basic and a bit "homemade" (in my defense the majority of the Fancy tools we have now didn't exist back then), but the classes were overall successful and students walked away satisfied and several went on the do great things. Go figure! Turned out I was good at teaching!

After a while the message board scene slowed down but Facebook wasn't really a thing yet and my question became How Can I Reach More People? While traditional logic says I should have done a YouTube channel, I was shy and insecure and that wasn't going to happen. HOWEVER I studied English Lit at UCLA, I love to write, and writing runs in my family (one of my brothers is a published novelist), so on July 6, 2009, Makeup to Go Blog was born.
I have always loved Makeup to Go Blog, my little engine that could ran strong until about 2018, and since then she's kind of sputtered. What's been the problem? I think two main things;
– Remember that shy thing I mentioned? Remember that "homemade, technology wasn't there yet" thing I mentioned? So yeah… Turned out not having the tools I needed and not knowing how to use the tools I had (Or being too scared to use them) was not a good mix. I thought I could just jump in and start blogging and "if you build it they will come" but that wasn't the case [b]at all[/b]. Meanwhile I was putting in maximum effort with every post researching, photographing, making the links, making the graphics, etc. etc. etc. Doing all that and more and then having barely and reach or growth?

I tried to resurrect MTG last year by calling in the Experts (who I very much hope will still want and be able to contribute to Makeup to Go!) and that was fab however the fundamental issue was that I needed to get my ish all the way together LOL. From Social Media, to Automations, to on-boarding, to you name it; I needed to get it together Bigly. I tried to go to build the roof without securing the foundation and just as I warn my students that you can't build a career that way, guess what? You can't build a business that way either. Who knew??? 😉
So here we are now, fam
.
I think we got it now. I've spent the lion share of the "can't work because there's a pandemic" past year in deep learning mode. If you follow my IG you know that's akin to "deep overthink mode" for me, which is why I'm forcing myself to just launch, done or raw. But I don't anticipate falling off again. I've done to much work, and there's too much more work to be done!
I am grateful for the folks who've stuck with me through all of the ups and downs since Day One, and I am grateful for all of the new folks who've discovered me online and are interested in what myself, and my contributing folks, have to say.
Makeup to Go will always be no nonsense, informative, actionable, and hopefully fun, based on the WORKING experience of myself and my contributing artists. The moment I'm not actually working is the moment I close up shop. Until then I am honored to be a part of the education and mentorship of up and coming artists, and to contribute to the Pro Makeup Artists community as a whole… Some of my past students have had careers that have exceeded my own, and that's as it should be. I'm excited to see what future students have in store. Let's get it started!
—-
Have you signed up for the Makeup to Go Blog newsletter yet? Join the fun for Have you signed up for the Makeup to Go Blog newsletter yet? Join the fun for exclusive content, giveaways, and other assorted fabulosity! Makeup to Go Blog Newsletter – "Speaking of Makeup"
Disclosure: Howdy folks, instead of doing sponsored posts, Makeup to Go may contain affiliate links from Shop List, SkimLinks, or Amazon Affiliates. When you shop via these links Makeup to Go gets a lil sumthin sumthin to help keep things running (at no additional cost to you!). Sound good? Ok groovy. Thanks much!
© 2021 – 2022, Tania. All rights reserved.