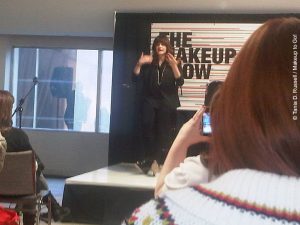 Once again the Makeup to Go crew was able to attend The Makeup Show Los Angeles 2012.
As I have written before I feel like The Makeup Show is a great addition to the trade show circuit, and a boon to the makeup artist community in LA. That said, I have always felt like it (and honestly IMATS as well), is primarily geared towards more beginning artists and that artists like me who are not superstar Keynote artists but who are working professionals kind of get lost in the shuffle. I am pleased to be able to say that changed in a significant way this year. More on that in a minute. First, let's run through all of what I experienced at this year's show.
My show started at the Blogger's Preview which is an overview of who's who at the show both as presenters and as vendors. It is very useful to get a lay-of-the-land and be able to plan what you want to see and when. This year in addition to the show run-down, the Bloggers were treated to a talk and demonstration from one of the premiere celebrity makeup artists in the country, Pati Dubroff. Ms. Dubroff is known for her clean, modern, with just a touch of funk style and her work appears regularly on major magazine covers and major ad campaigns. Pati Dubroff is one of my absolute FAVORITE makeup artists and I could NOT believe she was there doing a demo. After Ms. Dubroff's demo, James Vincent went through the various vendors etc. at the show as he normally does at the Preview but by that point my mind was totally blown. I was totally inspired hearing Patti Dubroff's story and watching her work.
Saturday morning began the actual show. This year I was only able to attend the first day of the show as I was flying out for a job that Sunday. As I mentioned in my preview of this year's show I already had my game-plan of what I wanted to see mapped out. The show itself started out slowly in the morning but picked up steam throughout the day and was quite crowded and busy by the end. Vendors I spoke to said they were doing well and I believe it. Make Up For Ever, for example, had a line down the corridor pretty much the entire day. I live in L.A. with pro-stores-a-plenty and I have my pro discounts so honestly, I do not really go to the shows to shop. My first stop of the day was to see Smashbox Cosmetics Lead Artist Lori Taylor do a demonstration of Kitten Liner, Bold Brows, and Bright Lips which is a trending look for Spring. Lori worked fast and efficiently showcasing Smashbox's FABTABULOUS new "Be Legendary" lipstick colors. The end result was modern, chic and beautiful (as is the model herself, my friend & fab model Jade Corinne) (click images to see larger)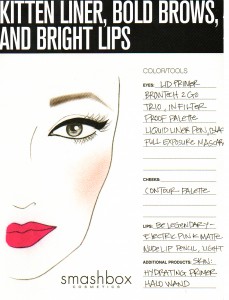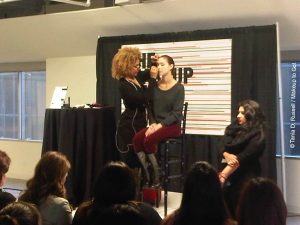 Even though I already know her story because I have had the pleasure of working on her team before, I had to stop by and hear a bit of Keynote speaker Sharon Gault (sponsored by Make Up For Ever). If you have never heard her story before…Sharon's great. She has been in the 'biz a loooong time and has worked hard to get where she is. She is super honest and open she talks about all the ups and all the downs in her career, always gives credit to all the people who have supported her along the way and even though we've not worked together in years and we do not often see each other she ALWAYS remembers me when she sees me. She looked great and was filled with great anecdotes as always. She later did a demo which I unfortunately had to miss because I had to sneak off for lunch. (click image to see larger)
Next I sat in on David Klasfeld's workshop on cosmetic chemistry. David is the founder and developer of Obsessive Compulsive Cosmetics which means he is the person who invented the infamous Lip Tar product that has been steadily taking over the makeup landscape. It was interesting to hear his history and how he got into cosmetics development which ultimately led him to developing his own brand. This workshop was filled with good, solid information that all makeup artists should know. You should know what is actually IN the cosmetics that you are using. For example; a product lists ingredients by the amount of that ingredient in their product. So if "water" ("aqua") is listed first, that is the primary ingredient, etc. Many brands that claim natural this that are a shamockery* because if you actually read the ingredients the touted natural element is often listed last which means that there is a very small amount of that ingredient in the actual formulation of the product. Another shamockery* he addressed is the whole Mineral Makeup phenomenon. Makeup has always been chiefly comprised of minerals. David explained that what can make a difference is the grade of the pigment and the percentage of pigment vs other fillers in the product. Check that out next time you are buying a "mineral" makeup. You might be surprised. The science geek in me loved this workshop. (click image to see larger)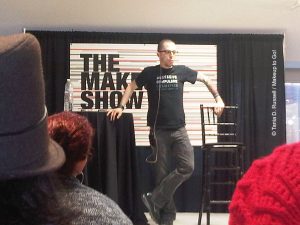 While I enjoyed those workshops, there are good workshops at The Makeup Show every year so that was not the game-changer of the show in my opinion. What really changed the landscape of the show for an artist like me was the emphasis on professional resources. Organized by Crystal Wright, the Professional Resource area largely got little love from most show attendees but I bet most of us who did take advantage of it would call it the most important part of the show. During the day, she had tables set up where show attendees could meet one on one with various decision makers, show their work, get feedback, etc. These professionals ran the gamut from successful beauty bloggers to show/event producers to agents. Later that evening Crystal Wright moderated the Industry Experts Panel featuring Agent Dion Peronneau, Photographers Richard Reinsdorf and Pamela Lopez-Grant, Editors Jane Fort of Teen Prom Magazine (who has hired me many times. Thanks Jane! 😀 ) and Rose Cefalu of Emmy Magazine and Publicist Cecy Galvan. Hearing them speak on the panel was excellent. But for those truly serious about their career, these decision makers all gave time after the show to meet one on one with people. I do not know if people truly realized what an opportunity that was. These are folks that would be nearly impossible to get an audience with just by emailing or what have you. I took FULL advantage of that opportunity. The feedback and advice I received is invaluable. As I tweeted at the time; "…shopping is great but I'm trying to WORK". Thank you thank you thank you to Crystal Wright and the architects of The Makeup Show for making these opportunities possible! (click images to see larger)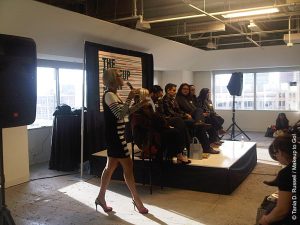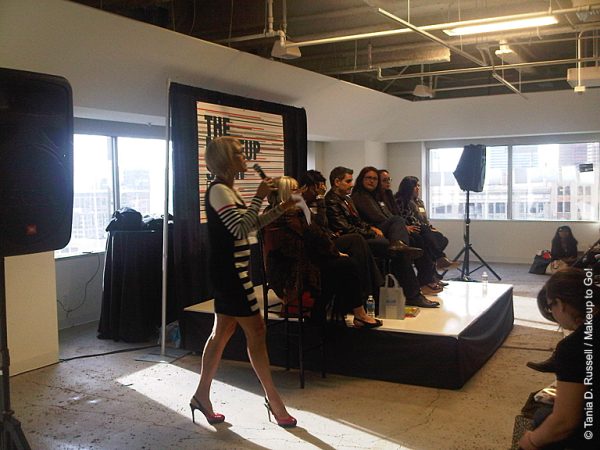 So that was my day at The Makeup Show. I really, REALLY enjoyed it this year. I was there the entire day and I was not bored one minute that I was there. It was unfortunate I could not be there for the 2nd day but fortunately my partner in blogging Delia Jimenez Owens was there for day two so her wrap up will be posted shortly.
Sidenote/rant: I was shocked, amazed, surprised and disappointed that I only saw ONE of my past students at the show (although I was not at all surprised at who the one student was 🙂 ). This show is still geared primarily towards artists beginning in their career and the education and networking opportunities are amazing for a new artist. HOPEFULLY folks made it to the show on Sunday and I just didn't get to see you. Otherwise, you know… if you are saying that you want to be in this profession more than anything, these are opportunities not to be taken for granted and not to be missed. If you can afford that new pair of shoes you just bought, you can afford to pay $50 to further your career 😉
*shamockery = a sham and a mockery. Not as bad as a traveshamockery which is a travesty, a sham and a mockery.
Yes I know…it's Tuesday. Due to a technical error on my part, this did not post yesterday like I thought it would and I didn't notice until late last night when I got home. Therefore I am posting it today. 🙂
© 2012 – 2016, Tania. All rights reserved.