A trend that emerged from the runways of Fashion Week Spring 2011 collections was Vibrant Color.
Yay! Enough with the dark Gothic look or the monochromatic "no makeup" looks. Color is playful, uplifting and makes us look fresh and young. From subtly "there" to loud and proud, there are plenty of products to get you started. And fear not, there will be many more products to come as this trend develops into the new year.
Eyes

Stila – Color Wheel Palette
This is one of the most genius palettes I've ever seen. I think one of the reasons more women don't wear color (or why some who do don't get it quite right) is simply because they don't know how. Artists working in any medium get to know color and color relationships by using the color wheel. How ingenious is it to make an eyeshadow palette based on the Color Wheel!?! Not only are the colors laid out in a way that is very user friendly, the palette comes with pro tips and tricks for best looks and ideas. Genius!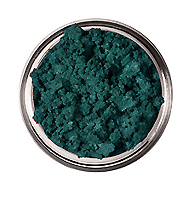 Obsessive Compulsive Cosmetics – Loose Color Concentrates in Nori
On the other end of the difficulty spectrum are loose pigments. These aren't like the friendly, shimmery stacks of loose pigments like one might see at your local mall kiosk. These are full on pigment delivering full on color. All of the OCC Loose Color Concentrates are amazing and they introduce new colors regularly. In the lastest crop of new colors, OCC introduced the very on-trend Nori which they describe as a "deep marine green" color. This deep teal color is extremely "in" right now and it's one of those "cool and warm at the same time" colors that looks great on a variety of skin-tones. Loose pigments such as these will give you a serious punch of color HOWEVER they are quite versatile. You can apply it lightly for a sheer wash of color or build the intensity for a more fashion eye. You can also use as a liner for just a pop of color around the eye or for the really bold, mix with clear lipgloss and use as a gloss either by itself or over other lip colors. Don't be scared, experiment! Give this trend and this product a try.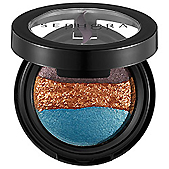 Sephora Collection – Baked Moonshadow Trio
Sephora Collection quietly has some very nice products as part of the line. The new Moonshadow Trio eyeshadows are pretty, wearable mini-palettes of color. Nowhere near as intense as something like the OCC loose pigments, but enough pizazz to give your face and your makeup wardrobe a little punch of color. The winner in this new set in my opinion is Meteorite (pictured) which features the on-trend teal color along with a nice bronze and plum to shape, define and give the eye a pop of color all in one set.
Cheeks

Smashbox – Radiance
This newly introduced product stays sold out and with good reason. This bright fuchsia color looks completely ridiculous and unwearable in the package and I guarantee you will wear this blush as much as if not more than any other blush you own once you try it on. This is a cool, bright fuchsia so I don't know why it is as universally wearable as it is, but trust me on this one. If you are a full-on blush gal, the formulation is build-able so you can get as much color as you dare on your cheeks.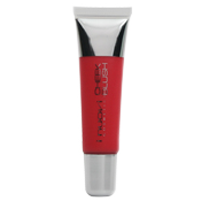 I-Nuovi Professional – Cheekblush
As we all know I love cream and liquid formula blush products. I-Nuovi is a pro brand from Japan that is starting to make it's presence known on US soil. Their Cheekblush product is a cream to powder finish that sets and lasts with a pretty, glowing finish. The Cheekblush comes in 3 colors all of which are perfect; Dolly – a peachy orange, Urbanite – a rose-y pink and Fashionista – a wearable bright pink. All of I-Nuovi products are formulated with "good for your skin" ingredients such as Squalane and Apricot Kernel Oil. It comes in three perfect colors, is long lasting and is generally a great product. I recently tested it for the first time and I fell instantly in love. For Tania's Perfect Color I like to mix Dolly and Fashionista. Fab!

Top Shop – Blush in Pinch and Crushed Berry
I've recently become aware of the Top Shop line and I am digging it. Their blush is also a cream to powder formulation, and comes in 3 very pretty colors. Pinch is that perfect bright pink that wakes up and flatters nearly every skin-tone. For us darker toned beauties where Pinch might not quite work, they have Crushed Berry which is a fabulous deep berry color. What's nice is that like all cream blushes, both colors can start out sheer but be built up for more intensity.
Lips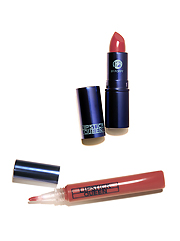 Lipstick Queen – Jean Queen
Lipstick Queen describes this product as being the perfect pink to offset the blue of denim wear and brighten the face. I don't know about all that, but I do know that pinks are universally flattering and this is a great shade of pink! Jean Queen comes in lipstick and lipgloss and in a twist, the lipstick is sheer and the lipgloss a bit more opaque (like a lipglaze). This is great because either can be worn alone for different levels of color intensity or you can maximize your pout by wearing them together. Lipstick Queen lip colors are amongst my favorite (see previous post on the whole line here); the colors are pure and gorgeous and the formulations are long lasting but feel fabulous.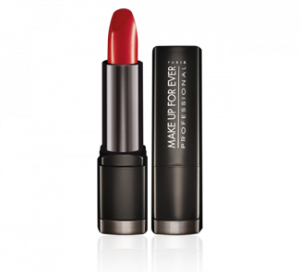 Make Up For Ever – Rouge Artist Intense
As the name implies, these are not subtle. These are not playing around, full-on color. And as is always the case, the colors are beautiful and amazing. The Rouge Artist Intense lipsticks are not only highly pigmented in terms of color, they give full coverage. However, different colors come in different finishes (Matte, Satin and Pearl) so if a full-on matte red is not your speed, there is probably a different shade that is perfect for you. Stand-out shades; 40-Satin Bright Orange, 35-Satin Blue Raspberry, 34-Matte Light Raspberry, 45-Satin Raspberry Red (I love Raspberry lipstick. It's the perfect "not Red" color), 21-Pearly Bright Red, 43-Moulin Rouge.

Obsessive Compulsive Cosmetics – Lip Tar in Harlot
Once again right on-trend, OCC has introduced several new Lip Tar colors one of my favorites of which is Harlot, a bright coral-y red. Reds of all shades were all over the runways and this is a good variation of one of the more difficult versions of red to find; a good orange/warm red. Most orange-y reds are too orange and look funky. This is RED with an orange base. And as with all OCC Lip Tars it can be worn sheer or opaque, glossy or matte. The last long and wear fabulously.

Nars – Pure Matte Lipstick
You know I can't get through an article without mentioning Nars at least once. It's not my fault they always introduce the perfect product at the perfect time! The newly introduced Pure Matte lipsticks are not like the matte of old (powder-y looking and drying to the lips); these are lushly colored and feel silky and smooth on the lips. I'm hoping Nars will introduce more vibrant colors in this collection, but right now early faves are Terre de Feu (pictured), a black cherry color and Vesuvio, a bright red.

© 2010 – 2016, Tania. All rights reserved.