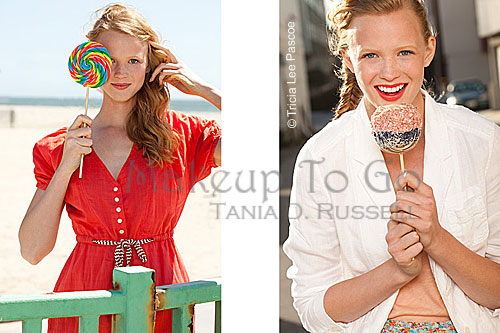 Coral Lip colors. Love them love them love them. Yes, that was three "love them"s in one post. Oh wait was that a fourth? Yes. That is how much I love Coral lip colors. Why? Because it's not orange, it's not red and it's not pink. It incorporates all three and because of that it is a wonderfully wearable color that works with EVERY skin tone. Now admittedly, there is a red or a pink for every skin tone as well but there is not an orange for every skin tone. Orange – despite its current popularity – is a tricky color for most skin tones. And this is coming from someone who, clearly, loves straight up Orange. If you've been wanting to jump in on that trend but have found it hard to do so, slide on over to Coral. Likewise, sometimes you want a hit of color without a Red statement. Again, slide on over to Coral. Want something pretty and feminine but slightly less predictable than a pink? Coral is the answer. Here are some of my favorites… (Note: For purposes of classification "Soft" colors are more sheer and "Strong" colors are more pigmented.)
Soft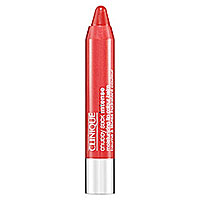 CLINIQUE Chubby Stick Intense Moisturizing Lip Colour Balm – Heftiest Hibiscus
These Chubby Sticks (available for both eyes and lips) are easily the best color cosmetic product Clinique has put out in an age. The "Intense" Chubby Sticks are the perfect "in-between" formulation. Enough pigment for the color to show (the original chubby sticks are super sheer, barely there color), but still sheer enough for everyday wearability. Heftiest Hibiscus is a true Coral that can be worn by just about everyone.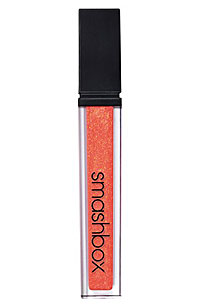 SMASHBOX Be Legendary Lipgloss – Melondrama
I have written numerous times about my love for Smashbox's Lip Enhancing glosses and how deeply saddened I was when the color line was downsized. Well, they have now been reincarnated as the "Be Legendary" lip glosses and I could not be happier. "Melondrama" was one of my favorite of the Be Legendary lipstick colors when it came out a couple of years ago. The lipgloss version is a sheer, shimmery, peachy coral.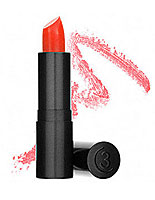 THREE CUSTOM COLOR SPECIALISTS Light Brights – Danceteria
Three Custom Color Specialists has been a favorite of pro makeup artists and those "in the know" for many years now. I have mentioned my love for their lip colors in past MTG articles. The "Light Brights" collection is just what the name suggests: bold colors in lighter, more sheer formulations. These are not sheer like a lip gloss, barely there sheer. These are bold hits of color that let your own lip show through for a remarkable punch of wearable color. I LOVE these lip colors. Danceteria is a perfect True Coral color. I wear this myself often and it has flattered every model/talent I have applied it to.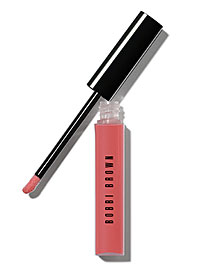 BOBBI BROWN COSMETICS Lipgloss – Tangerine
Bobbi Brown has to be the master of taking color and making it safe for the masses. In this instance I do not mean safe as a put-down. Not all jobs allow for bright color but that should not mean a woman has to settle for a no-color nude all the time. Bobbi Brown Cosmetics lipgloss in Tangerine is a pretty, peachy coral that is soft and sophisticated. Honorable Mention: I also really love her new color "Nectar" which is a more pinky coral.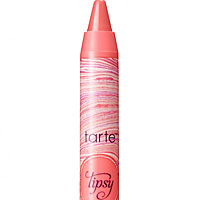 TARTE COSMETICS Power Pigment – Tipsy
Tarte cheek stain in "Tipsy" has been one of the Number One Products in my kit since forever, so when they introduced the Power Pigment lip tint pencil version I was all over it immediately. I am very pleased to say that it does not disappoint. This is the same formula of just the right amount of orange and just the right amount of pink to create just the Perfect Coral that I love about the cheek stain, in a moisturizing and shiny lip formula. The stick format also makes it easy to carry and to apply. This is the perfect "throw it in your bag" product.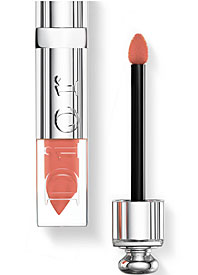 DIOR Dior Addict Fluid Sticks – Mirage
If you have never tried them before, Dior lip colors are just…delicious. They are rich in color, creamy in texture, velvety in pigmentation. Yes they are expensive but yes they are worth it. Dior actually has quite a few Coral shades throughout their lip color collection, all of which that I have ever tried are gorgeous. The Fluid Sticks are a recent addition to the Dior Addict line. They are a lip lacquer product so they are lip gloss in feel but lipstick in color payoff. Mirage is a pinky-er (word?) Coral, slightly on the cool side. Honorable Mention: those wanting bolder color might want to check out "Artifice" which is a more in-your-face, near orange Coral.

Strong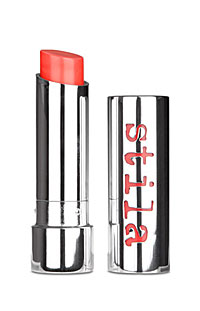 STILA COSMETICS Color Balm Lipstick – Avery and Valentina
Color Balm lipsticks entered the cosmetics landscape within the last couple of years and became an instant "hit" due to their ease of use and wearability. They combine the best of a lipstick (full color) and the best of a lip balm (moisturizing, feels good on the lips) for a winning combo. Amongst my favorite Color Balms are Stila's Color Balm Lipsticks. I love all of them but in keeping with our Coral theme, "Avery" and "Valentina' fit the bill. These both fit my definition of "strong" in the sense of they are full pigment lip colors however strong does not have to mean Loud. "Avery" is a soft pinky Coral. This would be pretty on really fair skin tones where a bright Coral might be too overpowering, or if you are a darker skin tone like myself you can play with a high-contrast lip color by going with something this fair and pastel-ish. "Valentina" is for the bold. Stila describes it as "orange poppy" which to me equals Coral. It is my favorite of all of Stila's Color Balm Lipsticks.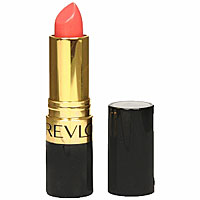 REVLON Super Lustrous Lipsticks – Coralberry
"Coralberry" is an absolute classic and for less than $10 you cannot go wrong. Like "Fire and Ice" and "Cherries in the Snow" it is guaranteed at least one female relative in your family owned this back in "the day". While it has a distinctively retro feel to it, its peachy pinky Coral-ness is modern enough to make "Coralberry" one of Revlon's most popular selling colors to this day. (Sidenote: I have "Coralberry", "Fire and Ice", and "Cherries in the Snow" in my kit. Always have, always will. They are fantastic lip colors.)


REVLON Colorburst Matte Balm – Audacious
If you haven't guessed, it is my opinion that Revlon makes fantastic lip color products. They are easily some of the best you can buy at the drugstore level. What is awesome about Revlon is that even though they have been around forever, they are constantly introducing new products into their color line (without discontinuing the classics!). If you want to jump on the modern trend of Matte lipcolors, Revlon has you covered. "Audacious" is a matte balm, so where matte colors can tend to feel dry, this formulation feels moisturizing on the lips. As a bonus, the pencil style applicator makes applying a bold pop of color a breeze.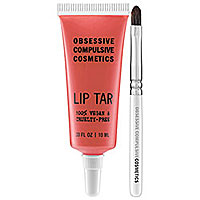 OCC MAKEUP Lip Tar Matte – Grandma
FACT: As a makeup artist, "Grandma" by Obsessive Compulsive Cosmetics is one of two lip colors I probably use more than any other lip colors I own (the other is "Trick", also by OCC Makeup). I do not necessarily use it straight (sometimes but not always), like many makeup artists what I love about the OCC Makeup Lip Tars is their versatility and blend-ability with other lip colors. "Grandma" is a pastel-y pinky Coral in the same vein as Revlon's "Coralberry". It has that same retro type feel (hence the name). However "Grandma" is a full frontal hit of color, not at all for the faint of heart. OCC Lip Tars were amongst the first wave of highly pigmented bold, loud color lip colors that are now quite popular. Not interested in wearing it straight? If you have a pink that you want to "Coral-ize", a red you want a little less Red or a sheer color you want to add some "umph" to, try mixing in a little "Grandma". Honorable Mention: "Queen". When "Grandma" first came out it was a little bit more of a bolder, orange-y reddish Coral. "Queen" is the closest you can get to that original "Grandma" color. It is great for those on whom a pastel-y color does not work, or for those who want a TADDOW! Coral color.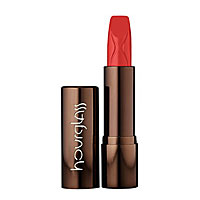 HOURGLASS COSMETICS Femme Rouge Velvet Crème Lipstick – Muse
Hourglass is one of my favorite new cosmetics brands in fact look for a story on them coming soon. Their Velvet Creme Lipsticks are just that; velvety, creamy, lushly pigmented and gorgeous. "Muse" is a True Coral. What I impressed me about this product is not only is the color gorgeous but it truly feels different from a traditional lipstick. It is feather-weight and truly moisturizing. Lots of lipsticks say they are moisturizing but I still find myself reaching for that lip balm to wear underneath. This really did not feel like I was wearing lipstick, so if you are like me and hate the feel of lipstick give the Hourglass a try. And if you really, really hate lipstick, "Muse" comes in other formulations as well 😉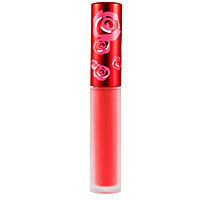 LIMECRIME Velvetines – Suedeberry
Like the original OCC Lip Tars, Lime Crime built its name on over-the-top, bold, pigmented lipsticks in unusual colors. As the line has expanded, more wearable but still boldly pigmented colors and formulations have been added into the mix. One of the best additions to the line, in my opinion, are the Velvetines which go on liquid and dry to a completely matte finish. "Suedeberry" is one of my favorite of the Velvetines. It is a bold True Coral in a matte finish. When you are dealing with bold color, not only is matte more modern but it is also a bit more flattering (exception being if you have a lot of dry lines around the mouth area, but there are ways to work around that…). Once set, these do not move or transfer and they are long-wearing. Perfect for a night out when demure is not the goal. Special Note: I absolutely ADORE this color on African American skin tones.
© 2014 – 2016, Tania. All rights reserved.