Like nearly everyone in beauty-landia, I love face oils. Unlike a lot of folks, I've been using oils for years and I discovered my face likes face oils quite some time ago. I haven't used body lotion in eons, and the more I use it the more my face likes oils as well. And my skin is oily. Yep. Oily skin, loves oils. My face gets less oily with conscientious use of face oils (my theory is that the oil is already there so my skin doesn't need to send up more), stays hydrated longer (I only use oils on damp skin), and my tone looks more even.
That's my anecdotal evidence. Studies have shown that certain oils do have certain properties and that face/body oils can have antioxidant, anti-inflammatory, and regenerative (from collagen) properties. In addition, oils are lipophilic which mean they dissolve in oils hence they pass through the the lipid layer of the skin which prevents water loss. Also if you apply an oil first and then apply your moisturizers/treatments, the lipophilic nature may aid in better absorption of your product. In short, oils are pretty much the bomb. Here are some of my favorites (face and body).


1 ) KAHINA GIVING BEAUTY – Kahina 100% Organic Argan Oil
The first oil I ever tried on my skin was Rosehip Seed Oil which we'll get to in a bit. The second oil I wanted to try was the much touted Argan oil. 1 ) Do not get Argan cooking oil, it is heated so the healing properties have been altered (I made that mistake :\ ). 2 ) You want a pure Argan oil, not one of the many Argan oil blends that exist in the world. Argan oil is pricey, but it is very high in Vitamin E, and has antioxidants, restores elasticity and works wonders on fine lines. Pure Argan oil is also very light and non-greasy. Kahina apparently uses a pain-staking process to create one of the most pure Argan oils available on the market. Once I apply this to my freshly washed face, it absorbs immediately and all I am left with is soft, radiant fabulousness.
Honorable Mention: JOSIE MARAN 100% Pure Argan Oil. I personally like the Kahina a little bit better (I've used both), but Josie Maran's Argan Oil is excellent as well. (The "Light" Josie Maran oil is made of Argan Isostearylic Esters instead of pure Argan Oil and the company is vague about how it is processed so I'm not with that one until I get more info)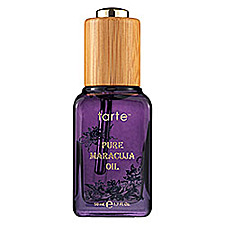 2 ) TARTE COSMETICS – Maracuja Oil
Maracuja Oil comes from a specific Passionfruit indigenous to Brazil. For this reason right here, I am concerned about the longterm sustainability of this product and I hope the plant is being harvested responsiblity. Ankywhoo, I love Tarte so I wanted to try it. Maracuja is very high in Vitamin C and has strong reparative properties from the collagen. It is also anti-inflammatory and as such is a popular oil with those suffering from breakouts. My breakouts are mostly under control but I do flare up occasionally. This oil does not cause me to break out which is important and when I have used it during breakouts it kept me from having brown spots. All the brown girls know that having pimples heal without leaving pigmentation behind is a big deal!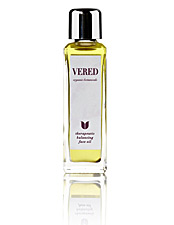 3 ) VERED – Therapeutic Balancing Face Oil
When my skin is completely acting out, however, this is my oil of choice. This is a powerful blend of anti-inflammatory and anti-bacterial oils (and herbs) which help to balance out sebum production and encourage healing. It is strong, so a little goes a long way and it may take your skin a minute to get used to, but it is a fantastic oil.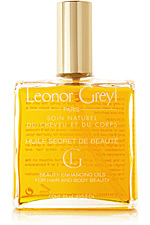 4 ) LEONOR GREYL – Huile Secret de Beauté – Organic Oil for Hair and Skin
And now for something a little different. Leonor Greyl has been a "well kept secret" for a while now, particularly amongst makeup and hair artists. As a Black woman, I was raised using oil in my hair even though my hair cannot take a lot of it. Now women in the know have learned that a little bit of oil calms frizz, holds moisture and strengthens the hair. This formula is in a very light base that protects the hair without weighing it down. It is also fabulous on the skin after a shower/bath. It leaves your skin silky soft and the fragrance is light but intoxicating.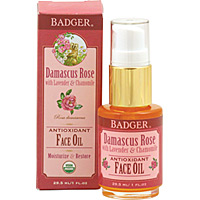 5 ) BADGER BALM – Organic Damascus Rose Oil
Rose Hip seed oil was the first face oil I started with, and eventually I settled on the Badger Balm brand. It is 100% organic, using the finest essential and carrier oils. Rose Hip Seed goes back to the ancient Egyptians and Mayans as a broad-spectrum anti-oxidant and anti-inflammatory. It is also high in essential fatty acids (like Coconut and Olive Oils) which makes it an effective treatment for Eczema. Lastly, it is high in vitamin C and lycopene which aids in skin repair and renewal making it great for fine line and for acne. Rose Hip Seed oil is – in short – the business. My skin loves the Badger Balm brand which is blended in a jojoba oil carrier oil (very similar to the sebum of human skin, so absorbs easily and isn't greasy). Badger's Damascus Rose oil also contains Pomegranate oil which is high in anti-oxidants and Baobab oil which is a nutritional beast containing Vitamins A, D, E and F and Omegas 3, 6 and 9. To round things out, the Damascus Rose oil blend also contains essential oils such as Lavender, Camomile and Calendula and pure Rose Otto oil for a fabulous – but not at all overwhelming – scent.
Honorable Mention: AUBREY ORGANICS – Revitalizing Therapy Serum which is pure Rose Hip Seed oil.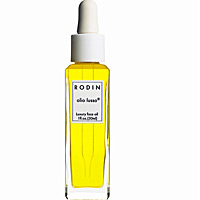 RODIN – Olio Lusso
This blend of 11 essential and carrier oils (including Neroli, Rose Hip, and Argan oils) is the Cadillac ™ oil for anti-aging. This blend is all about restoring elasticity with high amounts of Vitamin C as well as other vitamins and minerals. It also contains Arnica which is cooling and anti-inflammatory. This oil is exquisite and the scent is DIVINE. It is a bit heavier than the others and as such my oily skin cannot use this one too often, but when my skin has been distressed (out on location and got too much sun, for example) this oil is a welcomed treat. And did I mention the EXQUISITE aroma? 😉

Now I love oils, and I collect them however you do not need to buy all of these expensive oils and serums.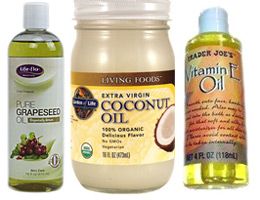 Grapeseed Oil, Vitamin E Oil, Coconut Oil
Hit your local natural foods market and stock up on the basics and you will be good to go.
Grapeseed Oil is probably the lesser known of the three but it is a goody. It is high in Linoleic acid which is an essential fatty acid found in cell membranes. It delivers many of the moisturizing and healing properties of Coconut oil but it is much much lighter in weight, thusly making it good for people with oilier skin. You may not recognize it by name, but it is a popular cosmetics ingredient.
Coconut Oil's many virtues have been long touted. I mean it really is ridiculous what-all this oil can do internally and externally to benefit the human body. Coconut oil is high in essential fatty acids which means it penetrates the skin and goes to work instead of sitting on the surface. And did you know that coconut oil is anti-bacterial as well? It is too heavy for me to use in the warm months, particularly here in California but in the winter it is on like popcorn from head to toe, including sometimes on my face. Just be sure to get Organic, Extra Virgin Coconut oil to get the full benefit of this fantastic oil.
In the warmer months, I use Vitamin E oil instead of body lotion daily. Your skin will thank you as it leaves the skin soft and silky and Vitamin E is a powerful antioxidant. Vitamin E oil is beneficial for everything from dry cuticles to eczema/psoriasis to treating scars.
© 2014 – 2016, Tania. All rights reserved.